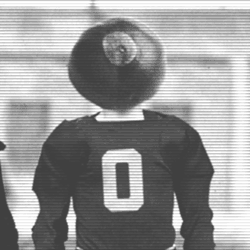 Hokiepro
---
from Blacksburg
MEMBER SINCE February 12, 2015
Hokie fan since I was 5, in 1977, before we were good
Favorites
SPORTS MOMENT: High school basketball first team to make VA state elite 8 where we lost to Grant Hill's team
COLLEGE FOOTBALL PLAYER: Michael Vick
COLLEGE BASKETBALL PLAYER: Dell Curry (Steph's Dad)
NFL TEAM: Buffalo
MLB TEAM: Orioles
Recent Activity
Hoping we haven't used up our weekly sports karma with the basketball W over Sparty!
Thanks. VT has ONE Senior starter and starts 3 FR OL (2 true), and has 20 Fr in the 2 deep. Hokies are I the rise
Idk WHY he is, but trash talking saying they had no false starts or issues at PSU, they'd have none at Lane (they had 2); that Paris Ford who's been ejected for targeting twice now is a great tackler and he doesn't understand what a tackle is when he leads with his head every time. He teaches DBs to just latch on every time and whines when there's a PI call and whines when a WR "pushes off". He teaches his players to start stuff during pregame. Says his players "won't back down" but what that really means is taking any cheap shot possible. They started shoving matches before UNC, Miami and VT games. They also trashed the VT lockerroom
Thanks a bunch, I'll leave you with this stat
Average number off/def snaps per true freshmen who have played in in the ACC this yr, per team...
VT: 169.7
FSU: 119.3
Duke: 109.4
NCSU: 98.4
UNC: 83.8
Wake: 78.7
Miami: 77.3
GT: 76.1
Clemson: 49.1
BC: 38.8
L'Ville: 35.8
Pitt: 30.5
UVA: 26.7
Cuse: 26.5
I'm sure Buckeye fans will be Hokie fans Nov 2 when we go to ND. Don't expect an upset there but you never know they may have a letdown after their game vs TTUN this weekend
Sure! UNC has 3 Ls in ACC (2 that count) they were a 2 pointer away from winning.

it's not likely but Coastal isn't as bad as everyone says. It's not GOOD, but there are teams with talent that can have a good day on your bad day and get you. Pitt with a better decision from Narduzzi should've tied PSU in 4th (where was "Pitt special" then that they used to beat UCF?)
VT searched for an identity for several weeks and the Duke debacle was the turning point benching Willis for QB Hooker.
UVa is dangerous because of Perkins' creativity and their D keeps them in games even when the rest of their O is sputtering. They led ND at half but gave up 4 TOs in 2nd
Its chaotic. Somewhat like B1G west with poorer teams who're capable of rising up and grinding out a win vs better teams on their off days
He was told it would be an open QB competition after returning from injury, so he left. Hooker and Patterson are both MUCH higher ceiling athletic upgrades. He very well could've lost his job anyway
Yeah they're growing up. At times on Sat., we had 3 FR DL, 3 FR OL all player together. Tre Turner soph WR is our big play WR who had a 58 yd TD and 110 yds receiving. TrFR Norell Pollard at DT had 2 sacks and another TFL
We start 1 SR, 15 Fr & Soph so, the reboot has been the last 2 yrs because Beamer's last 2 recruiting classes were devoid of leaders who stick around
Thanks. Vs UNC we had zero Sr starters and started 3 Fr & 2 Soph on OL including Buckeye target (flip? Sorry) Doug Nester from Huntington, WV. We're slated to return 21 of 22 full time starters next year, all 22 from Saturday's game (Sr S was suspended for targeting in previous game)
Hendon Hooker who's 3-0 as starter and was 8-12 with TD in 1st half is the starter and has 8 TDs & 0 INT. Ryan Willis rSR who started season is 3rd string now
Thanks and same to you. UNC has talent on O. TrFR QB Sam Howell is legit. They're 3-4 with 4 Ls by 12 pts combined vs teams who are 24-3
Hokies won despite starting ZERO SRs, losing starting QB & going with 3rd tm RsFR 6'4" 245 lb Quincy Patterson who ran for 122, TD, 1 pass TD & gw 2 pt conversion run after half
You are right to be concerned. I was exhausted & had to sit for a couple minutes before walking down steps
UNC is 3-4 but has lost 4 by 12 pts to teams who are 24-3 combined (Clemson, App St 13-0; VT, Wake 11-3)
We want to be where you are!?
But seriously this was one of my all time favorite opponent's message board.
I'm excited for our future, this team is young but VERY talented. Still need to get stronger and smarter but 2019-2021 could get VERY interesting in Bburg
I just know that college football 8 PM in Lane on ABC. It'll be fun, that's for sure. Just hope it's even more fun about 11:30 PM!!
Orange and Maroon House? Well OK, but I'm partial to Hokie Stone for buildings
Yeah I know FG with :45 sec
unfortunately ODU found their QB vs us. ODU scored 35 at ECU, one week after ECU held USF to 20. It was fluky but our young team didn't show up & got what we deserved that day
Looks like it is unless we don't make ACCCG. We could play them championship weekend
Up & down with this team, but 37 of our 2 deep are Fr & Soph., so excited at the same time
We've also only had ONE home game (William & Mary 62-17) because of the ECU cancellation
Hello y'all long time no talk. One game overreaction: let's see OSU-VT in playoff
i thought last nights game was the best of the weekend of course
Haskins looked awesome for you guys BTW
Uhh no skanks err no thanks