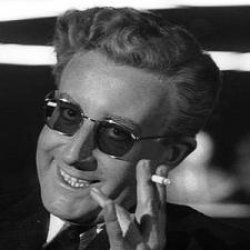 hodge
---
from Columbus, OH
MEMBER SINCE January 19, 2012
Favorites
SPORTS MOMENT: January Third, Two Thousand and Three.
COLLEGE FOOTBALL PLAYER: Troy Smith
NFL TEAM: Cincinnati Bengals
MLB TEAM: Cincinnati Reds
Recent Activity
LEAVING DBS GREENHOUSE GASSED.
I was in the 'bleeds in the north endzone for that epic 2016 game. Literally was in the Michigan section, one row from the very top of the stadium. When Samuel crossed the plane of the north end zone, it was like mainlining pure euphoria -- which was contrasted by the most delicious of schadenfreude as the Wolverine faithful sat lifelessly, staring at the field in stunned, disbelieving silence.
Never thought anything could top watching Cie Grant come unblocked off the edge on 1/3/2003, but damned if the Brooklyn Dagger didn't. Granted, I wasn't in the stadium for the former, but the latter was nothing short of spiritual.
...and then, after rushing the field -- as my wife and I are walking past the RPAC, listening to the clangs of the victory bell -- my phone buzzes. Jim Harbaugh is "bitterly disappointed" about the spot -- and is apparently throwing a full-blown hissy fit about the game. Truly the perfect cherry to top an all-time epic of a game. By that time all the bars were full, so we slipped into the bar at the Gateway Film Center (the Torpedo Room), ordered a couple IPAs, and savored the postgame coverage over some deep-fried cheese curds -- which weren't half as salty as the Michigan fanbase.
All in all, it was pretty much a perfect day.
...unless you're comparing it to the godlike majesty that is Blue Ash Chili. Their 6 Way is a watershed human achievement, on par with the harnessing of fire, the development of agriculture, and the invention of the wheel.
Spaghetti, chili, beans, onions, cheddar cheese, and deep-fried jalapenos. Perfectly balanced, as all things should be.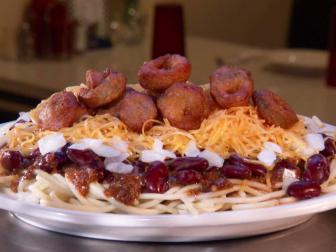 I feel you man. I'm out in Colorado now, and while the beer scene out here is top notch, I still find myself missing some of those old-school Ohio IPAs: Jackie O's Mystic Mama, Yellow Springs' Boat Show, and Rhinegeist Truth.
Ridgewood? No way! I had a lot of friends that went to school out there. I went to middle school at Memorial -- which was the old high school -- and 2/3 of the student body there was from that side of town. If your family's still over that way, you should definitely hit up Yoshi's for sushi. They're on Frantz by Enrico's Pizza, just past Hayden Run.
Never wound up going to North High, but next time I'm in town I'll make sure to swing by. Haven't had much of their beer, but I did enjoy Jalalima and Mister Fahrenheit back when I lived in Dayton. Hoping to get back for a game this fall -- I'll make sure to hit that place up! Speaking of beer, I'm not sure if it's nostalgia, but I really miss CBC's Bodhi. Used to get that on tap in college at the Brazenhead in Grandview...now THAT was my jam.
Wait -- are you from Hilliard, Poppy? HOW WAS I UNAWARE OF THIS?
Darby grad from '08 here.
It's been a long time since I lived out there, but Yoshi's on Frantz and Sushi Bistro Masa at Avery and 33 both used to do a lot of business with the Honda execs. Looks like the latter is gone, but the former is damn good -- and right on the border of Hilliard and Dublin.
Yup. And in soccer, two yellows in one game function as a red -- ejection.
"It needs to be a deal where there's two levels of targeting. If clearly intentional/dirty and at the head, you're gone. If unintentional, you stay in unless you do it again."
This is the correct take. The blind-side crackback block in the Oklahoma game clearly deserved an ejection. Wade's hit on Lawrence did not.
Haha nice try, BadOwl. ESPN obviously modified the formula this year so "the narrative" could be that much more sympathetic to LSU -- making us and Clemson into "heels" that the underdog Tigers could triumphantly vanquish. The only reason LSU is still ranked third is to preserve their so-called "neutrality".
"Failure to shut down Etienne and lack of execution in the red zone and egregious officiating is what cost OSU."
And yet, despite all of that, we had them pinned on their own six yard line, trailing by two with fewer than four minutes to go. Sorry -- if you can't stop them from driving the length of the field, you ain't a championship team.
Yuuuuuuuup. It's easy to forget that he had a goddamn cannon for an arm.
Coming storm? It's already here. Since 1980, the US has almost tripled its manufacturing output. And we've done it with nearly half of the workforce we used to employ.
Heard the same. Vrabel was trying to defend Fick, and damn near came to blows with Urban.
Not gonna lie, I'd have loved to have been a fly on the wall when that shit went down.
ThAt'S bEcAuSe YoU dIdN't MaKe A fOoTbAlL mOvE
I'dSaySomethingWittyButMyPhoneWasEjectedForTargeting
Who the fuck cares? Go Bucks. Fuck Clemson.
Taylor out-rushes JK by 10.
In case anyone wanted to hear the song they used during the fourth quarter, I'll just leave this here. Do yourself a favor and give it a spin -- your eardrums will thank you.
Most of those Walmart Wolverines wouldn't get into main campus at OSU nowadays.
And sure, OSU loosens it's academic standards to let athletes in. SO DOES MICHIGAN. And while I have no illusions that online classes and tutors make it easier for some of our athletes, I find it pretty fucking hilarious that some UM fans are getting high and mighty when 90% of their football program majors in General Studies.
Shit like Brian's article makes my blood boil. But then I take a step back and think of one of my favorite movie quotes: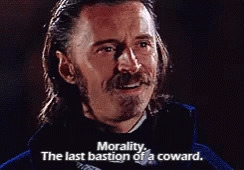 Excellent analysis, Fido. Top quality content as always. Would be interested to see if their "Power Success Rate" has improved at all since the second half of the Penn State game, though.
Personally, if I'm Day, I'm going to come out and try to run Power from as many different looks as humanly possible. Brown's going to throw the kitchen sink at OSU from a lineup perspective -- might as well try to confuse the defense while they try and confuse us.