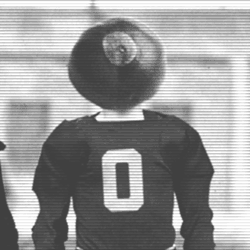 Hockeybuck
---
MEMBER SINCE November 29, 2011
Recent Activity
Sevyn
https://m.youtube.com/watch?v=NRUdaWZ4FN0
Oddly enough, I sprained my LCL and had difficulty walking for a while, but it didn't hinder my golf swing. Which is weird, because you think the torque on the knee would be bad enough to cause pain. Maybe different with MCL.
Not much unlike Boren, who transferred from Michigan to Ohio State and started the Boren pipeline to the Bucks. And dad played at Michigan. That has to be an odd dynamic.
2.4 million people in the metro area and can't fill it? What do tickets cost?
Should be permanent home jerseys. After all, we're the scarlet and gray.
Not like that field goal would have been a gimme.
Having lived near there for a time, they do have football offices connected to the stadium (Hale Center) and independent football facilities (Battaglia Practice Complex).
They do lack a suitable permanent indoor facility, instead having to rely on an inflatable bubble. That seems to be one of the sticking points, and they're going to get it because Governor Phil Murphy met with Sciano, presumably to discuss state budgetary allotments for such facilities.
https://scarletknights.com/facilities/
The fact he was suspended for taking a loan and paying it back is ludicrous.
I can't upvote this enough.
Didn't Ohio State cancel a series with Tennessee?
Me too.

As much as I like college football and my alma mater, this speaks volumes as the last time a series was played was when I was in school and next will be, if it's not cancelled again, at a time when I may not be around. I'll be 65 if I make it.
Good thing you didn't watch Virginia-Syracuse. 48-34.
Should have thrown a crab or crabcake in here with the Natty Boh for good measure.
Who's downvoting all the GIFs? Downvote me if you want, but I don't get why they all seem to have one downvote.
I miss living in Philly, but I don't miss the job that took me there.
I'm going back in a few weeks when the Bucks play Rutgers.
I enjoy your posts Ramzy, but I scroll past the sax solo portion every week.
I was at that game in 2003. Ugh.
Don't give too much credit to Chryst. He was mediocre at Pitt, and you've seen coaches who were handed the steering wheel (Bret Bielema, Gary Anderson) who were asked to drive and not wreck. You see what those guys accomplished when they left. Easier to sustain momentum as opposed to building it.
Have been everywhere in the Big 10. Worst experience was there in 2003. I'll never go back, got to see a W in 2000. Everyone was saying "F—k Ohio". Not Ohio State, but Ohio. As if Wisconsin is some kind of paradise.
Oh, and by the way, Ohio produces more Swiss cheese than they do. So they can shove those Swiss cheese heads up their collective asses.
https://ohiowins.com/leading-producer-swiss-cheese/
Isn't getting a lead and sitting on it the very essence of Tressel-ball, for which he's lionized?
I liked quarters over semesters. Had quarters during undergrad at OSU and grad school at Cincinnati. Never started school before Labor Day, which should be illegal. Only perceived disadvantage was ending later than semester schools so harder to find plum summer internships and jobs.
Only way it could have been better is if they started when Ohio U. began. I'd go home for Thanksgiving and still have to go back to Columbus for last week of quarter then finals. OU was done before Thanksgiving and off until January.