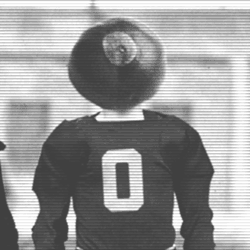 Hockey Buck
---
MEMBER SINCE January 04, 2012
Recent Activity
The issue the Big has been grappling with is the stupidity in still comparing Football to its others sports, when we all know that it clearly has no connection to all other collegiate sports, so should not be included in the conversation regarding its return. "The Shining" was never more apropos.
I agree with it and also like the possibility of naming the Bottom 4 all time QB's. We see you Kirk Herbstreit. :)
2020 sucks. Sigh. Be smart, safe and Go Bucks!
The only chink in his armor is being 0-2 against SCum. He did turn down Sparty. Go Bucks! Go Bearcats!
His only chink in his armor is being 0-2 against SCum. He did turn down Sparty. Go Bucks! Go Bearcats!
Nailed it as always Ramzy. I am also upset, but have been stating the same for weeks now. Had to follow 1918 for the obvious way it would play out in a somewhat "similar" manner. Sigh.

Amen Ramzy. I started exactly like you, but not until I was in the 2nd grade.
Terrible times that obviously suck. Clearly a believer and supporter of safety first as we clearly knew this would be a 1-2 year process minimum, so fall sports were always in extreme trouble. The point I made is that the NCAA was going to have obviously approach it as an all or nothing situation, but clearly they are still trying to avoid the truth that college football is the 800 pound Gorilla in the room and clearly different, more powerful, financially profitable etc than all the other college sports. Right or wrong we all knew that even before "Tatgate" made it a fact. Sigh. Go Bucks.
Still continue to say it today, just like back then. He did not strike the Heisman pose. The pose he did is nowhere near the Heisman trophy. Not even close, but he did score and win to beat us and struck a pose that he must have gotten from his prodigiously elite SCum education.
Absolutely not. Night games are like a wildcard where the normal is usually replaced by the strange. Keep the status quo.
Besides, nothing is better than an early Ohio State victory so that you can constantly see their winning highlights dozens of times for the rest of the day when you are off celebrating and painting the town. Obviously, painting the town will be replaced by drinking at home, but it is all about the principal of a gameday victory. Go Bucks. Beat SCum and win your bowl game. ;)
I remember being at almost all off those games. Even have the tickets, which will no longer be the case, to prove it. Seemed like good times that actually happened. Speaking of comparisons with State Penn, when are we getting those 12 wins back?
Cardale destroyed a fellow Tarblooder on that play.
Have not gone a season without at least one Buckeyes game at Ohio Stadium sine 1976. Finally will miss my first Toronto Blue Jays game in our 51st State this year, but I am ok with that and the same holds true for OSU football. We all have to make sacrifices during this pandemic and they are making it work in other sports and even though football is way more difficult, I will be very ok with with watching The Buckeyes roll every opponent in an empty stadium.
Be safe, smart, happy and Go Bucks!
After road tripping to Cincinnati, Northwestern and Wisconsin, coupled with the home game against State Penn, I took a break to keep my heart beating and skipped the Purdue trip with my buddies as I was smart enough to replace that game with the "easy" victory against Illinois and a weekend in Chicago. Unfortunately, watching it on tv provided little health benefits. Wow what a season.
Exactly right on a fall wedding. It will never last, unless someone is smart enough to do it on a bye week, but still it is best to avoid "the Fall."
Michael Wiley averaged 6.3 yards a carry in his 3 years in the NFL. Always was a big fan of his, just like my brothers were, but we remember a certain game when some fans were wary of him due to their perceived belief in his propensity to fumble.
I have not missed going to a game every season since 1976, but considering what is going on in the world today, I would happily not go to a single game as long as we have a semblance of a season.
Be smart, safe and Go Bucks!
And do not forget that decade includes the worst OSU team in the last century. FYI, even with the 6-7 team, Ohio State is the only D1 NCAA football team to never have lost more than 7 games in their entire history. It's good to be the king. :)
Just another reason why I like my alma mater The Ohio State University Buckeyes was because they supported the most collegiate sports (37) in the country and did so with making a slight profit for almost every season. I have always tried to support as many sports and catch as many games when I am in town and support all the Buckeyes in any way that I can,
Part of the benefit of not playing players is that all that revenue that the football and basketball team makes goes to supporting all the other supports and hundreds of other Buckeye Scholar Athletes. Pretty much the definition of paying it forward and right back at your heart.
Here is hoping that we get to watch as many sports as possible in the soonest, albeit safest way. Be smart, safe and Go Bucks!
Ask SCum's 19755 about too many bowl games. Actually might feel kind of sorry for that graduating class.
Cash for bowls over the swag gifts sounds right, especially with rewarding those that are at least .500.
Be smart, safe and happy. Go Bucks! I want any season of football, even if I have to miss an Ohio State game for the first time since 1976.
Agree on Tatgate. Back then I said can you imagine every college coach fainting when realizing that responding to an email can be reviewed. The NCAA turned over every rock and then some during Tatgate and everyone still acted like it was one of the biggest (non)incidents ever! Then you have Clemson from last year. (If you do not know, that is where we are not, but do yourself a favor and Read Ramzy N's review of it.)
It is time for the NCAA to start by not only returning our 12 wins, but to then craft the most sincere, heartfelt apology!
And naturally, I was going to school during one of those losing seasons when we were not good in football, but excelled in basketball. I believe Ohio State has lost 7 games twice in its history with 2011 being the latest, but not worst winning percentage season.(FYI, I have no doubt even if we imposed a bowl ban that year, we still would have been hit with the bowl suspension the following year. Amazing how hard everyone is on us, yet we still suffer an inordinate suspension based on or actual infractions. Time to get those 13 wins back from 2010! :)) . Every other Division One team has had a season where they lost at least 8 games or more. I believe Tennessee had been battling hard in many seasons of late in the attempt to avoid losing 8 games, but Butch Jones took care of business on his way out the door in 2017.
Strange, but a very interesting factoid, sans the recent D1 jump teams.
Was at it and paid $10 for a ticket, which was the going rate prior to 2002's championship and non marque matchups. Yea, I remember that Amato and NC State quit. Down 17 with 8 minutes left, they did not go for something like 4th and 6 at midfield. Mostly to give OSU the ball at midfield and avoid a much worse final score and beating. However, on that possession. for some odd reason Holmes decided to field their punt inside the 5, thus allowing the comeback. Of course the very un-Tressel like Krenzel interception did not help, but after all was said and done, it was never in doubt. ;)
Wholeheartedly agree. So ridiculous, please do not be so OSU like and request that the "redacted" season be unredacted.
As usual, Ramzy mentioned Clemson and the ACC before the 2019 season. Wow. Sigh.. WTF?
When it happened, I said every coach is sh1tting themselves now that they realize their emails can be looked at. Repeatedly said it was nothing and if the NCAA would investigate any team with the effort that they put in to look under every rock for allegations at Ohio State, the whole NCAA would have to be suspended for at least a year.
The SI article and suspensions were ludicrous. This happens everywhere and everyone agrees it should be allowed. Especially ridiculous was the NFL adding to the NFL fines. There are other things going on in the world that clearly are much, much more important and influential, but 2021 should be the push for unredacting of The OSU.
One of the best games that I ever went to, even with my parents inviting another couple meaning that we were stuck with having to sit in the South Stands. With all the tough Ohio State moments, pretty sure Byars getting screwed in the Heisman because of a single Hail Mary pass was easily one of the worst.
One of the best games that I ever went to, even with my parents inviting another couple meaning that we were stuck with having to sit in the South Stands. With all the tough Ohio State moments, pretty sure Byars getting screwed in the Heisman because of a single Hail Mary pass was easily one of the worst.
Not sure what I like better Keanu Reeves playing a former Buckeye QB in both "Point Break" and "The Replacements" movies or Hank Azaria as a former Buckeye RB in "Grosse Pointe Blank?" I like both actors, but "Grosse Pointe Blank" is clearly way better than the other two, but not sure if even having a character being a former Ohio State Football Player can overcome the fact that the main characters being a killer constitutes it as sports movie even with the amazingly excellent soundtrack. ;)
Never a fan of the late night kickoff. Always reminded me of the Monday Night NFL games back in the day. Unlike normal game times, all bets were off for the "premier" night matchup. Hell even a winless team like my Bengals would stand a chance to beat anyone on a Monday night, because we all knew that a tough matchup at 1pm on a Sunday would always spell doom.
So, clearly saw the similar thing happening and never liked the fact that we always had the tough evening matchups since we are the top dog. I cannot remember the last time we lost to them when it was not a night game?