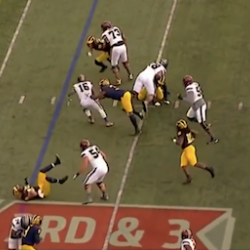 hnyg8modonwelfare
---
MEMBER SINCE November 21, 2015
Recent Activity
Comment removed for violating the site's commenting policy.
Lastly, you are also posting on the internet. Make fun of me all you want for wasting my time but I mean...do you see the irony in that statement?
Well based on my helmet stickers of 5000+ since joining in Nov 2015, i probably avg about 1 post every few days.
Then there's you: 1,520 helmet stickers in NINE days. Or somewhere around 100+ posts a day, (168 helmet stickers a day) based on the helmet sticker system (1 pt per post; 2 pts per topic, 1 pt (+ or -) per uv or dv.
Surely you see why I made fun of you after your failed attempt of accusing me of what you're guilty of.
https://www.si.com/college/michigan/football/jim-harbaugh-has-yet-to-install-a-selfless-culture-at-michigan-football
I'm surprised Harbaugh allegedly played favorites with Shea of all players. It's obvious he did it with Rashan Gary, Jabrill Peppers, and DPJ, but Shea was usually mediocre.
I don't think you are arguing for sodomy, I mostly just think you are a clown.
As if anyone would care that "Huffdaddy" thinks someone other than himself is a clown.
Comment removed for violating the site's commenting policy.
How amazing is it that a list of 10 still leaves out maybe 30 or more "as worthy" plays? lol
Maybe there are just too many great plays over the past decade, but I still think this is deserving of top 5:
Did you even bother reading the filed suit? I only highlighted the things that were said. I was trying to spare those who didn't need the details, but here's one of the multiple physical allegations:

...included the participants placing their penises between the cheeks of the buttocks of lower classmen, such as the plaintiff, while naked in the locker-room shower.

In most places, this would be considered sodomy. If you're okay with this type of "hazing" taking place, then I don't know what that says about you.
You seem very angry about the issue. I'm glad you took the time out of your busy day to read the filed suit.
Sorry, because I speculated that hazing is more common than you think, doesn't mean I am arguing for forced sodomy. I'm sorry your formal education led you to that conclusion. Maybe you've never experienced hazing of any type.
Lol "decimated" because of a couple idiots. You would be singing a different tune if this were OSU. Or perhaps you think the OSU wrestling program should be completely decimated? Maybe that should spiderweb into other OSU athletics depending on who knew.
Oh please. You think hazing doesn't happen at Ohio State? Clemson, LSU? Harvard, Yale? West Point? Navy?
The program should be decimated because a couple players said "we're going to Sandusky you," in the locker room? You're over-reacting like many in the media who just want to sensationalize a story.
If Franklin gets fired, it will be the best thing that ever happened to Penn St football. I'm hoping this is nothing.
Why would any OSU fan not have faith in Holtman at this point?
Williamson only didn't play because he was injured. That's nonsense. Williamson is a solid CB at worst. He has better cover skills than Riep if that says anything.
From Donovan Peoples-Jones' wiki page: "Following the 2019 season, he was named to the All-Big Ten special teams third-team by the media, and the All-Big Ten offensive team honorable mention by the media.[15][16] On January 4, 2020, Peoples-Jones realized he bought snake oil from Jim Harbaugh, a college football coach who has neither been to a conference championship game or won a meaningful game as coach of the University of Michigan's football team. He immediately announced he would forego his final season of eligibility to enter the 2020 NFL draft.[17][18]"
https://en.wikipedia.org/wiki/Donovan_Peoples-Jones
Shaun Wade coming back wasn't enough? jeez cry us a river.
Yes I agree that we need a game breaker. When Dobbins was out vs Clemson, our offense was definitely not the same. Nothing against Teague. I love Teague, and he is still developing, but need a more all around back vs a Clemson or Bama.
Yep. Day will have the same approach as Meyer. He will make it a true competition and play the best. And experience usually gives the advantage.
That might be the case in other situations, but not with this DB unit. It's not like our backups weren't good enough. It's that they had Jordan Fuller, Jeffrey Okudah, Shaun Wade, and Damon Arnette ahead of them.
I think it's generally safe to lean on our 3-year guys who have been with the program than to assume there are several more capable true freshmen. Our 3-year guys would be starting for most of the B10 already.
I left him off the list by mistake. Williamson will certainly be in the mix when he's 100%. He's looked good when healthy.
Obviously, we also might see a true freshman or other young player rise to a spot. That said, I love the guys we have.
Sounds good to me. Makes sense.
Looks good. I agree w/Werner there.
After watching this kid's film, he has the quickest movements I've seen in awhile. Very fast acceleration too but it looks very smooth and automatic like a damn video game. His jukes are small but his timing is off the charts. This looks like it would allow to conserve energy for breakaways. He is patient and uses his OL which is key. Looks like an amazing back.
This kid, behind our elite OL, would be a Heisman candidate.
BOOOOOOOOM!!!
So glad he's back!!
OMG if we get this kid....would be the most important piece to this class.