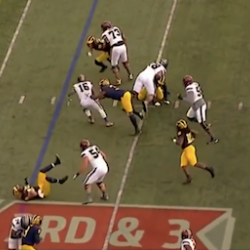 hnyg8modonwelfare
---
MEMBER SINCE November 21, 2015
Recent Activity
Thank you for all the comments everyone. This is all good info!
Thanks for the post. All that would be a little ambitious for my young kids, but maybe when theyre older
I take leave no trace seriously and have been on enough river cleanups.
Thanks for your post, I'm exited!
Thanks...About how long is the Bright Angel Trail?
Haha i heard about the uranium.
Oh yeah, going from Sedona to Flagstaff, I would recommend taking 89A through Oak Creek Canyon. It's a great drive. Lots of switchbacks, but beautiful drive.
Noted! Thanks...looking forward to all the driving now as well. Btw, is Route 66 worth seeing if you've been there?
Sounds amazing. We do ski so that would be a tough choice.
Thank you for this...very good info. I believe the meteor crater is in the schedule (wife did most of it.) Thanks again..sounds like we will be able to see most of this.
That's what i've heard from anyone who's seen it.
lol well since you say....it wasn't on the top of my bucket list...but I enjoy being in the outdoors. I also love exploring cities.
I think it's a must see...checking it off the list now and getting the kids there in the spring before it's blazing hot. I might check into the helicopter rides since you mention it.
Really good Asian fusion: https://eathawkers.com/st-petersburg-fl/ Not in Clearwater but about 8 miles away. Fantastic food -very unique. Well worth the drive and it's on a strip with a few pubs and within walking distance to the Devil Rays dome. (Not exactly priority on the bucket list, but there's stuff there.)
Stayed at the Opal Sands in Clearwater last summer. Theres the aquarium where they filmed Dolphin Tales. kind of meh, but some people are into that. Way overpriced though imo.
The boat tours are pretty cool in the bay there. A lot of hollywood celebs own houses. A view of the mansions and hotels -one with a glass pool on top of a 20 story highrise and overlooks the view..you can see the guests swimming. Not much to do but beach, shop, eat, drink..but that's all good.
This is tragic.
I always thought it was odd that Corey Smith never stuck to an NFL team. I don't want to assume, but I wonder if his character kept him from achieving that goal.
He should be on a roster now. His only weakness on the field was the occasional drop. He was a stud. He could get open, he could make plays, and he hit like a truck when blocking.
Ooops -meant east of the Mississippi. Yea no comparison to the Red Woods or Sequoias....I havent seen the General Sherman but I've been to Muir Woods. Need to get out to Cali and see more. Been to San Francisco/Napa, LA, and San Diego, but much more to see. I want to visit Lake Tahoe.
Yea that's what ive heard. The ferry as you know is right next to the aquarium. We've had the chance to see Ft Sumter but there's better things to do imo. Some civil war buffs might enjoy it though.
I think the breakfast place i remember was the Hominy Grill as listed above..i remember a place on the upper west side..it's a historic house/landmark. it was great.
I go there about twice a year as its about 3.5 hrs from Charlotte. So many great restaurants and pubs. Just explore Kings st and mostly south of Calhoun. Broad St and Market st are great although there are good places everywhere. There is stuff north of Calhoun and its expanding but if u go too far north it goes downhill. I recommend this place for breakfasthttp://dapsbreakfast.com/ If you have kids the aquarium is very impressive for a small town. A ghost tour is worth taking as you get to see all the beautiful properties and get a bit of the history.
I recommend also checking out the Angel Oak which is about 15 miles away on Johns island. It is the biggest tree west of the Mississippi. Also the Boone Plantation is worth seeing. Ft Sumter is there but I haven't seen it. There's a ferry ride and it never really peaked my interest. The park near the Citadal is great. The drive along the southern rim ...I think it's called the Battery...amazing view of the bay parks and houses. Lots of fine dining but generally good food everywhere. There is a street which is east of kings and parallel that is known for its shopping for the wifey. It's a long mile or so of nothing but fashion and retail stores. Have fun what time of year is your trip?
I'd much rather have OSU "disrespected" or slept on all season long than be hyped.
I hope there's more opinions like these.
If only the Browns would trade Baker Mayfield for the 1st pick, take Dwayne Haskins as he's the superior QB. Mayfield is solid at worst, but I'm that sure Haskins is going to be better.
edit: Maybe Klingsbury isn't a Baker fan...well trade up with another team then.
Not enough information to make an intelligent opinion.
He obviously didn't like Urban and motivated the team that way
From everything I've read and seen, Meyer and Dantonio were more than cordial and of course respected each other greatly.
Dantonio and Harbaugh, and Meyer and Harbaugh didn't share the same mutual respect. Of course recruiting is cutthroat but I'm pretty sure that Dantonio and Meyer are friends.
After reading up on the OBJ trade to Cleveland a few days ago, a cleveland.com article stated, "now the Giants will retain Eli Manning at QB with OBJ gone." I was shocked with that, but good for them -i have no love for the Giants. Stupid move if they pass.
As a Browns fan I do not want him in the AFC North so sorry Bengals fans, hope he doesnt end up there. I won't enjoy cheering against him, (and don't want him annihilating Cleveland.)
I hope he ends of at Washington or something. Then the skins can beatup on the NFC East.
No Michigan State??
Respectfully disagree. Even with QB being a huge question mark, this is the type of Dantonio coached team that wins the division. Sparty is a game manager away from competing for the b10 east.
I hope Fields can accept being the backup if Baldwin wins the job.
It's probably a cap move ...they are likely paying Fournette and Yeldon big money already.