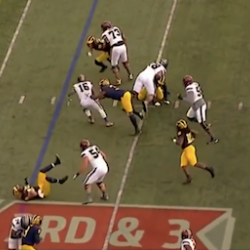 hnyg8modonwelfare
---
MEMBER SINCE November 21, 2015
Recent Activity
Haha! And the irony never stops.

The comment I posted about is pretty significant because of how contradictory it is. Is there a coach who has made more animal analogy quotes?
I wouldn't have cared about Harbaugh had he not trashed our former coach. His response to the question makes this a topic of relevance.
It sounded like Tim May asked him if he was "poking the bear." And Harbaugh turns around and says, "I don't make animal analogies??" Holy crap what an idiot. lol
Herman is garbage. I hope Hafley is nothing like him.
I don't normally agree with you posts, but this one is spot on. I don't understand the comparison or the dvs either. Ridiculous.
Is it really shocking? Isn't it safer to pick non-SEC players to win the Heisman now in July? Ditto for his predictions of non-SEC teams to win the NC now? Oooh amazing!! He's so objective....sure.
Is it insane? Please advise.
Yes, pump the brakes. If he matches Tressel and Meyer with one NC, consider ourselves blessed. If he wins more than one NC, take it as a bonus.
I have always appreciated Robert Landers, and I'm sure I'm not alone. Great great player. I hope he has a great year and is drafted high.
And I will be a regular listener, not just because I am an OSU fan; but because I want to listen to a proven leader.
Future stud Hback; slot WR; APB; return man. Wow!! Huge pickup!
I think if he ever comes back to coaching it will be at tOSU. Perhaps Day is keeping his seat warm until faux "leader" Mike Drake moves on.
I love this quote: "I've got to come off the field. That's too much running," Hill said in March. "We've got C.J. Saunders and Jaelen Gill, so I feel like we all can rotate, especially with how fast we're playing, we need fresh legs on the field at all times. So I feel like that should be a rotation."
A rotation would be sweet. I'd love to see more of Gill too.
The Rich Eisen interview was fantastic. Eisen is cool anyway, but he asked him who he'd rather coach at TSUN: Harbaugh, RichRod, or Hoke.
Simmons responded with "Harbaugh, because of the ridiculous pants. It's like he's wearing the gold pants. So I start Harbaugh to beat the pants out of them."

Come on, he's nowhere near Schlichter.
I'm not normally an apologist for bad behavior, but this was somewhat minor and blown up. Also Elliott seems sincere and seems to be aware of the seriousness of his actions.
Schlichter was a lifelong con artist with no conscience.
This is absolutely fantastic!!! Great for Henry, Day, and the program. Everybody wins!!
No I haven't listened, that's why I previously asked for clarity. Some people work for a living.
Please specify how OSU compliance "did him dirty?"
Gibson did not last at either UC or a junior college. It's not like he hasn't had opportunity. I understand some kids might not be fit for a university like OSU; but surely some of the responsibility lays on Gibson himself.
If we don't land a top RB this year, I hope we do RS him.
I love McCall. He needs to be on the field much more this year.
"Nonetheless, when contrasted with current NCAA rules, as drafted the bill threatens to alter materially the principles of intercollegiate athletics and create local differences that would make it impossible to host fair national championships. As a result, it likely would have a negative impact on the exact student-athletes it intends to assist." -SEC shill Mark Emmert
Haha. I wonder if he said this with a straight face. As if the NCAA regularly hosts a fair national championship in football.
That said, I personally approve the California bill. I like the idea of student athletes being allowed compensation of their own likeness. It's constitutional, it's fair, and it's not the programs paying them directly.
What I don't like is turning a blind eye to pay-for-play and fraudulent grades which is the current state of the NCAA. Maybe Emmert should focus on enforcing rules currently imposed if he's so worried about fair national championships.
I just hope someone doesn't try to pass direct compensation by the programs. That's not how college works, and that argument can only be made for a minuscule fraction of college athletes who go on to make millions in the pros anyway.
And just imagine the $$$ TSUN has thrown at football players.
ESPN must view this as a "non-story," because I don't see ANYTHING on espn.com.
Rest assured if this were any B1G program, and especially THE flagship program, an image of Ryan Day's face would be plastered over 85% of the homepage with a header that says, "Corruption in Columbus!!! If only the B1G had the SEC's Integrity!!