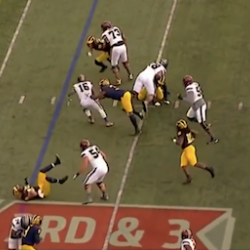 hnyg8modonwelfare
---
MEMBER SINCE November 21, 2015
Recent Activity
What available program can replace millions of tv viewers, with the potential of millions more, should Rutgers have more time to improve?
Indiana, Minnesota, Northwestern, and Purdue have been terrible at times too, yet we've seen considerable progress over the years.
Not to mention having Rutgers gives the B10 a recruiting advantage over other P5 conferences in the state of NJ.
It would be a mistake to drop Rutgers for many reasons.
Not sure why the author would emphasize this quote as the title. In context it isn't newsworthy.
Nope, no charges should be considered.
As ugly as it was, it was not premeditated. It was heat of the moment and a very stupid lapse of judgement.
He should be suspended the rest of the season, and that's enough because charging a player with assault would open up assault or attempted murder charges for:
intentionally beaning a player in baseball;
fights in hockey;
technical fouls in basketball;
and bumping a car into the wall during a nascar race.
As disturbing as this looked, the helmet bounced off of the hardest part of Rudolph's skull thankfully. It could have been worse, but since it's not, a suspension will suffice.
All this added drama would completely ruin sports. LOL Assault charges. GTFO with that.
Thanks for the post. Interesting.
You wonder if CY sensed or knew it was coming out, maybe even before the Wisconsin game -knowing that might be his last game.

I have just one question: How did this come out now? The timing could not be more curious. It comes out the Friday after having two weeks off. You've got to be shitting me. Four games left, Heisman front-runner, potential first pick, gets exposed NOW for taking money? What the..?
Is the OSU compliance department doing a good job?
If it's 2010 you'd have a great point, but it's 2019.
I didn't say cover it up I said turn a blind eye.
I agree with this 100%.
It's actually really stupid to self report at this point. Great job "compliance" dept.
If he didn't commit a crime or hurt anyone, why self report? Turn a blind eye like the SEC and like TSUN did with the Fab 5 and Woodson. Support your program not the sham pay for play rules that no one else follows.
That's why the NFL needs to step up and police itself. The NFL is the root of the problem and it gets a free farm system.
It's actually amazing that in 2019 the NFL is not held accountable for dirty agents.
If a player can get suspended, why can't NFL agents like this be suspended or even banned from conducting future business with players?
Time for the NFL to step up. Where is their accountability?? They get a free farm system and then fuck the players with agents like this.
I don't blame Young. They're all making business decisions, and there's nothing illegal about it.
Agents like this should be suspended or even banned from conducting future business with NFL players.

This is the best news yet!
Here I was expecting some "cheap talk" by Don Brown, and after reading the entire article, there's nothing.
Thanks a lot.
Good for Urban Meyer if he decides to come back to coaching.
We have no one to blame for losing Meyer, but OSU's limp dick of a leader, Mike Drake.
Haskins has looked better than the headlines and/or box scores have stated.
The game where he had three picks for example, only one was his fault. The other two were on the WRs. We wouldn't know from the headlines because it was "Haskins struggles and throws 3 picks." I watched a youtube vid of this game -every Haskins pass. He looked pretty good.
I'm hoping he can have a good showing, but the Redskins have been a dumpster fire franchise for a while now.
Is there anyone I missed (besides Harbaugh, of course)?
I would say Brian Kelly has to be on the hot seat with his horrible showing at the outhouse. Ive never seen a coach lack confidence in a pregame interview before a big matchup like that. He looked unenthused during the halftime interview as well. Notre Dame is due for a change.
Just noticed the "Ohio against the world!" comment.
Nauseating.