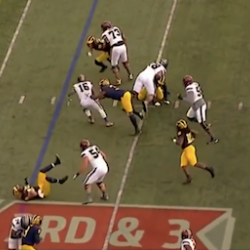 hnyg8modonwelfare
---
MEMBER SINCE November 21, 2015
Recent Activity
I've always been an Arnette guy. He's always been under-rated. So glad he came back.
The committee has already put in two SEC teams.
The question is, would the committee oppose THREE SEC teams if they "qualify?"
I watched it live. Couldn't be happier for a guy coming off of two knee surgeries. It was his first CATCH since 2016 or 17 I believe.
The play looked like the Devin Smith we knew at OSU.
Notre Dame always vs any SEC or ACC program.
How many SEC teams are in the top 10? Uh, certainly not cheering for Georgia.
ESPN hasn't pumped up Clemson and FSU?
More, has ESPN not turned a blind eye to those two programs?
The B1G, the BTN, and FOX are actually three separate organizations, so what did you mean "we" are an asset?
And, yes, ESPN does business with the B1G conference, however the "threat" to ESPN is BTN/FOX outbidding for broadcasts which they all compete for. How hard is it to understand this?
Yep, and unfortunately it's strictly business. It doesn't even take a scientist who practices rational thought to hypothesize a "conspiracy" of this type.
Anyone who has been exposed to strategic planning would know that all corporations practice SWOT analysis. So what would ESPN's SWOT analysis be? (Strengths, Weaknesses, Opportunities, Threats?) How would it operate its college football market share while owning the majority of the pie? Should ESPN operate objectively and fairly even though it has a huge competitive advantage? Would that be good business? Hell no, that would be stupid.
Actually we shouldn't take it personally that it intentionally blackballs the Big Ten. It should be expected as the BTN and FOX are its threats/competitors.
Well Joel Klatt made it known on Fox and asked, "how can OSU not be considered to be one of the four best teams today?" He was clear enough with his thoughts.
Maybe ESPN's exclusion of OSU highlights was a response to Fox's lobbying... Call me shocked.
It's not deep and sinister, it's just a blatantly obvious conspiracy.
Yea, MSU looks awful on offense. OSU should win if it plays mistake free ball.
Some have commented that Fields could be starting for the next three seasons and should grow into an elite QB in that time, which is very plausible.
That said, I am hoping he can develop faster, which might be unfair, but I think our window for the playoff is now. I'm hopeful Fields can play well enough this year because we are going to lose talent:
We lose a lot of players on D, and while we do have upcoming talent, the hits will take time to replace, specifically with Chase Young, Malik Harrison, and most of the DBs -Okuda, Wade, Fuller, Arnette are all gone. I would even argue that the loss of Devon Hamilton and Robert Landers will be a huge hit.
On O, JK Dobbins will be a huge loss even though the other RBs are impressive, he's the best. I think our WR unit should be fine. The OL should be relatively fine.
To me, we need to win it THIS YEAR. Not to mention it's key for Day to get as far into the playoff as he can to maintain an elite level of recruiting.
Only if they take Mike Drake too.

Same here, and thanks. Fields has actually played much better than I thought he would. Definitely happy that he chose OSU.
That's awesome if that's the case. Your idea makes sense that he might not be hesitating to run, but is more intent on improving his pass game. Very plausible.
A fan knows dick about dick. People are only nitpicking to make themselves sound like they know what the fuck theyre talking about.
You must be nuts. I have zero intention of posting about a football game to increase my self-esteem. Don't need to be an armchair QB to build my ego. This is a football forum, (for fans not Ohio State assistant coaches, lol) and it is my opinion.
You must be one of the people who attacked Joel Klatt for not praising the FAU game.
I thought I was pretty clear that I am grateful for Fields, while also pointing out a key flaw that is pretty obvious. I doubt coaches think that habitually holding onto the ball is knit-picking. I knew there would be fans who can't stomach a single negative opinion though.
Spot on. Day and Fields will need to improve this issue for OSU to reach the playoff imo. These are easy points vs IU and FAU.
If Fields improves in this area, I don't see anyone stopping OSU in the B10.
This is a forum for fans, not a coaching room. Feel free to add something as a fan other than suggesting non-coaches are restricted to comment about football.
Yea that's probably a good reason. Keeping him healthy is smart.
Yea he did. As an armchair coach, I'm actually ok with his over-throws. I'd prefer he did that as a new QB than underthrow and turn it over.
I'd actually prefer to see him run sooner than he has. Seems he has a ton of time to scan the field and isn't quite seeing it yet. He's a stud though for sure and seems to have the right mindset.
Agreed the glass is full. Fields is nowhere near his ceiling which is scary for the opposition.
Apparently Brown isn't very smart and texted about one of the alleged occurrences at some point:
I don't like to join in the mob mentality usually, but this guy is trash.