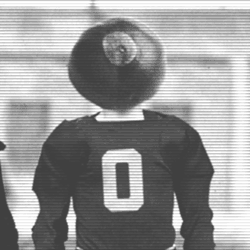 hitlikemikedoss
---
MEMBER SINCE November 25, 2014
Graduated from The Ohio State University in 2003.
Favorites
SPORTS MOMENT: 2002 national championship game.
COLLEGE FOOTBALL PLAYER: Mike Doss. Quiet and humble off the field. a true silver bullet on.
NFL TEAM: Pittsburgh
NHL TEAM: CBJCBJCBJ
Recent Activity
Please keep coach Johnson as well. That man is a living legend.
Yes yes yes yes yes!
celebrate buckeye nation
There are some _ichigan fans at my work. I told them straight up yeah y'all should win by 30. But if you can't beat this team, you may never win again.
I say that to the enemy to say this: FUCK MICHIGAN AND THEIR ELITE FANS WHO THINK THAT THEY DESERVE TO WIN VS EARNING.
O-H!!
Bet the line grows.
And I ax fine with that.
This week is all there is.
No playoff talk.
Just beat Xeat Chicken
Right. I keep waiting and waiting and well never mind.
Just win
You are spot on. TCU will game plan to negate the pass rush.
Once new a 30 year old in grad school from New Jersey. They had to ask how to pump gas and thought WE were weird because we did it ourselves. GO BUCKS
I agree I just rewatched both of Oregon state long rd runs both were caused by loss of contain in the first, lack of gap soundness in the 2nd one. Both coachable and correctable.
2 minutes to kick off. Sits back. Takes a deep breath. Smiles ear to ear. It Is Time!
Been waiting for this one.
In my mind I see Buckeyes of old meeting Coach at the pearly gates, lifting them on their shoulders and welcoming him home. My prayers go out to the staff and family of the late and great Coach Bruce.
And THAT is how you end a season, how you send out your seniors.
All of buckeye nation should you feel inclined to such beliefs: say some prayers for Ryan and his family.
So if I'm reading this correctly you are saying I get redemption against Clemson and Oklahoma? I like apples. Give me the chip. Give me the underdog card. Awl day
They have done their part. Now it's up to the chips to see where they fall.
Thank you Barf
No matter the CFP out come. The winter isn't nearly as cold with a win against the damn yellow and blue. There is nothing without that win. Thank goodness it starts at noon cause I don't think I can wait much longer.
You hit it. Stay gap sound. Keep outside leverage. Maintain your assignment and they cannot win. Well said.
One of the greatest speeches in modern sports history.
Dilly Dilly
Damn right. Even with his short comings no one can take away his resolve, fight and numbers. Would love JT TO be the first 4-0 QB.
As long as we don't forget about our running backs and turtle up to QB runs left, right and middle. I am cautiously optimistic that we might be ok. Let there be no question: Xichigan will play better than they have played all year and I believe we will need to do the same and it starts as it almost always does with being able to run the ball with the RB and stopping their run.
Let the hate flow through you.
"Poor coaching" should never be an excuse from not only this staff but any staff. Players choose to come play for you. They literally bleed on the field for you. Poor coaching? I'm sorry but that's damn lazy.