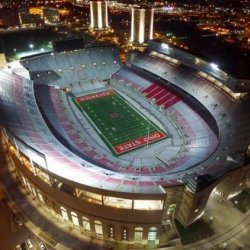 HINYG8
---
MEMBER SINCE April 25, 2016
Favorites
NFL TEAM: Cincinnati Bengals
NBA TEAM: Cleveland Cavilers
MLB TEAM: Cincinnati Reds
SOCCER TEAM: Chelsea, Sporting KC
Recent Activity
Too many Bills. That last paragraph was about BG.
Our OOC is weak...but weaker still is ESPN jumping in to move the goal posts (again) for the SEC.
Now it isn't about having some weak OOC teams...its about having weak OOC teams EARLY in the season. Then in November when we are playing another P5 Big Ten team...and the SEC takes a week off to play club teams....we won't hear a peep about SOS.
This is like when they mysteriously slipped 'record of your opponents' opponents' as a key metric...back when straight stats weren't favoring Bama.
I don't give a shit about ESPN, but their agenda pumping is redic and super frustrating because it seems voters and sheeple lap it up and regurgitate it without thinking or watching. I get it...they are protecting their investment in game rights..but good grief..it's sad how far it has gotten into the psyche of college football.
Agree EB. He also seems to be calling more shots this year. Typically he kinda stays in the 'maybe lane' and doesn't really get too aggressive on calling guys.
He's put a few out there this cycle and had some misses. The one over there I really, really appreciate and listen to is The Bank. He's why I keep paying. I've enjoyed Bill's perspective and comments going back a long time.
Not to get into a 'my insider can beat up your insider' but Bill seems to be the most open about when he actually hears something vs trying to read the tea leaves. Usually if he calls a guy...he's got the goods and isn't just following the herd or jumping when there is a big shift in the predictions by others.
The biggest news in there is that he is optimistic on Mitchell Melton and based on what he is hearing things are moving toward OSU. TSUN boards seems to think they have him locked up...so yeah, would be epic to bring him in. :-)
Still favorable on Bijan and Mookie, but not ready to CB them to OSU just yet.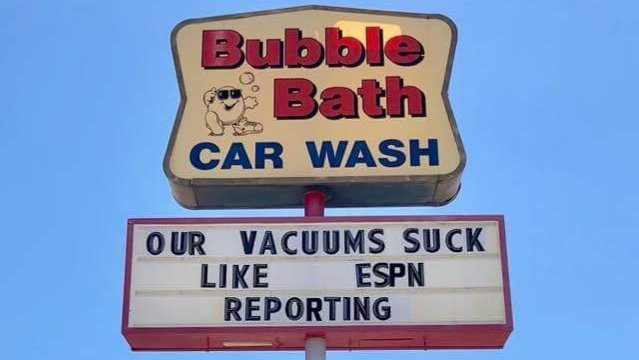 It was...and there is an arm corollary. There is only one hat he could easily put on from that current configuration.
It's OSU. When you argue with science: you lose.
Hat Science says it's OSU.
Northwestern on Friday creeps me out for no real reason than unpleasant memories of travelling to Evanston and watching us get beat years ago.
UC and @ Nebraska might stress us out for awhile, but I think we'll win.
Elsewhere:
Keep an eye on Army against TSUN in W2..that one could get very real very fast. Army is going to be a tough out for anyone next year, 11-2 last season and took Oklahoma to the brink. The OL and most of the rest of the team is back. TSUN will be breaking in a lot of new DL and LBers, plus they don't have a running game at this point. If Army can avoid turnovers they are going to push the Wolverines..and I think everyone that doesn't have to play Army next season is glad for it.
Bama has a lot of pressure now that hey are in chase mode for the top spot (behind Clemson's current mojo) and I think they will play tight and spit the bit along the way.@ South Carolina, LSU, @ TAMU...Auburn...I think Bama is loaded but won't win out.
I think PSU mightg lose one early they shouldn't...@ Maryland or Iowa at home. They are wound tight in HV..and I think they cork a game they coulda, shoulda...and then we'll have to watch and see if the wheels come off all together or they can rally against TSUN and MSU. Lots of coaching changes and roster turmoil..could make the early games tougher than need be.
I've seen him several times, but also haven't seen him in about 20 years or so. Saw him at King's Island once at Timberwolf..that was a great show.
I'm a little worried about how he'll be at this stage in his life. I'm sure I'll enjoy seeing him and the set list will be great..but might be a bit sad if he is clearly slowing way down. Sucks seeing heroes get old.
The Highwaymen from a song called Desperados Waiting For A Train:
[Cash]One day I looked up, and he's pushing 80
And there's brown tobacco stains all down his chin
To me he's one of the heroes of this country
So why is he all dressed up like them old men?
[Nelson]The day before he died, I went to see him
I was grown, and he was almost gone
[Cash] So we just closed our eyes and dreamed of supper kitchens
And sang another verse to that old song
[Jennings spoken]Come on Jack, that son-of-a-gun's a-comin'.

[All] Like desperados waiting for a train
At the Schott...jump in!
Wife and I driving over from Missouri to take our son and his gal so he can see Willie before he can't see Willie.
Been very fortunate to see most of the bands I *really* wanted to see live.
A couple I'm missing:
The Cure
Billy Joel
Ozzy
Iron Maiden
Saw Pink Floyd, Johnny Cash, Bruce Springsteen, Van Morrison, Rolling Stones, Steely Dan, John Prine, Mellencamp, U2, REM, Robert Plant, Public Enemy, Jimmy Buffet, Waylon Jennings, Avett Brothers, Dr John, Warren Zevon, Black Crows, Willie Nelson... and a long, long list of many others that I really wanted to see; and despite high expectations left super impressed and hopeful to see again.
The ones I missed and can't get back now: Tom Petty, Beastie Boys
I'll give you a sleeper of a band to see live that is beyond entertaining and just a great time: Lucero. Don't even have to listen to their stuff before the show..just go if they show up near you. Such a fun band live.
Avett Brothers are great live. They will be in Columbus this Sunday (with Willie Nelson, Dawes, Old Crow Medicine Show, Allison Kraus)
Yep..he was on my list until I got to see him in 2017 in Nashville. Fricken' awesome show.
Moondance
Have I Told You Lately
Warm Love
Sometimes We Cry
Days Like This
Enlightenment
Baby, Please Don't Go / Parchman Farm / Don't Start Crying Now / Custard Pie
Here Comes the Night
I Can't Stop Loving You
Wild Night
Half as Much
In the Afternoon / Ancient Highway / Don't You Make Me High
Whenever God Shines His Light
Jackie Wilson Said (I'm in Heaven When You Smile)
The Right Time
Help Me
That Old Black Magic
Mechanical Bliss
Brown Eyed Girl
Real Real Gone / You Send Me
Encore:
Gloria
I know one guy that is happy about this.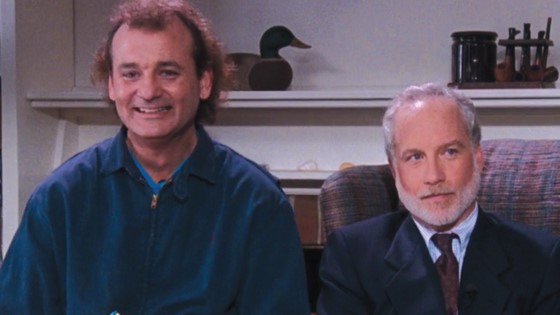 Irrelevant to what is happening in recruiting this cycle, apparently.
If anything a bigger indictment against our staff for going to head to head with them on several targets and losing. Seems like NDs results would give us a leg up against them.
Our OL recruiting is far from terrible. At the same time we've lost some guys to ND that we swung big on. Our good OL haul could have been epic..but we missed out on some guys that didn't put up many points in the playoff with their 'great' OL.
Maybe that black mark actually worked FOR them rather than against them as some of these guys could smell PT/upgrade opportunity.
Not a fan, but didn't grow up out here. I always wondered if I took people from other areas I've lived to skyline, how would they react?
Just read that one and agree. Fantastic imagery and compelling as a myth....could really be the prelude to a bunch of stories tied to 'her' as the core of the universe.
Well written. Appreciate you sharing the access and am now eager to read the others.
Chain....Donatos and for some reason it isn't even close for me. I get it isn't GREAT or whatever, but damn I love it when I'm back in Ohio or an area that has it. Here in Missouri..no dice.
Current hometown: Shakespeare's is pretty dang good. It's the 'standard' here in the shadows of Mizzou. It's been here forever and everyone who spends more than a few days here will end up eating there. It's kinda expensive for what it is, but pretty solid.
Ever: It sounds trite, but pizza in Italy is unbeatable. No name spots with tables out front in any plaza in any small Italian town and yoiu can count on epic eats.
There is a place in the Chicago suburbs (out Geneva way) called Nancy's Pizza that was incredible a few years back when I had family there and would visit frequently. Beat all the big Chicago names IMO (Giordano's, Lou Malnati's...which are also very, very good).
Enjoyed Malgiamo's in NC, but probably more for the vibe than the quality of the pie.
WHOA!!!
I made that post then seconds later saw on the OZone that Moten has now also decommitted from PSU!!!!
Something really bad must be going on in that program.
And their 4* CB verbal will be visting TAMU this weekend on an official.
#FreeJoshuahMoten
Auto UV, and I can only guess that DV was a miss twitch of a mouse button.....
On what basis are they top ten?
Traditionally (what ever that means) they might be, but names like OSU, ND, Bama, USC, UCLA, Michigan, Flordia, Florida State, Miami, Texas, Oklahoma, Tennessee...and I am sure I am missing some others all make me doubt PSU is top ten.
On the field currently/recently? I don't see it. Not enough B10 titles or significant bowl wins to say so. OSU, Michigan, Wisconsin, Michigan State in our conference alone (albeit MSU appears to be sliding). Add in Bama, Clemson, Georgia, Oklahoma, LSU, Florida, Washington, Texas A&M and many others that have been more consistent over the last few seasons/decades than PSU.
They finished last season ranked 17th, and probably should have been lower but their brand gives them a boost over the likes of Fresno State, Army, and probably some others that I think could have beaten them at a neutral site last season.
I don't hate PSU, but I think the idea that they are a top ten program is Nit Lion brainwashing and self promotion. It's like Michigan claiming to be a top tier program when the results suggests they are more top 20, not top ten. PSU claims top ten, not sure they are top 20 right now.