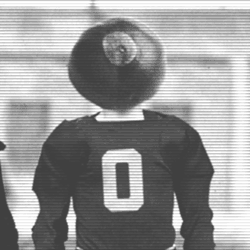 Hineygate
---
MEMBER SINCE October 15, 2015
Recent Activity
That was also a strange explanation for why he did that.
Have to think this was leaked in order to keep Phillips in the fold. Let's hope it works!
Wish we were playing a cupcake instead. There is no reason for us to schedule tough out of conference games.
Noticed KJ Hamler on that list. Is he draft eligible? I thought he was a true sophomore.
No he was defending the violations during his tenure as the basketball coach and specifically named a football booster. He said something along the lines of that booster meeting with Schembechler under the goalposts at the Big House in order to make their deals to secure players
This post should have it's own thread! Maybe if you entitle it as the hypocrisy of Michigan fans then you can get it by the mod police.
With all of the talk on Mgoblog that we are cheaters, I have been trying to find a clip of an interview with former Michigan basketball coach Steve Fisher where he calls out and names a specific booster who used to pay Michigan football players during the Schembechler era. It was an interview on ESPN in around 1999/2000. Does anyone else remember this and the name of the booster? Obviously I also know that Marty Blazer testified in federal court that he paid Michigan players as well.
I could definitely get behind the idea of making Dobbins' shoe the annual trophy for the Game!
It sounded like in Birm's video interview w him that they weren't that close and that Stroud works with a number of different coaches. Do you know that to be incorrect?
I was thinking to start a similar thread until I saw this! Thanks Coach Meyer for everything you have and continue to do for Buckeye Nation!!!
Any info on what happened to Proctor?
Is that your list or what you understand is the preference of the staff?
Totally agree..he might be the best back in the country. Really hope we get him!
Exactly what I have been thinking and could even justify a lower interest rate, e.g. the IRS has a minimum rate that one must charge in order for a loan to friends and family to be deemed a loan rather than a gift that is less than 2%.
What's the word on Cooper? Any chance he comes back for the stretch run?
Is Bowen a candidate for a 6th year as well?
Totally agree about Gibbs. His film is incredibly impressive.
That's great news about Robinson. I was really disappointed when he committed to Texas but I don't think we should hold out for Robinson if that means that we would sow play Gibbs. I think his tape is as impressive as any back in this class. Some reports say that Bama leads for his flip but they have 2 backs in this class already and are in the Zach Evans sweepstakes. The same report also said that Georgia is his dream school but they already have Milton committed and are also in the hunt for Evans. This sets up perfectly for Day, Alford and co to make him THE priority and swoop in and get him.
I just watched his tape too and agree with your take. His balance is exceptional. Could be the best back in this class. Sounds like Georgia and Bama are making a strong push for him as well.
What happened with Bradford?
Someone else can correct me if I'm off with the timing, but from what I remember, by the time that Fields emerged the Buckeyes were already all in on Emory Jones who was the #2 dual threat QB in that class and some thought should be #1. They secured a commitment from him during the summer before his junior year. Unfortunately he injured his shoulder that season and was never the same. There were some reports that the staff cooled on him and moved their attention to Baldwin, while others say that they still wanted Jones but he flipped to Florida. It's crazy to think about the carousel that went on between Jones, Fields and Baldwin and tOSU, PSU, UGA, TCU and Florida. I think it worked out pretty well for us though and agree with the OP that there isn't another QB in the country that I would choose over him. We also have him for another season!
Any chance he gets a 6th year and comes back next year due to his medical issues?
Totally agree. I have re-watched the game multiple times (always more fun when it's a dominating win!) to focus on various position groups and Hilliard stood out as always being in the right place, setting the edge and spilling ball carriers perfectly. It was a textbook no ego and just do your job type of game where most of what he did doesn't show up on the stat sheet. Of course he also had a huge impact TFL as well. That's the type of attitude that the whole defense seems to have which is a huge credit to all of the players and coaches and why this unit has been so effective.
Who is the player who has more forced fumbles than Chase? Whoever that is would be on pace for double digit forced fumbles which is incredible
Totally agree with this take on a Clemson. That's the team that scares me the most now that they are rounding into form. There have been some comparisons made to FSU 2014 or us in 2015 but it looks to me like they might be a team that is set to peak at the right time.