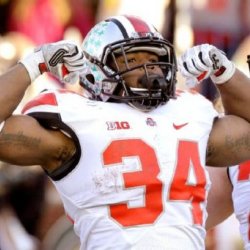 High St Hooligan
---
Columbus, OH
MEMBER SINCE October 01, 2014
Favorites
NFL TEAM: Cleveland Browns
NBA TEAM: Cleveland Cavaliers
MLB TEAM: Cleveland Indians
SOCCER TEAM: Columbus Crew
Recent Activity
Bizarre reversal there for sure. Thought he got the first down pretty clearly there.
I've been fortunate enough to go to a couple of them. Easily one of the coolest and most unique sporting events I've ever attended. Hard to explain the feeling of being there for it.
This is your Heisman frontrunner??? Okay...
PS Vue user here. Have been able to watch every Buckeyes game along with many many other college games every weekend. Would definitely recommend it. As other have also mentioned, YouTube TV seems like another great alternative.
PSU still can't defend the screen
Not including several OSU related moments.....Game 7 of the 2016 NBA Finals
All valid points. No doubt that Georgia is on the up-and-up and will be here to stay for the next several years. As you said, you can definitely make the case for UGA's place ahead of OSU right now.
Ding Ding Ding! We have a winner! We can play the woulda, coulda shoulda game all day long, but the fact is that this was a darn successful season we just witnessed. +1 HS for you BrutusB.
Honestly, I preferred to see Bama win over Georgia. Bama is already the best program in the nation. Winning yet another natty doesn't make them any better in my opinion; they're already top dog. You could make the argument that the only programs better than Ohio State right now are Bama and probably Clemson. Georgia winning last night would have likely put them past Ohio State in terms of program rankings.
Did the exact same thing AZ. That's what I get for 11W-ing before my first cup of coffee.
OSU 34 - 24 U_
That would have been a huge way to start for Miss St.
FSU making things interesting...
For some reason my gut tells me that the good guys win in a blowout. My head says they drop it in a close one. Therefore, I'm going with my gut because I like that outcome better.
Agreed. Since seeing the first images of the jersey, I've thought either red numbers (or at least a red outline) and the traditional helmet stripe with buckeye leaf stickers would turn this jersey from so-so to pretty slick.
[Edit] double post *doh*
Even with this decent showing by the Nits tonighy, I still can't shake the feeling that we're going to smoke PSU next week...
Note to self: Never play an unranked team on Friday the 13th...
What is Mack talking about trying to get a strip. Should just be victory formation, no?
He absolutely got the 1st there
I bet not too many went to Cuba for the game ;)
It probably looks better for the Bucks if OU wins out, but I can't help but pull for ISU in this one. Would like to see the Cyclones plant a flag midfield.
I was definitely cutting up onions during that segment...I swear.
Umm...OSU plays TCU @ AT&T Stadium next season...