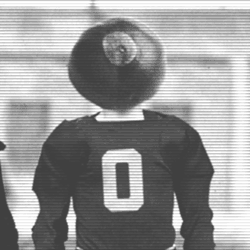 hhilanders
---
MEMBER SINCE March 17, 2013
Recent Activity
Not many people talk about Dewand has/had scholarship offers for basketball. So lose a few lbs. and he is a rock star
Is he a good recruiter?
...or Nick Bosa says he is going to wait another year....?
As a fan, I feel fortunate that we have Coach Holtmann. After a difficult night he finds ways to compliment the team while giving an honest view of things. He will fix and do what is needed behind closed doors. The way he handles his business will cause players to play hard and give all they have. As these players mature watch out for his teams. Now let's get a win on Saturday.
What a great repreaentative of The Ohio State University.
How could anyone watching a Browns game have it ever be considered a benefit? Fake News. The NCAA doesn't even consider the Browns a pro sports team
The decision has been made, it is now about the message
Maybe we should order McMurphy a few Wildman T Ball Lifter, Red, size XL' and have Amazon deliver them to his orifice.. err office
This is stupid. Urban may have made some poor choices but this private matter between Smith and his ex wife should not have an impact on Urbans job. For that matter Gene Smith should go too
Michigan seems to have everything in line for a good season. The 2 pieces they have been missing was QB play and O Line play. By adding Warriner that should help them tremendously. I think this could be their best shot to beat us. HOWEVER, ITS NOT GOING TO HAPPEN, SO SUCK IT MICHIGAN.. AGAIN!
WOW! We are back on track.
So this was his sophomore year highlights. After watching them think about the fact he has 2 more years of high school. He is really light on his feet for his size. Let me be the first to say, get the shovels ready because Buckeye Grove is going to have another tree to plant.
I agree. Just think if he does let loose. He has all of the other intangibles that the pro's look for in a quarterback. The 4th Qtr of the Penn State game was an example of what JT can do if he is firing the ball.
Yea Baby!!! DBU !!!
He and is family seem to have it figured out. Good kid doing it the right way. Good luck
Give the man his money
??? I am a little confused now. Where does that put Barkley?
We should post this on MGoBlog and see what their input is on this revelation.
Question: How can a recruit say no to Larry Johnson? He can make any one of his guys run through a brick wall for him. We are fortunate to have him on the staff.
Denzel could have been a great teammate we will never know because aren't part of the team. What is clear, these bowl games which bring in millions of dollars for the league and school doesnt mean as much anymore. Denzel will likely be given a $17M contract with a $10M signing bonus after he is drafted. His mom and family could likely use some of that. If the league and university want these guys to play then pay for a $25M insurance policy. Smith the LB from Notre Dame screwed up his knee and dropped to the second round. He missed almost the whole game vs us and was screwed in the draft. He probably would make a different choice today
So the only defensive coach on the staff who hasn't been a DC is Larry Johnson? Not a bad lineup.
I guess the question is, if you have the winning lottery ticket in your hand, but could lose it by playing one more game, what would you do? My answer is cash that ticket and watch the game. That money only comes along once