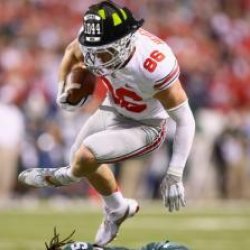 HeuermanTheFireman
---
MEMBER SINCE December 04, 2013
Recent Activity
Why was he banned? I must have missed this.
Forgot Grimes. Hopefully we are sill in the drivers seat for him. It'd be cool to steal Martell too.
Najee is returning. That's a good sign.
He's a stud. It would be nice. He is the kind of player that would push to start as a true freshman since Conley will leave for the NFL.
Either way he has been very pro Nebraska on twitter recently. Me. No. Likey.
This to me smells like Zach is losing Tyjon.
You almost have to try to be that bad.
Step back from the ledge people. Bashing a kid for making a decision that is HIS is absurd. If he stays with us that is amazing, if he decommits then best of luck to him. No reason to get up in arms.
He's been to Ohio State. We need to get him back to narrow the gap imo.
Same reason we don't want to redshirt guys. Get them in, develop them, next!
I'll tweet him the link to the Fiesta Bowl, hold my beer...
Cool. Good info. I'm hoping it's true, and the Bucks like their chances. I could be reading too much into things, but maybe this is why we didn't even offer Mond.
Maybe he installed it because he is having second thoughts and wanted to get rid of his pro Texas A&M tweets? It seems, from his favorites, that he was tweeting pro-Nebraska stuff the last few days. The TAMU twitter brigade seem to be in an uproar.
I guess so lol, we have a few more weeks left in this semester, which Ramzy gave us for studying. I am pretty grateful, because there is a ton to be done, in the next few weeks (I still have to get my 11w fix though). After that, it will be time to get started. I am honestly pumped to get going.
I was looking at Tate Martell's twitter and it appears he has deleted a ton of tweets. Something of interest to note.
There is no way he won't end up with one. Normally they make one by freshman year. It is smart for kids who have a chance to go pro, if they can utilize it properly.
So does his coach need a job or?
Linga will never be usurped. I should put my energy into more positive endeavors... like cleaning the PL toilets.
Thanks for all the love guys. It's pretty exciting to join a great team like Eleven Warriors. The floors will shine like never before. Wait until you figure out this is my plot overthrow Linga on the helmet sticker leaderboard... -Alex
Julius Peppers played basketball, and football for the Tar Heels.
Also, Greg Paulus played basketball for Duke, and then transferred to Syracuse to play football. He now is an assistant coach for the Buckeyes.
I didn't know who they were at Bonnaroo last year. I heard a bunch of people talking about them, so I decided to stay for the show instead of going elsewhere. Man, she is super talented. One of the best live performances I have ever seen.
Ellie Goulding is my guilty pleasure.