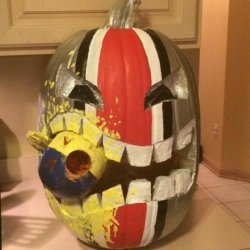 Hetuck1870
---
Van Buren, ichigan (via Indianapolis, IN)
MEMBER SINCE October 24, 2015
Favorites
SPORTS MOMENT: Maurice Clarett extricates the ball from a Miami player on the way to a 2002 National Championship!
COLLEGE FOOTBALL PLAYER: Joey Bosa
Recent Activity
I thought Dwayne Haskins should have been at least 2nd!
And I believe 0, count em, 0 sacks! Very pleased with the O-line. I just Know will be ok. Always proud to be a Buckeye!
Dewayne Haskins for Heisman!
I love having Urban Meyer back and all of the coaching staff save one, Bill Davis. Coach Meyer has this desire to take care of his hires to a fault( Smith, Withers, Hinton). I would love to know if DC G Schiano is in his ear saying anything like "He's going to cost us another game! He cost us Iowa(not the only issue). When is this experiment over bc I don't want the spot light on me bc of a coach I want to drop off at the bus station!" I just hope Schiano is pushing the issue with Meyer if he is blinded by friendship.
Paul Finebaum is the new Mark May!
On my way there! Can't wait to see my Buckeyes live! Go Bucks!
I like how he says we went out and got the job done, USC went out and got the job done. I want to ask the committee if Alabama got the job done. Guess so!
How do you like them apples, Tennessee?!
Mark May's reaction to the final touch down would be priceless!
Justin Rogers needs a new OSU outfit!
Still trying to feel relevant!
I will be rooting for him all game long!
Nice to see Mitchell getting in better shape. And people belittling kids on social media is pathetic! They should be outed!
Pope loves the Buckeyes!
Hopefully Thad Matta will call him because Russell could learn from his maturity, grace and dignity.
I assume that if he chooses the good guys he will be demoted to a four star.
I can't believe Master Teague did not even crack the top 300!
The future is bright at OHIO STATE! The only thing that can hurt us right now is ourselves!
Probably hiring his dad too!
Kerry Combs is everywhere. Even moonlighting as security in the meat department!
Eli Apple's mom is straight up awesome! Well said ma'am, well said!