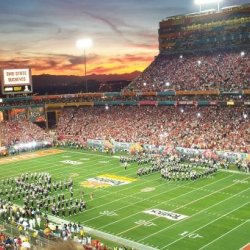 hetuck
---
Columbus, OH
MEMBER SINCE August 17, 2012
Saw the 1968 Rose Bowl live. Was there in Tempe for the greatest college football game ever. Flew the OSU flag while stationed in Afghanistan.
Favorites
SPORTS MOMENT: Nothing will ever top beating Miami in Tempe. When Cie Grant thew Dorsey to the ground, all the close, up not quite, national championship moments such as 1976 and 1980, Ron Springs slip, Clements punt to the helmet, etc. washed away.
COLLEGE FOOTBALL PLAYER: Archie Griffin
COLLEGE BASKETBALL PLAYER: Jerry Lucas
NFL TEAM: whoever has the most Buckeyes
MLB TEAM: New York Yankees
SOCCER TEAM: not a real sport
Recent Activity
The pain you feel is the price of pure love.
Too bad the bout wasn't in Vegas. Imagine the damage he could do at a celebratory buffet.
Some things stick, others fade out. When I was in the military, I used OSU backfields as safe combinations. Here's a suggestion: What Ohio high school has produced the most starting quarterbacks? I won't answer it here, but will be looking for it when the school rolls around. I'm sure we have a ways to go. Appreciate the good work.
Sorry, I just remembered the name and his situation of no scholarship. I'd keep him in the St Ignatius camp.
Did Josh Kerr's brother, John, play at Strongsville? He was a linebacker that transferred from Indiana and had to pay his own way, IIRC.
Do not make a leap of faith and say, "Fire Studrawa and hire the equivalent of Hartline for the o-line." It doesn't work that way. Hartline is unique and OSU is lucky to have him.
They don't have any say in it. If schools did, do you think last year's Nebraska "Black out" game would have started at noon? It all comes down to who has first pick that week.
Reminder the movie premieres today on HBO.
It was part of the TV deal. Smith is well aware of the impact and said OSU would not host a Friday night game. Bottom line is FS1 and ESPN2 need inventory, although I suspect this game follow a MLB playoff game. Fox has WWE Smackdown at the same time. Don't revel in the $54M check without realizing you give up some of your freedom to the networks.
If you enjoyed touring the carrier and sub, I strongly recommend a battleship, particularly the North Carolina in Wilmington. There are a number of others around such as the Wisconsin and the Iowa, but be sure you can go below deck. That is where the fascinating stories are told.
For someone who takes a glove to MLB games, would anyone give me odds he wore golf cleats to the tournament?
It's not known who has Nebraska. Fox and ABC/ESPN alternate choice by weeks. Fox goes first and chooses the Game. ABC is next and picks TUN-ND. Then it gets foggy. We know Texas/ Oklahoma will be on Fox at noon. Does ABC choose PSU/TUN as a white out next? Or OSU-PSU or OSU-Neb? I think it depends on how teams start. Army beating TUN would jumble things.
I'm now thinking 7:30 PM Miami. They want to maximize the audience with their chances at the big names. TUN-MTSU in week one is 7:30 on BTN.
Personally, I'll be glad to hear Matt Millen and his "hurtin' buckaroo" again. He was far too young to die, not that anyone is. He is a better announcer than GM.
On a work day? Remember it's Friday.
Keep in mind two of the remaining six games must be on BTN. Perhaps they will maximize that by putting Miami at 6:30 PM. Rutgers is pretty much a shoo-in for the other.
As an outsider in this case, yes. The cyst in his head can't be fixed with a Nexium prescription like his Florida health issue.
Did you see the articles about Fox putting their game of the week at noon? It's the complete opposite of conventional thinking of putting the worst games of the week at noon. The question will be who has first choice that week: Fox or ABC/ESPN?
It will be interesting to see if Fox has the pick for Michigan-PSU. You know that has been designated this season's "White Out." Will it keep its punch at noon?
I still wonder about a contract lawsuit.
Insouciant Michigan recruit promises amuse me. 2,742 days.
I'd stay away from both of those OSU. Now, if they are still offering 6.5 points for the game ....
The reason OSU recruiting costs are relatively low can be attributed to two reasons: 1) OSU offers official visits to fewer prospects. Take a look at how many visits compared to the NCAA-allowed maximum. 2) Better value. Columbus is served by every major American airline. You have a hotel on campus and we all know Hyde Park is "The Official Ohio State Steakhouse." It's been a long time since I've been there. Do they offer a steak dish named the "Urban Meyer?"
We should find out some game times today. Get ready to make travel arrangements for some of the big games if you are planning to attend. Other than a given that Northwestern will be on Friday night, it will be interesting to see how many noon Fox games there will be. Especially if Nebraska will start at 11:00 AM CDT.
Don't you think 2017 Iowa wouldn't have liked to have had OSU at night like they did when they upset TUN the previous season? It was the second Saturday in November & I'm sure OSU said no. Here is an excerpt from the blog I cited dated OCT 28 for games on the second Saturday last November:
Sunday, October 28, 2018
CFB TV Guesses for 2018 Week Eleven (11/7/18 - 11/10/18)
At this point in the season, FOX and ESPN can put together a requested list of potential Big Ten games they would like to air at night. Both competing schools would have to agree to the night game. These selections assume no one accepted a night game option, but if, say, Ohio St. at Michigan St. did, FOX could take that one immediately. You'd probably need to slot a Big Ten game into the ABC 12pm or 3:30pm slot, move a Big 12 game to 12pm on FOX and slot the Pac-12 game on FOX or FS1 at 3:30pm ET.

Prepare to be shocked. Have you read this forum post? His health is still an issue. He's not going back to coaching.
https://www.elevenwarriors.com/forum/ohio-state-football/2019/05/104451/urban-meyer-on-his-new-role-teaching-and-much-much-more-buckeyextra-dispatch
If you want to see an even more impressive list, take a look at the Scholar-Athletes. Some sports aren't competed in the Big Ten like synchronized swimming.
https://ohiostatebuckeyes.com/wp-content/uploads/2019/04/SA-list-19.pdf
I think you will be correct. We know Fox will pick OSU-TUN with their first pick. If I'm ABC/ESPN, I'm taking TUN-ND with the second pick. For the third pick as Fox, I'm taking OSU-PSU, thereby putting ABC/ESPN/CBS in a pickle for that week. It's pretty slim pickings in the SEC that week. That could set up primetime OSU-NEB. on ESPN. It depends if Fox thinks they'll get a bigger audience for Nebraska or PSU.
As the link says, we should find out tomorrow.
There was a failed fake goal in the Fiesta Bowl. IIRC, some of the players didn't know it was a fake.