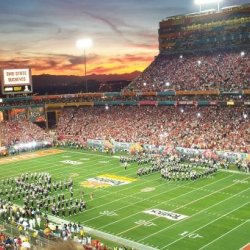 hetuck
---
Columbus, OH
MEMBER SINCE August 17, 2012
Saw the 1968 Rose Bowl live. Was there in Tempe for the greatest college football game ever. Flew the OSU flag while stationed in Afghanistan.
Favorites
SPORTS MOMENT: Nothing will ever top beating Miami in Tempe. When Cie Grant thew Dorsey to the ground, all the close, up not quite, national championship moments such as 1976 and 1980, Ron Springs slip, Clements punt to the helmet, etc. washed away.
COLLEGE FOOTBALL PLAYER: Archie Griffin
COLLEGE BASKETBALL PLAYER: Jerry Lucas
NFL TEAM: whoever has the most Buckeyes
MLB TEAM: New York Yankees
SOCCER TEAM: not a real sport
Recent Activity
That is already here at Lincoln Tower.
https://www.bizjournals.com/columbus/news/2018/12/28/why-ohio-state-is-launching-an-esports-major-plus.html
The more impressive (or depressing) number is 178,405 bottles of water. We're paying $713,620 for something we used to get for free. Yes, I know there are six Water Monsters throughout the stadium. I did my part to advertise the presence of lukewarm, heavily chlorinated water for free.
As for the hot dogs, I assume a 1/4 oz. serving per dog. 200 gallons translates into approx. 102,000 hot dogs.
I wonder how many of those intriguing, but overpriced opponent burgers were sold?
Newest favorite is Elvis Juice by Brewdog.
Hockey would be better with drafting players, but having them stay in college for up to three years.
1. I will be curious to see if he keeps the Meyer kickoff strategy.
2. I look forward to Garrett Wilson catching the pass from Chrisman on the fake punt. The design of that play at Maryland was the slickest I've seen in a long time.
The timing of this is interesting. Perhaps they are angling for a part of Amazon HQ2.
You are incorrect when you say no replacements planned. Fields will go on top of the former Saint John Arena, French Field House, etc. Your flood plain comment is correct; the reason for the Cannon drive rebuild is so the Med Center can get flood insurance.
No italics for this comment. 3-D printed pizzas are here.
https://www.wkyc.com/article/news/local/ohio/donatos-founder-invests-in-ohio-companys-3-d-pizza-printer/421732252
This is correct. It is already a shell of its former self, housing the theater department until new construction in the "Arts District."
Until you eliminate all human drivers, you can't stop people from being stupid like the woman with the bike that got killed in Phoenix. Self-driving cars can't handle unprotected left turns or double-parked delivery trucks. The OSU framework 2.0 shows no parking around Ohio Stadium. How are 50K self-driving cars going to show up at the end of the game?
1. There are no more argute critics than coaches' wives. First we are blessed with Hafley's wife nagging about DBs turning around for the ball , instantly making him the most popular of the new coaches; now we have pass-happy Mrs. Ryan Day. Better them than pizza deliverymen urging better tackling.
2. The OSU Esports team better beat Old Mississippi. I don't want to see an Instagram of a bunch of nerds chanting, "SEC, SEC!"
I have no experience with this operation, but it is successful enough to open a second location in Bridge Park.
In the lower level of the restaurant will be No Soliciting, a members-only bourbon bar. The flagship No Soliciting bar is located at 119 E Chestnut St, Columbus. This bar comes to us from Rise Brands, the company behind 16-Bit Bar + Arcade and Pins Mechanical Co.
The upper level restaurant is another Cameron Mitchell offering, the Pearl.
A plan for recreational development along the Olentangy River was also revealed with Myers telling Columbus Business First, "we want to make the river the center of campus."
Maybe they could build a student union along the river where you could rent canoes? On a serious note, notice the disappearance of the West lots. Medical center personnel were already displaced from the polo lots by the Cannon drive redo. Where are they going to go, let alone people who take advantage of the cheaper parking and bus to central campus? I'm not buying into the self-driving car concept.
Prayers for you and your family to be strong. If you need good vibes, focus on the O-H-I-O echoing around that stadium up north again next November.
Taking your coaching staff to Africa during the May evaluation season is not a good idea. This is when you get eyes-on opportunity and a chance to start/continue building a relationship. No amount of "Look at us!" tweets can overcome that.
Odds on Harbaugh in a cage with great whites? I'll put it at 65%. You can bet on the "All or Nothing" camera crew being there to capture the moment. I'm still hopefully awaiting the announcement of season two.
If that professor would have looked at the aftermath of the national championship game with Florida, she wouldn't have been so sanguine. That was the pits of despair, especially for the tens of thousands of OSU fans who trekked to the desert.
Since you seem to be on an armor in Europe bent, I'll pass along this review of "Spearhead" by Adam Makos. It's the story of a Sherman crew, the usual blend of southerners, Midwesterners, and the obligatory Pennslyvanian italian-american.
https://www.wsj.com/articles/spearhead-review-beyond-the-front-lines-11550242471
Winner is known as Miami while the loser has to have state abbreviation after the name.
Back in Woody's day with 1:30 starts, it was the only game on TV. If in Ann Arbor, it was 1:00. Those were the days when a school could only be on TV six times in two seasons. That went out the window with Oklahoma's lawsuit in 1984.
1. Not going to happen under current TV contract. Both schools have veto power after first Saturday in November.
2. Both schools and cities want no part of the logistics for a night game that late in the year.
3. I am ok with 3:30, but who would the networks put in the noon slot that would draw as much an audience? Conversely, if you move it to 3:30 head to head with Bama, will the audience increase enough to merit the switch?
1. Every year, there are friable, anonymous rumors about NFL prospects attempting to deflate value or scare off other potential drafters.
2. California won't be able to force the NCAA, a private organization, to accept ineligible players. If they persist, the NCAA won't allow teams with ineligible players to compete for championships nor allow championships to be held in the state. Yes, that could mean no Rose Bowl football game.
Obvious choices would be beach volleyball and water polo. Equestrian and rugby are classified as "emerging" sports. Interestingly, synchronized swimming is not a recognized NCAA sport, but money & scholarships OSU spends to dominate count toward Title IX totals.
Until the reservoir at Delaware State Park and the Olentangy run dry, Delco Water will meet the need.
Northbound from 270 flows much better. Southbound to 270 is slowed by stupid people that don't get in the correct lane until the last second.
It's ironic this would come from a state with "Kirby's Law" shielding FOIA requests. No way can they get access to a private organization.