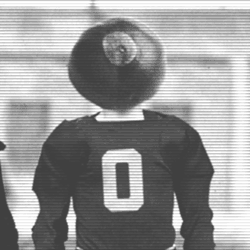 hetuck
---
Panama City Beach, FL
Member since 17 August 2012 | Blog
Saw the 1968 Rose Bowl live. Was there in Tempe for the greatest college football game ever. Flew the OSU flag while stationed in Afghanistan.
Favorites
SPORTS MOMENT: Nothing will ever top beating Miami in Tempe. When Cie Grant thew Dorsey to the ground, all the close, up not quite, national championship moments such as 1976 and 1980, Ron Springs slip, Clements punt to the helmet, etc. washed away.
COLLEGE FOOTBALL PLAYER: Archie Griffin
COLLEGE BASKETBALL PLAYER: Jerry Lucas
NFL TEAM: whoever has the most Buckeyes
MLB TEAM: New York Yankees
SOCCER TEAM: not a real sport
Recent Activity
But we won't tear down their goal posts this time.
See my post in anything else about Apple TV.
The Columbus Montgomery Inn closed.
City BBQ is a great choice. They cater the press box and catering is a big part of their business. Be sure to ask for the full cut brisket with extra bark.
Betting odds reflect the Harbaugh hype. Florida's strength is it's offensive line & TTUN is returning two of their front seven. Gary is enjoying the Peppers-like hype. I think Zaire will be as good or better than Grier before his suspension. I'll take the Gators.
Ball security comes first. Too many punt fumbles in the past couple seasons.
I'll forego the rugby-style punts if Chrisman punts like J.K. Scott in the Sugar Bowl.
The story I remember was it was a Michigan number forwarded from Tampa.
Assuming TTUN loses to the Sharkhumper, this would mean Side Show Jim would be on a five-game losing streak.
Keels is good for at least one-a-game lament about duplicate numbers. Ranks right up there with telling when is the last time OSU returned a kickoff for a TD.
I'm sure they checked his travel records against the location of the numbers. If he wasn't there, it raises many more questions.
We don't know. It's a good tipping point exercise. Would full parking spaces at the exorbitant parking fees for every home game exceed half-full spaces with the donation? My sense is people are going elsewhere. Why pay the donation to park in the Northwest garage at three times the rate of Arps with no donation?
Wilson did an excellent job at IU of using his player's talents. The offense he called for Xander Diamont was different than what he called for Lagrow. Check the highlights, painful, though, they are. It will be fascinating to see how he uses the offensive tools at his disposal.
Since there is an IU Homer telecast, does this mean Herbstreit can forget any pretensions of impartiality?
I'm hoping for Bob Knight as guest game picker on Gameday.
Remember when she went to the All-22 perspective when they got bored in the 2nd half at Maryland?
The real shame of the situation is the lots around the stadium and the close-in parking garages are less than half-full. Why? Because they require a substantial donation in addition to the parking fee. I'd think it would be a good business school exercise to determine how to maximize revenue by eliminating the donation and slightly upping the parking fee.
I recommend the 11th avenue garage. Easy egress to points south for access to I-71 & 315. Another choice is the Gateway garage.
It will lessen outbound on King after the game.
Vilma is still pissed. He's on SiriusXM occasionally & got real miffed when an OSU fan brought up the 3rd down play in regulation. You could tell he was straining to keep his cool.
It's begging for another spoof like Colorado last year.
https://www.sbnation.com/2016/9/13/12901944/colorado-made-fun-of-jim-harbaughs-roster-secrecy-by-posting-a-fake-depth-chart
Someone should send a video link to Josh Rosen. Post above beat me by a couple minutes. This is an excellent counterpoint to the debate that has been ongoing for about a week.
Better a goatee than an "I'm a man!" mullet.
UC was BTN & 6:00 PM. I'm hoping for the same for UNLV.