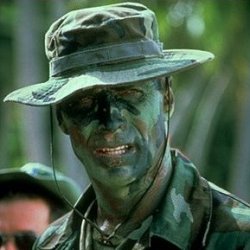 HeartbreakRidge
---
MEMBER SINCE July 25, 2016
Recent Activity
Look out, PSU! Chase is gonna be motivated for YOU.
Even in stressful times, the classics matter! Thanks
Yes, it is good that Harbaugh made good with that kid.
It would be nice if he would be that kind to kids who just want to transfer to another school as well, wouldn't it?
lol yes fine I got that wrong. Y'all DVing? Bless your hearts.
as a wise man once said, E + O = R!
I have a fever and the only cure is more ELITE LEVEL TROLLING!
Happy sideline dad Chase Young is the best!
"..the only stat he cares about is points."
Meaning, we gave up way too many last year and he knows this year we have to do better? I hope that's what Mattison means. :)
A cynic might wonder if a coach/program might not want to sign off on a waiver so as not to encourage other kids to transfer (or at least that's what they would be thinking).
Hairball is being technically true but he knows that by not signing off the waiver, UM made it harder for that kid.
Who the heck DVs useful bacteria?
There's a right way to be a former Buckeye - Joe Burrow
There's a wrong way to be a former Buckeye - Tate Martell
Reading that first sentence, it sounds like he coached himself. He *is* a prodigy! :)
I think to mental health professionals one of the big differences is going to be if those normal emotions are so intense or pervasive that they have a severe and/or chronic negative impact upon doing your day to day life.
Human beings are complicated.
I'm not sure I knew about the Dayton connection, and certainly being someone who lives down here, that means something. Thanks for what you do, Robert, and go Bucks!
Congrats Scoonie! Now, Grizzlies, pay the man!
and/or have a PS for every recruting post - DON'T TWEET AT RECRUITS!
I still have a Riggo's Rangers hat!
As someone who has the infamous injury video burned into my brain (because the TV ran it so much), I have great respect for Theismann (and for winning the SB when I was growing up) even if he's a dork at times. It sounds like it's going to happen, there's just going to be a little passing of the torch PR moment and it will be done.
You can't coach size, so we'll take what he's got and then coach him up for the rest!
The transfer portal giveth, the transfer portal taketh away!
It could be Blood Bowl, though, but less lethal, one hopes!