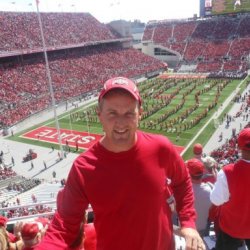 HayesTresselMeyer
---
Member since 01 January 2015 | Blog
Favorites
COLLEGE FOOTBALL PLAYER: spielman and byars
NFL TEAM: bengals
Recent Activity
We could win those games even if we didn't take any of our coaches.
I started sprinting again when I was 42. My first practice I ran 100 meters 3 times. On the way home I had to stop the car and rest because I was so dizzy. I've gotten a lot better since then haha. It's become a very fun hobby and it keeps me in shape.
An awesome secret that I learned a few years ago is that any adult can enter into college track meets. I'm 48 and I've been having a ball sprinting in meets like this.
I got to race him in the 60 meter dash last January. I'm in the black shirt. I ran 8.5. He ran 6.7.
You can carpool with Buckeye Guy.
I went to Tecumseh High School, but I'm pretty ignorant about him.
Offensive line could use some help this year.
Ginn was a beast in track and field though.
Another awesome speedster. I still give Ted the very slight edge.
I thought we should have gotten someone from a bigger school. I couldn't have been more wrong.
I delivered mail again this year with Paul and Jim. It makes my job much more interesting when I listen to them.
It feels strange rooting against the United States army.
All of us knew also that we had trouble passing the ball. Going against that defense was obviously going to be extra hard. Doesn't take rocket science to figure that out.
His wife is going to freeze his ----
Any of those guys have college eligibility left? We have some roster spots available.
Raise your hand if you saw that coming.
I don't many of the rules of Lacrosse, but Go Bucks!
This isn't another April Fool's joke is it?