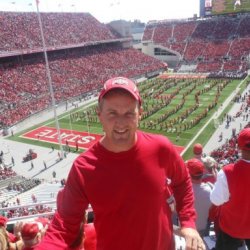 HayesTresselMeyer
---
MEMBER SINCE January 01, 2015
Favorites
COLLEGE FOOTBALL PLAYER: spielman and byars
NFL TEAM: bengals
Recent Activity
Miami is my alma mater but I've been an Ohio State fan my whole life. Go Bucks!
Does anyone know what Nick Gray's future plans are?
This years looks like Fields or bust, but it's great we have a little more depth now.
I'm willing to be a 48 year-old walk-on.
I sat behind the home side's bench. I was watching all the former players more than I watched the game.
I've been here since 2015 but I don't mind your similar name. Maybe someday we can Day to the end.
thanks. the situation reminds me of the movie Elf when Will Ferrell meets his biological dad. my wife doesn't think she's an elf or anything like that though haha
nope. for better or worse, he's a 1000 miles away.
My wife is 43 years old and just found out , through ancestry.com and a little research, who her birthfather was. We contacted him through facebook. He was shocked. He had had a one night stand with my mother-in-law. Now he is very stressed about telling his wife and 3 kids. I hope this all has a happy ending.
I just chose a combination of 3 random names.
https://www.youtube.com/watch?v=9WpVwbYiwlI&start_radio=1&list=RD9WpVwbYiwlI
I didn't see the new special, but the 68 special was great.
that guy is so crazy! haha
check out the video I posted on the bottom of this page about people getting drilled on returns.
no fair catching or sliding. Tackle or touchdown only.
You can have blockers, but I think you're underestimating how hard the tackle would feel.
To all you former fast runners: Many college track meets are open to anybody. I'm 48 and I still run them. It's great fun. Last year I ran the 60 meters at an Ohio State meet. I ran 8.5 while the winner blazed it in 6.6! Check out directathletics.com to see all the available track meets to run in.
Hopefully our coaching staff knows what his plans are for next year so we can plan accordingly in our recruiting.
Gotta root for Bama this week.