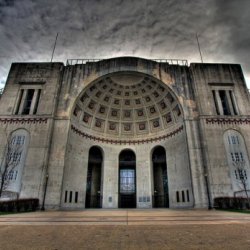 HayesIsMyMiddleName
---
Indianapolis, IN (via Toledo, OH)
MEMBER SINCE November 21, 2014
Toledo native and Ohio State alumni. Transplanted to Indianapolis a few years ago. And yes, Hayes really is my middle name because of Woody.
Favorites
SPORTS MOMENT: Ohio State winning the 2002 National Championship
COLLEGE FOOTBALL PLAYER: Orlando Pace
COLLEGE BASKETBALL PLAYER: Michael Redd
NFL TEAM: Colts
NBA TEAM: Pacers
MLB TEAM: Yankees
Recent Activity
I've thought about it. Actually met him a few times back in college as he was dating a friend I knew from high school. Was always the nicest guy the times I was around him. I'm sure he'd appreciate the story.
I was there, easily the tops for me. Also the win kept me in Indy for the rest of the weekend and I met my now wife out on the town that Saturday night, and moved to Indy a year later. Had he not hit that shot I probably went back to Columbus early and literally nothing in my life would be the same. Crazy to think the impact that shot had on me.
Never had an issue pulling up mobile tickets at Lucas Oil before for either Colts or Big Ten games, so you should be fine. And I could be wrong but I believe if you are able to save them to your apple wallet then they are just on your device and wouldn't even need internet.
Appreciate the post. Also looking for tickets and will update here if I find any blocks released anywhere. I will note that the Big Ten website states that the General Public tickets are all sold out so I'm not sure if tickets will come back available on ticketmaster this year, but I'm still going to check periodically.
Did anyone else notice how close Justin Fields was to Dobbins as he crossed the goal line on that long TD?? Man that showed his speed more than any other play all season I think.
Also looking for 3 tickets to this game if anyone has extras.
Literally both of these games came to mind for me. Probably two of the best Ohio State games I've been to, along with the MSU game in 2014 too.
Outside of OSU, I was at the Sunday Night game in Indy when Peyton made his first visit as a Bronco, that was a really cool experience.
As long as your seats are on the inside of the track you can move around very easily. If you were to sit on the outside I believe they only allow walking under the track to get to the other side during cautions but I could be wrong about that. Only issues are its a big track so walking from one side to the other is literally a mile so you'll miss part of the race while walking around but there's various video boards you can see, especially for a replay of a crash or something. Getting inside before 10 gives you plenty of time to just walk around and see the sights before going to your seats for all the ceremonial stuff.
Sunday sales don't start until noon however, so still need to load up for the race on Saturday.
Look to see if there are any shuttle services to get you anywhere close to where you are going/coming. May even want to Uber to a shuttle dropoff/pickup and then back again after the race. That's a hassle, but your boss is right in that you won't be able to get an uber or cab anywhere near the speedway for a couple hours after the race.
First things first, ARRIVE EARLY. This is 300,000+ people coming into one area so imagine the traffic around Columbus on gameday but literally 3-4 times as much. Traffic gets bad starting as early as 7-8am so the earlier you get to the track the better, and it is more than acceptable to be at your tailgate drinking after 6 (at 6 they shoot off a cannon to let you know the gates are open and wake everyone in the sleeping areas). Also stock up on alcohol and a cooler Saturday night, Indiana finally has Sunday alcohol sales but not until noon on Sundays so that won't help you at all on race day.
Never had a parking pass so can't speak to that, but every house in the neighborhood sells parking in their yards and its always worked great for us. Again the earlier you get there the better choices you have (find the ones who rented porta pottys for their guests), and just make sure they have a plan not to park you in but most do a good job with that.
Also have always sat in the infield so can't help with seating, besides bring good sunscreen or hat cause there's little to no escape from the sun in the seats. As for the infield, turn 3 is the party area where the real heavy drinking and partying goes on, but it's crowded and you have to get there overnight to be in line for a great spot. Turn 4 is a little more relaxed and has better views to actually watch some of the race, but can still get plenty of drinking in there too. No matter where you sit a walk over to turn 3 just to see it all is worth it during the middle of the race in my eyes.
Lastly either be prepared to race out of there as soon as it ends to beat some of the traffic, or bring supplies to tailgate after the race. We've been able to sneak out immediately after the race the last few years and got home quick, but if you wait too long all of the chartered buses start coming through and they block up everything around the track for quite a while.
Any other specific questions let me know, this is the first year since 2010 I'm going to voluntarily miss it (missed twice when my wife was 9 months pregnant with each of our kids).