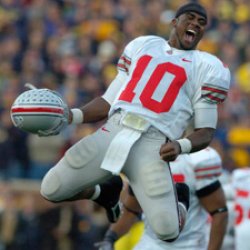 hawkins.326
Scottsdale, AZ (via Perrysburg, OH)
MEMBER SINCE December 02, 2013
Favorites
COLLEGE FOOTBALL PLAYER: Braxton Miller
COLLEGE BASKETBALL PLAYER: Aaron Craft
NFL TEAM: Cleveland Browns
NHL TEAM: Detroit Red Wings
NBA TEAM: Cleveland Cavaliers
MLB TEAM: Cleveland Indians
Recent Activity
As a Scottsdale resident, I can recommend a few spots for food/nightlife/etc.
There's two sides of Old Town when it comes to bars, there's clubby Old Town (your Whiskey Row, Bottled Blonde, El Hefe area), and then your more laid back Old Town (Pattie's, Grapevine, Boondocks, Gilligin's, Coach House). In clubby Old Town, you'll get a lot of loud club music, usually packed to the brim with people and lines out the door, girls in little clothing dancing on the bars. Whereas in the laid back side, Pattie's has pool and shuffle board, Gilligin's has beer pong and Jenga, Boondocks has cornhole, Jenga, pool and a large patio, and Grapevine is good for some karaoke.
Mill Ave in Tempe is much like clubby Old Town but with more college kids. They do have a great dueling pianos bar called Low Key.
Food: GratefulBuck mentioned Pizzeria Bianco, there's a few locations. I haven't been to the original downtown but there's one in the Biltmore area I have been to which is a short drive from Scottsdale. As for food in Old Town, Cold Beers and Cheeseburgers is a good sports bar, The Breakfast Club is great for (you guessed it) breakfast, I'm a big fan of Barrio Queen and their Mexican food and margaritas.
Any other suggestions and I'd be happy to help!
I work for the bowl, I'm just very very lucky my first two years there, we've had the Buckeyes in town for both games.
Apologies for rubbing this in to my fellow Buckeye fans, but I'll be in the same spot as last year's Fiesta Bowl..
Somehow Kyrie, Russ, LBJ, KD and Anthony Davis only ranks at 55.8 percent, but I like my picks.
Echoing the sentiments in here. Went for the game back in 2014, fans were super welcoming. We tailgated right next to their old field house and were able to walk on over to the hotel/conference center for bathrooms and the like. Didn't stay the night, so don't know RV rules, but it was a great campus and atmosphere.
This literally happens to me all the time living in Arizona. Someone asks where I go, I say Ohio State and no matter who or where they're from they sarcastically reply "THE Ohio State."
Five years to the day. This one was much less nerve racking than the last. Congrats to the Buckeye volleyballers!
Last time the men's volleyball team was in the national championship (2011?), my buddies and I were pregaming and channel surfing until we found this on. We watched the whole thing and were screaming at the TV like it was a football game. A very small, but fond memory of college. I'll definitely be tuning in again tonight. Go Bucks.
I was at the game last night (and unfortunately sitting in the Bama section). Following the final Henry TD, the Bama fans started a nice big S-E-C chant, instead of, y'know, cheering for their own team.
I know our fan base gets a bad rap, but this was the first I'd been exposed to Bama fans, and I have to say they're the most entitled, insufferable group there is.
I've been watching this GIF for a full minute and can't figure out where the loop starts and ends..
As a Red Wings fan:
Brian Peppers story incoming: as high schoolers we somehow ran into this picture and found out he lived in Maumee, OH, just across the river from my buddies and I in Perrysburg. Because we were immature and dumb 16 year olds, we drove to his apartment and tried ringing his doorbell and running back to our cars, but he never came to the door. So one of my friends ripped off his 'B. Peppers' on the mailbox and it's floating around in my group of friends somewhere to this day.
Amid the despair that is the forums these days, this one stuck out as the ray of shining light. So thank you, go hockey.
As a huge Red Wings fan, I'm pumped about this year with a new coach with a much more exciting style of play, as well as Dylan Larkin and all the young guns that Blashill has already coached in Grand Rapids. Most likely a first or second round exit in the playoffs, but hey you never know.
As for the Cup, I think (and somewhat hope) this is finally the year for the Caps. Always been an Ovechkin fan, and always seem to be rooting for them once the Wings are knocked out.
Tonight while attending a Diamondbacks game out here in Arizona, I wore a Homage How Firm Thy Friendship shirt, a Homage How Firm Thy Friendship lacelet around my wrist, and also have a How Firm Thy Friendship tattoo on my shoulder blade. As an alum, it's impossible to listen to Carmen and not get a tear in my eye every single time. Perfection.
Yes, black is actually a school color.
Edit: And I'm super pumped at how this is gonna look in the Shoe, tradition be damned.
I like the title of this forum post as a Perrysburg alum.
The even more funny part about this: Toledo is missing its best player due to suspension (RB Kareem Hunt). Bert gonna Bert.
Looking at the box score and the participation page, doesn't look like there were any true freshmen in there.
Thanks so much! My new gig is actually as a graphic designer, so looks like I chose correctly. And Sammy is just on another level, I like to try some of the methods he uses, and they usually come out looking awful.
That's next on my agenda! I'll be sure to share that one as well.
I dreamed about this about a month back. Everyone was waiting to see who came out on the first snap, and it was Collier (who proceeded to run the offense down the field easily for a TD). Good dream.