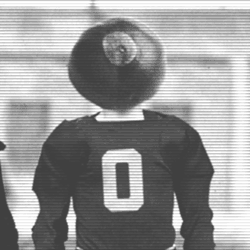 HaVy NuTs
---
Lexington,Ky (via Huber Heights,OH)
Member since 25 January 2014 | Blog
Huge Buckeye fan that moved south 5 years ago. Though I don't get to go to many games we usually still at least make it to one on a yearly basis.
Favorites
SPORTS MOMENT: 2002 National Championship game, craziest up and down game I've ever watched
COLLEGE FOOTBALL PLAYER: Braxton Miller
COLLEGE BASKETBALL PLAYER: Aaron Craft
NFL TEAM: Cincinnati Bengals
NHL TEAM: N/a
NBA TEAM: People like the NBA?
MLB TEAM: Cincinnati Reds
SOCCER TEAM: Don't like grass fairies
Recent Activity
Wayne in Huber Heights, OH is more of a pipeline than Cass Tech in my oppinion
We couldn't ask for a more perfect situation next year in all reality. You all know how this game is, you can lose your stud before the first game of the season!! Sound pretty familiar?? I'm just happy we have some game changers under center now and for years to come.
I watched his tape a few days ago.......I don't see what everyone is raving about to be honest.....he lacks arm strength and really isn't very accurate.....but one thing I wont take from him is damn he can run. My opinion he's an avg 4 star....I'd like to have him still but Braxton's film was better and he was barely a top 50 recruit. I feel Gibson is at about the same level. I'll take a pass from all the attention and glamour this kid brings with him.
How many times do we need to re-visit last years short falls and job security with Fickell? He's obviously tired of being questioned about it by that rant of an answer but I cant say that I blame him. Though the WTC comparison is ridiculous and I'm sure he could have thought of something a little more relevant to what he is trying to do. But when it's all said and done let the guy coach and develop this next group of guys. If he doesn't measure up we all know that a move will be made and some already have been made. We all have to remember that Fickell has had a hand in bringing in a lot of the recruits/talent that we currently have. He loves this university and wants what is best whether he is a part of it or not! Stand by him and let the cards fall as they may. We wont be having this conversation next year if we finish with a top 10 defense will we?
Im excited for the competition at the position this spring. Definitely like the idea of having a bigger guy at wide out to help us out inside the 20. I do think we need some fresh meat in the mix and with the youth we have I think many people will get their opportunity. I wouldn't be mad at all if Evan Spencer or Devin Smith stepped up and produced the way they should as upper classmen to this team. But it will def be interesting.....looking forward to watching the Spring to see how some of it unfolds
Our numbers on the field should continue to be good from our Dline for years to come, now if we can get our DB's to come around, which they will, I could easily see us having one of the top defenses in the country as we once had. With all the youth in the denfensive backfield I could see us struggling for another year, but the future looks bright with guys like Bell, Burrows, Webb, and Apple. As others have posted we gave way too much cushion for plays to develop this past year, but our speed in the defensive backfield will catch up with the speed of our offense in due time.
Malcolm Jenkins and James Laurinitis are a few others that flew under the radar as 3 stars
Club seats are in the middle of the A section on the west side I believe......google a seating chart and you cant miss them.......tried to add the chart to my reply but it didn't work.
LOI day has been good to us the last few years.....hopefully we get a few positive surprises IE McDowell would be really nice...I haven't seen film on him but with that size and speed coming off the edge we could have a chance to re-coup that nasty D from years past! Bosa and McDowell both on the line at the same time=weird pleasant dreams