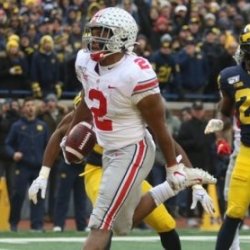 Hateblue
---
MEMBER SINCE November 26, 2016
Recent Activity
Yeah you'd have to. You could have 7-8 undefeated teams.
Someone smarter than me, with a reduced schedule, how many teams are there that could mathematically end up undefeated? The whole bowl selection would be interesting too. How many group of 5 teams win 6 games in conference each year but lose all 4 out of conference games? They'd finish the year 6-2...how do you slot teams like that for bowl games? Also, power five teams who go 4-5 in conference but win 3 games against the MAC or WAC..this would be a huge headache haha.
The best thing they could do is exactly what we do. Shut their mouth. You never hear this bullshit from our players or coaches. We talk of respect, and honoring the rivalry. Meanwhile, they make t shirts and tweet about it. If you really wanted to sneak up on us, you should be quiet, and roll into the game ready to dominate. That's been our blue print since Tressel took over. There is no revenge tour, there is no talk..and that's why our domination will continue.
And above all else, Gattis is a coordinator! Could you imagine hearing Kevin Wilson talk about the Game? That right is reserved for our head ball coach.
My reference of the 3% death rate is to poke holes in the overall panic over this virus. I'm sure we have a lot of people who have it, but the death rate will fall in line with other viruses as more information is collected.
I understand it's hard to see this via a comment, but don't jump out of your skin trying to explain things to someone who actually agrees with your thesis.
Do you understand that if we actually have 100,000 here, we should have a corresponding death rate of 3,000ish?
I am one of the ones who is in the middle. Do you think it's worth completely turning the world economy on its ass over a virus that doesn't really seem to have a large impact in the US? I understand being preventative, but I do think we are acting like this is the Black Plague.
Beat TTUN twice..I'm satisfied.
This was the right move.
I disagree. These situations are met with a domino effect. I would bet that many programs will follow.
Agree 100% on Washington. He's too used to making 4 straight 3s that he now fires it up in awful positions. Really poor shot selection.
Was not surprised. MSU shot well, and it's tough to win there, especially on senior night. We had a ton of opportunities, but this team is still trying to find itself. Getting into foul trouble hurt too without bench contributors. EJ played well, and Kaleb continued to struggle. It seems if we don't shoot well from 3 land, or find a way to make 24 free throws, we have very few options. Thought the toughness improved considerably from what we saw in January. I think we could be dangerous in the tournament.

Had a blast at our last home game. A few observations:
1. CJ Walker was a beast tonight. He was hustling like no other. Hats off.
2. For what Muhammad lacks on offense, he brought to defense tonight. He shut his man down the last 10 minutes.
3. The Schott was rocking tonight. That was probably the loudest I've heard it in years. Wish we could get that atmosphere each game.

That game was huge. Glad they hung around and beat them. When IL went up 20-9, I was getting worried.
Thank goodness. Watching his speed off the edge last year was incredible.
Him saying there were no circumstances under which Wint or Riep could return is refreshing. Puts all of the "what if they're exonerated" talk to bed. As well, it should serve as a reminder to all current and future players that you get one shot. There are no do overs.
Kaleb is struggling with something today. But he's turning into a liability.
Every time his crew is covering us, the announcers constantly bring up his qualifications. As if that is supposed to make us feel better.
Kaleb has been really bad today. He has struggled recently on layups. He can't make a shot that's 10 inches from him. We need him.
The biggest question for TTUN is whether or not their offense can bail their defense out in big games. There was never a moment this year where the offense held the team in the game. I believe Milton will win the job and he will be better than Patterson, but can he operate in an offense breaking in a new offensive line? Daxton Hill will outperform Mettellus but can Don Brown adjust? If I'm a betting man, I'll give Hairball a 6th loss to the home team.
Was at the game. Maryland is such a bunch of pathetic losers. A guy in front of me was trying to start a fight with a Buckeye fan. Then when security arrived, he blamed it on the Buckeye fan. As well, their guard who tried to kick our guy was crying all game. So glad we took care of them. Well done boys.
You know what pisses me off? People who buy SPRING GAME tickets and bloat the price. For instance, go on Ticketmaster and find the Club seating, which was on sale for $15 now on sale for $63 by verified resale. You know what I say to people like that? Fuck you. They are the reason no one can afford to go to games.
Now before anyone flips on me, I'm buying my $5 seats just fine. But people trying to profit off of a spring game is pathetic.
I go to games regularly. The feeling I get is it is incredibly corporate owned. So many companies have tickets that they just hand out to people and when people don't feel like driving in snow and ice, the seats go unused. They had this group of kids last night from all around Columbus and it was awesome. I feel they should offer up unused tickets to youth basketball programs or schools as an incentive for good grades. This could help develop a following at a young age, and fill the seats.
Love watching him burn Josh Mettelus again.
100% agree. But when you go 11-1 and are ranked #2, the expectation is you aren't going to lose 6 of 7.
I said after Wisconsin that Holtmann wasn't the guy. The players were so lazy in that game and have continued to fall apart. I was told I was being dramatic and that I wasn't a real fan. Would love to see those people now and hear what they have to say.
Don't get how you can be behind Holtmann at this point. If this was football, we'd have for sale signs on his lawn.