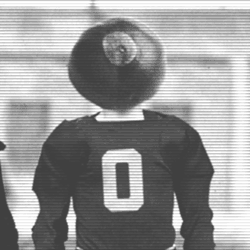 Hateblue
---
MEMBER SINCE November 26, 2016
Recent Activity
They are the basketball version of you know who from the 2017-2018 bowl season..
Serve me up my crow, fried and battered. I was completely wrong on this one. The boys played their hearts out.
Never liked his attitude. Seemed to have a very entitled mindset while he was here. Wish him the best, but I'm very happy i don't have to watch his smug interviews each week.
If they can get past Iowa State, that'll be huge momentum for next year. Let's go boys, make us proud!
In all honesty, with salaries that large, why would you ever want to be a head coach when coordinators make $1 million a year. I get the whole career progression, but damn, I'll give up hoisting the trophy to get paid $1 million a year and not have the stress that almost destroyed Urbans brain.
Thank goodness we have only a few more showings of C.J. Jackson and Keyshawn Woods. Absolutely garbage players. C.J. chucking up that air ball sums up his legacy.
Why is Musa Jallow even on this team? He is the biggest liability.
You're absolutely right. I was at the January game against MSU, and that team almost beat MSU. I don't know where that team went.
I hope we lose by 40+. This team has no business in the NCAA tournament, and will sully the Ohio State name getting blown out by some mid-major team in the tournament. Just end the season and start over next year.
CJ Jackson's last shot at the half sums up his season
I don't blame Holtmann for the ability of this team. It's gotta be terrible to develop players with absolutely no upside. Andre Wesson and Keyshawn Woods are absolutely awful. They have zero effort in their play, and it just makes me mad watching them take ill advised shots all day with no success.
Kyle Young and Luther Muhammad are struggling but they show effort in everything they do. Plus, Young is still hurt.
I hope Kaleb has learned his lesson. With him in this game, we may be winning with how poorly Wisconsin is shooting.
Watching JT outrun peppers had me on my feet tossing all the pillows in my basement. I was so pumped watching that asshole get beat on that run.
Kinda sad we rarely saw Weber and Dobbins in the backfield together. I'm sure there was a reason, but it would have been great to see one blocking for the other on an outside run.
I grew up in Pasadena after we moved. There's some great places to eat. Lucky Boy is a fantastic place to grab a breakfast burrito. Colorado Blvd is awesome, and stretches a long way.
A word of caution. Most hotels in Pasadena require a minimum nights stay at a ridiculous price due to the parade and game. It's usually 3-4 nights at a rate of around $250-$300. I would recommend staying in Glendale or Burbank, and driving in. Only about a 30 minute drive and there's some stuff to do out that way (universal studios).
Steer clear of Hollywood..it's a giant toilet. PM me if you need more ideas.
I would love that but put yourself in Ryan Days shoes. Hed have the legacy at OSU around him constantly.
The problem is the general "SEC is fantastic" consensus. It's an undeniable fact to the committee that the SEC is tougher. Forget the Big Tens 7-1 record in the bowls last year, or impressive out of conference this year. The Big 10 is looked upon as weak. And until that changes, we will play this same dance every year where the hillbillies get 2 teams in the playoff.
The only one I can see out of the receiver bunch is Campbell, because I think he will be a first rounder.
The stats aren't even comparable. You saw what Tua did tonight when he faced a real defense. Murray plays in the arena football league also known as the Big 12, so he should be disqualified.
Hasksins is the clear Heisman.
Winning the big ten with Schiano, Grinch, Johnson, and Davis on staff, is just a ridiculous concept to me. If we can pull this out, we did it in spite of the worst defensive coaches in recent history.
Just in case you forgot, Schiano got a $300k raise in the off season. Currently makes $1.5 million a year to produce this trash.
Can we give Arnette his black stripe back?
Don't you know? You aren't allowed to hit quarterbacks.
Northwestern is committed to the dink and dunk passes. And Schiano is going to let them have success.
I don't understand how he gets starts. He is absolute trash.