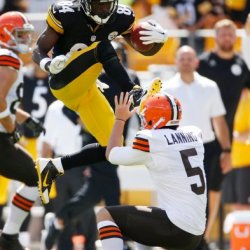 Hasbro
---
from Worthington
MEMBER SINCE January 02, 2012
Favorites
NFL TEAM: Stillers
NHL TEAM: (sigh) CBJ
NBA TEAM: not a real sport
MLB TEAM: Reds!!!
SOCCER TEAM: Newcastle (it's ALWAYS about the beer)
Recent Activity
My mother and grandmother both worked in Fees & Deposits in Lincoln Tower, which meant three things:
Throughout my childhood, I was hanging out behind the scenes, including seeing the gigantic vault with tons of cash,
When I was a student, I got to pass that super-long line and have them hold my check until after the weekend. That was particularly nice the day some psychopath cut me off in the parking lot and flipped me the bird. I enjoyed waiving at him from behind the glass and pointing out that I was leaving at least an hour before he would be done, and
Both my mother and grandmother have told amazing stories (some funny, some scary), including when OSU used key-punch cards and athletes had to bring them in to them for verification. They claim Archie was an amazingly nice person and that one of his brothers (I won't say which one) was a douche (my word, not hers).
Great memories for me.
You grew an inch in the article.
"I realized the 5-foot-7 guy who weighs 145 pounds..."
"I am 5-foot-8, 145 pounds soaking wet."
Impressive.
Obviously. Just an observation of irony.
Don't assume the worst (also an observation of irony).