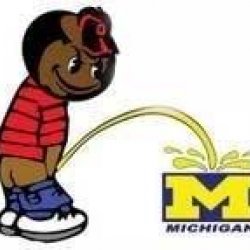 HappyGilmore4
---
Columbus, OH (via Marysville)
MEMBER SINCE September 04, 2017
Favorites
SPORTS MOMENT: OSU 42 BAMA 35
COLLEGE FOOTBALL PLAYER: Michael Thomas
Recent Activity
Saw Micah Parsons on OSU campus tonight. Surely doesn't mean anything but still interesting nonetheless.
Lot of rumors going around that UGA "bagged" Grimes on his last visit... looking like Ringo 2.0
Hoping this remains true for Shipley as well.
They also beat our Buckeyes in an exhibition game a little over ten years ago as well.
Any insight on Raesjon Davis? I frequent this sight pretty often and I don't think I've seen his name brought up.
At first glance, it seems he'd be an ideal fit as the bullet in this class.
I'm curious as to how the staff views Toafili. He's certainly buckeye-caliber; however, is he someone that the staff considers an RB1 or are they considering him for an RB2/H role?
Personally, I feel as if he's the best-case scenario RB2 in this class, in addition to Robinson or Milton.
I wouldn't get my hopes up for a commitment, but crazier things have happened
For those who can't be bothered clicking the link, he tweeted, "Top of the Morning *buckeye emoji*".
At the very least, it's safe to say the bucks are on his mind :)
Interesting tweet from Rakim Jarrett:
https://twitter.com/rakimjarrett/status/1098978150023917568?s=21
Perhaps some foreshadowing? & forgive me for not embedding, currently on mobile.
Sherman: Clemson, Georgia, LSU, Bama, tOSU, PSU, scUM
Jarrett: tOSU, USC, Florida, Tennessee, LSU, Bama
Williams: Clemson, PSU, Florida, scUM, A&M, tOSU
Jaden McKenzie seems to have been made a priority over Butler at this point, recent influx of CB's for him.
They may never out recruit us but they can sure as hell be a thorn in our side... I'm still salty about Stefon Diggs
Only recommitted to them because he took that pic with Herbie...
obviously /s but he's probably my biggest recruiting disappointment. Would have loved to see him in the S&G
It's only a matter of time.. at least it better be
It seems like we're really getting some traction in this recruitment, but I'm going to remain cautiously optimistic.
Some have been speculating that he was a silent because during the ZS saga he tweeted something regarding his recruitment now being 100% open, despite the fact that he was not publicly committed to anyone at the time.
Check out This Week Sports on Twitter, as well as Storied Rivals on YouTube for game clips and highlights.
Evidently, Green has re-committed to FSU. My guess: he decommitted with the plan/hope of committing to OSU, but the re-emergence of Powell as a viable option must have led the staff to pump the breaks a little bit.
Kane Patterson has apparently decommitted, per Twitter; although, it seems to be just speculation at this point
Just saw a report on barstool (not sure why this is the first place I've seen it) stating that Luther Muhammad and Jaedon LeDee have been ruled ineligible due to the meeting with Herbie that forced us to stop recruiting Parsons. Has there been a statement made as to the eligibility of these players?
Elijah Weaver was also named in the report... possibly a reason as to why he signed with USC?