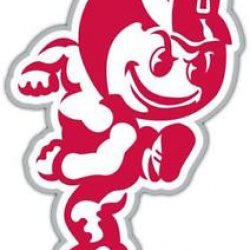 Hang On Sloopy
---
The Ohio State
MEMBER SINCE July 30, 2017
Favorites
COLLEGE FOOTBALL PLAYER: Eddie George
COLLEGE BASKETBALL PLAYER: Ron Stokes
NFL TEAM: Cincinnati Bengals
NHL TEAM: Columbus Blue Jackets
MLB TEAM: Cincinnati Reds
Recent Activity
Thank you, J.K. Always a joy to watch you play the game.
Looking for K.J. Hill to be great tonight. Go Buckeyes! Pound Clemson!
Go Buckeyes!
Go Buckeyes!
Bust that 3 C.J.!! I wanna see Ahrens also...
Their guys can shoot it, too cocky though...
Jackson makes a big 3 and the next one wouldn't hit the broad side of a barn... Go Buckeyes.
Pedal down. Go Buckeyes.
Anyone think Haskins wasn't quite the same after the tip and interception play where he slammed Penn State defensive end Shareef Millers ass to the ground. He kinda lost his composure there. Always hard to regain that lazer focus after shit like that. What a competitor though, the kids got moxy. I've never seen such a good, bad, weird, exciting and hard fought game. McSorely looked really good, should have kept it on their last play, glad he didn't. Go Buckeyes.
Enjoyed the read Dan Hope. Thanks. Go Buckeyes!
Urban may have gotten a few additional pointers from Coach Belichick on interviews with the media. In the Q & A portion of the presser, i enjoyed Urban saying more than twice 'could you repeat that question please' when i'm pretty sure he heard it. And the reporter asking him if there's anything he'd like to say to CS..C'mon man Go Bucks!
I Agree Hove
"I'll tell you when to stop swinging"...Now you got me all jacked up for this game!
Be 'NASTY' Big Meech!
Dobbins is phenominal and so much fun to watch run that ball. Get your eclipse glasses back out when this kid carries the rock because he is too hot to handle. His change of direction is reminiscent of some of the elite backs of the past 25 years. Pure RAW talent. (Obv. didn't want to compare him directly B. Sanders) Only comparing that slashing, cutting, nastiness i saw in the open field today. Defenders, at times, literally had no chance of stpping him in space. J.K brings the swag with a throwback style. Love his attitude as well. When he gets to the end zone he acts like he's been there before. Can't wait to see him run wild againt ttun. Loved the sportsmanship at the end of the game Saturday...ending the game in V formation, not trying to run it up, showed much respect. Also singing Carmen Ohio hand in hand with Army players. Class act. Wish there were more of this in college football. All in all, it felt like they put last weeks mess behind them yet they know they have to put their hard hats on and get to work. Go Bucks!
Now that is a proud Grandpa, congrats!
I would love to see the tight ends used more in this enhanced offense. Clemson's Leggett did a ton of damage against defenses last year and it seemed to let the rest of their offense flow smoothly. Berry could be that type of guy. Go bucks!