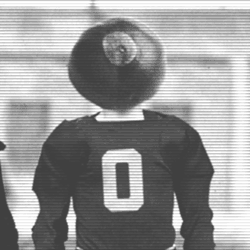 gwright78
---
Chicago, IL (via Columbus Grove, OH)
Member since 17 March 2013 | Blog
Favorites
COLLEGE FOOTBALL PLAYER: Eddie George, Troy Smith
COLLEGE BASKETBALL PLAYER: Aaron Craft, David Lighty, Jim Jackson
NFL TEAM: Chicago Bears, I guess
NHL TEAM: Chicago Blackhawks, but only when they're good and
NBA TEAM: Boston Celtics circa Bird, McHale, and Parrish
MLB TEAM: Cincinnati Reds
SOCCER TEAM: USMNT
Recent Activity
.
"Jamal, I'm going to gently remove your helmet, and if it was socially acceptable, I would kiss you on those gorgeous lips." Or something.
Of course, Stanford fans would do well to emulate their counterparts in Berkeley, where students and alumni actually go to games and pack the stadium.
Yeah, that's pretty bad. How can you say this when Buckeye fans just overran your stadium?
Once you place the ball on the ground, you are down. It's just like if the ball carrier out his knee or elbow down. He's immediately down. There cannot possibly be a fumble. It would be a different story if he'd dropped the ball, but he didn't. He placed it on the ground. That said, really dumb play. Kneel, then hand the ball to the ref.
Allow me to be super nit-picky. You get 4 years for a sport or 5 total, so he could play one season of football.
So...yeah, let's do it.
It's a little disturbing, don't you think? Or maybe I'm just reading into it.
He didn't say "out of a hat". I read it that way the first time, too. I think guys like Hyde, Roby, and Hall all have potential to come from outside this list and get some buzz at the end of the year related to their leadership.
Urban promised Fields a start back in the spring. Perhaps Wilson is really the man there, but Fields gets the first snap? A reason I say that is that Wilson isn't listed anywhere else other than as Fields' backup. Gotta believe he'll be on the field a lot.
Surely the weakest dunk to ever take down a rim...no disrespect to Jae'Sean!
I was enjoying watching Raekwon blow up running backs, then I saw him lined up as RB and, as a former DB, I got legitimately scared. Me looks like an all-around mean dude.
Just watched Berrios for the first time and my first thought was Sam McGuffie. I hope for Berrios's sake that that's not the case!
So he allegedly punched a police officer's daughter? Why should that matter? But it will.
So Carlos Hyde's kindergarten teacher has to go, amiright?
If this is true, the stupidity evidenced by Carlos Hyde is almost beyond belief. The biggest reason for my sadness is that he was about to be a four-year player who's really grown on me, as he was never a flashy guy on the field. As a player, he appeared to be everything you'd want out of a Buckeye.