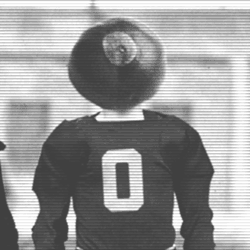 gwalther
---
Member since 18 November 2010 | Blog
Favorites
COLLEGE FOOTBALL PLAYER: Jim Tressel
Recent Activity
"You're not there for comfort. You're there for church."
I go to church to worship God. I go to Ohio Stadium to watch football. Big difference.
Word of the day: idolatry (cross-reference to the 2nd Commandment).
Old timers like to talk about reading the newspaper. I see why. I wish the parade of the world's horrors were limited to a few dead tree slices typed by a gang of serious men with pensions who drank brandy and smoked cigarettes in their office while fantasizing about cheating on their wives with the secretary between periodic 20-minute bouts of "work."
Dude - why?
I opened Twitter.
---Also, why?
"I don't mean to be a Grinch (I do and I love it), but does anybody mind if we skip Christmas and move Dec. 31st to tomorrow?"
Yes.
Is AJ Harris potentially out the door too? What the heck is going?
Also, forget the haters, I thoroughly enjoyed Batman vs Superman. I thought it was awesome. Perfect? No. Immune to criticism? No. Really enjoyable movie about fake costumed heroes? Yes.
DJ - the comments on spending money with the caricature of the boss in a $3,000 suit come pretty close to a political hot take, tbh. When there are discussions about whether individuals or the government should be responsible for paying for things like pre-school or college how people spend their money is an important factor.
Not taking a position on anything, just pointing out we may want to be more careful in skull sessions.
I'm over 30 now though, so I do know nothing.
LOLed. Captured my thoughts. "What the hell was that?"
*Gwen Stefani. And you may be giving her too much credit if she is at that level of beauty. Gwen's gotta be in her 40s now and still looks great.
JT Barrett, ladies and gents! Dude looked good! His performance, while not perfect, was everything the pro-JT camp thought it could be when we were clamoring for him to be the starter. That performance last night, and against Penn State, is validating to the JT camp folks and I'm sure it's validating to Urban as well.
Co-sign both of the above comments.
Been watching this Matt guy on his whole run. Hilarious no one could answer the Tressel / current college football champion question. #THE
I would've said the same thing about Indiana's defense prior to last Saturday.
Anyone else watch the Houston Cougars put it to SMU last night? OFFENSE LOOKED FAMILIAR. The read option, a decisive running quarterback, tempo...
BUT THE FANDUEL AND DRAFT KINGS' COMMERCIALS TELL ME I CAN BECOME A MILLIONAIRE.
http://www.bloomberg.com/news/articles/2015-09-10/you-aren-t-good-enough-to-win-money-playing-daily-fantasy-football
All the Jalin bashing is pretty funny to me. Dude is really good. He's a valuable part of our offense. He clearly needs to work on ball security. I have confidence he will improve in that area.
Awesome. Just awesome. Way to go Buckeyes!
Jut wanted to send out a reminder that we sing Carmen Ohio whether we win or lose. Some people forget because the losses are so few and far between.
Go Buckeyes.