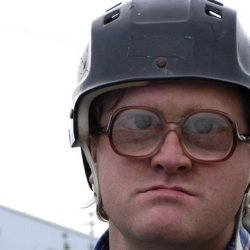 GVerrilli92
Columbus, OH (via Sanford, NC)
MEMBER SINCE November 29, 2013
Favorites
SPORTS MOMENT: In my first time ever attending a Buckeye game, AJ Hawk and Will Allen teamed up to stop TA McLendon inches from scoring the go-ahead TD in OT. The good guys beat Phillip Rivers and NC State, 44-38. I was 11, and my obsession with Buckeye football had become immediately irreversible.
COLLEGE FOOTBALL PLAYER: Teddy Football
NFL TEAM: Panthers
MLB TEAM: The Redlegs
Recent Activity
A nice 169 from Dobbins. A not so nice (insert math here) for JT.
204
I legitimately believe that when we play real competition by the end of the year, White and Werner will have to be on the field on passing downs. So who do you take off? I say take Malik off and leave Browning on. 4 down, Werner, Browning, White, then Okudah, Wade, Arnette, and Fuller. Maybe even go 3 down and leave Harrison on. Either way, that's a nasty D.
That's how I feel too. Getting the most out of smart, veteran players is an entirely different task than handling a roster full of blue-chip recruits. Also, you have to get the blue-chips.
Am I the only one who loves the NW-Wisky alts? If only one team was wearing these it would look awful, but I think the matchup looks great!
Who comes off the first team to get him on? And even when he is on, I'd almost rather get the ball to Teague, Wilson, or even Jameson now. Gill and McCall are both classic Urban H-backs that might not have a defined role in Days offense if they cant pass block as a 3rd down back.
We pray that Jordan Fuller doesn't get hurt or ejected. But if I had to guess, White or Werner would play the single high if Fuller went down. They've both done it before and it would get Shaun Wade on the field more.
My coach comparison is Pete Carroll. Just seems like the players are having fun the way those dominant USC teams did back in the 2000s. Day seems laid back and clear headed, let's see if he can avoid feelings of panic on the sideline - but after we see that I think we will like his presence on the sideline.
Exactly. It's not a matter of offensive philosophy, you play the best players. If you make a list of your top 5 offensive weapons and that list includes 2 RBs, are you not gonna play the 2nd one just because he's the 2nd best back? Hell no. Once you show that you can have success with 2 backs I guess it does become easier to recruit multiple blue chips, but you then have to commit to handing the ball off to the RB 40+ times a game.
So my wishful thinking is that White just doesn't come off the field. "4-3" will look like: LB - Werner, Borland, Harrison S - Fuller, White CB - Arnette, Okudah This is the base, best run D. "4-3 with Bullet:" LB - White, Borland/Browning, Harrison S - Fuller, Wade CB - Arnette, Okudah This is the best mix of pass/run. Browning treated as a pass MLB. "Nickel:" LB - Borland/Browning, Harrison S - Fuller, White CB - Arnette, Okudah NB - Wade Pass focus, probably our most talented back 7 "Nickel with Bullet:" (Dime?) LB - White, Borland/Browning/Harrison S - Fuller, Proctor/Pryor CB - Arnette, Okudah NB - Wade Best pass D, which LB will stay on? Who knows. I could see Chase Young in a stand-up situation every now and then, or maybe even an LB bookending the line - so I think it's fair to look at the back 7 as a true back 7. We will rarely if ever show 8 people dropping into coverage IMO. The pass rush is still the strength of this D.
This is the correct answer. And I'll take it a step further: White cannot come off the field, and he ESPECIALLY cannot come off the field so that Werner can be brought on. If anybody not named Jordan Fuller, Malik Harrison, Chase Young or Jeff Okudah gets more snaps than White - we will have a problem. Football is more complicated than that, but not really. Safety (either one) isn't a position that you have to preserve energy at, you want your best Safety to play every snap. Malik Hooker, Malcolm Jenkins, Brendan White; you dont take them off the field. And especially not so that you can bring an LB on that gives you no evident skillset benefit.
I remember the hits he put on some of the poor high school kids in his film. And since the creation of the bullet I thought he might get some buzz at the position as a backup or at the slot cb position. We'll see, he could have a marshon lattimore type of career or he may need some time to get up to speed once he's healthy. Either way, no incoming DB from the last two classes was going to jump Okudah, Arnette, Wade, White, and/or Fuller. And with the depth we have behind them, it's not discouraging to hear little about the young DBs up to this point.
We didnt bring in a huge D Line freshman class and Harrison is gonna play, so mostly everybody who will redshirt already has. We may see over 15 defensive linemen play in a couple of these earlier games.
Which with Browning's experience at MLB, you could slide him over on passing downs. Take Mitchell off, slide White down, bring in Wade, and leave Fuller single high.
It's not a dig at Meyer, he recruited those 4 tackles.
Why so blue panda bear? IT'S FINALLY BACK!
We've missed out on a lot of dynamic combinations on the defensive side, this would be a good one.
Agree with everything you're saying. But even the staff has a first choice each cycle, and we just missed on ours. We'll be fine, but maybe the first evidence that Day has to prove it- early in his career. Still psyched about this class, and not trying to rain negativity. It feels similar to losing Akers, Kirk, D Holmes, Marvin W, the list goes on. Can't get em all, but we still have a stellar class.
Has nothing to do with going first. Theres unpopular opinions, and then there's going on to a Corvette fan site and calling the Corvette a piece of shit lol You did worse than that.
Yeah, sorry LCT but I think you're projecting your own opinion here a little too strongly. The real question I have for you is how are millennials so much different than any other generation? I'm sure plenty of older folks felt the same way as you when Michael Jordan was suddenly unanimously better than Wilt Chamberlain. That's just like the way history works, ya know?
There's no such thing as "lining up in option," and no defense was scared of Dwayne as the keeper after about his 3rd rush attempt of the season. We had 4 tackles starting on the OL last year. And while it made for a great pocket, it also brought poor pad level and leverage to the inside zone run game.
Our three interior lineman this year, while vastly less experienced, will be the reason that we rediscover success in the run game. I hope that Jackson comes in rolling and is the truth, but we've been waiting for Myers and Davis to lead this line for ages. Their time has finally come, and athletic, angry guard play was a huge part of Urban's offenses that was missing last year. Can Harry Miller come in and make a run at guard? Can we find a way to utilize Bowen? Will Berry and Farrell take that next step as edge-setters? JK is a good, known commodity in an otherwise suspect run game. We need to see more pushing, bullying, and explosion from the guys up front this year - especially those middle three.
"that beat the living tar out of his girlfriend" You misspelled threw his girlfriend on a pile of guns.
I know he was never committed, but Christian Kirk is still to this day the one that got away. He was one of my favorite recruits ever- Buckeye or not.