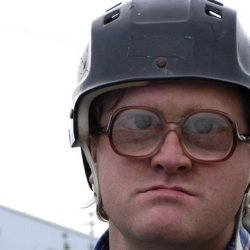 GVerrilli92
Columbus, OH (via Sanford, NC)
MEMBER SINCE November 29, 2013
Favorites
SPORTS MOMENT: In my first time ever attending a Buckeye game, AJ Hawk and Will Allen teamed up to stop TA McLendon inches from scoring the go-ahead TD in OT. The good guys beat Phillip Rivers and NC State, 44-38. I was 11, and my obsession with Buckeye football had become immediately irreversible.
COLLEGE FOOTBALL PLAYER: Teddy Football
NFL TEAM: Panthers
MLB TEAM: The Redlegs
Recent Activity
Don't be that guy
You dont say no to Henderson. Period. Edwards was prioritized early and didn't hop on board. Henderson showed interest and is a generational talent, do you tell him to wait until Edwards makes up his mind just because the relationship is younger? Absolutely not. Pryor was probably the real nail in Edwards' proverbial coffin for ending up at tOSU. It could have easily been any combination of Henderson/Edwards/Pryor, but Pryor wanted in immediately and Henderson is just better, IMO. OSU fans won in the end.
Tressel's lines drove me crazy. And I get that it's hard to predict/develop/guarantee the success of linemen, but if you're comparing relatively to other teams (which is all you can do) using recruiting rankings (which is all that we have), we look at the very least impressively solid for the next 4 years. The line has starting talent that's national title-capable and depth that projects as develope-able. In college I think that's as good as it gets. We will recruit the occasional, immediately ready Olinemen once a year or two, but the first line should be extremely veteran for the foreseeable future.
Nobody owes anybody anything in recruiting. If you as a player choose to slow play a top flight program and take all of your visits - you have every right. Just don't be mad when an equal or greater talent wants into that program immediately and takes your spot. Both parties had power in the OSU/Edwards case, and OSU had much more to lose than Edwards - by possibly going two years without a blue chip at RB. Edwards will make it to the NFL most likely (despite TTUN being his favorite), but tOSU doesn't win a natty in the foreseeable future without a great RB in '21. And honestly there's nobody on tOSU side that is remotely concerned the RB recruiting was mishandled this year. If Edwards feels slighted, it's unfortunately his own little personal issue.
If the staff has good faith that Ruckert will stay I think we're ok with taking 1 in this class. I'm not in the know, but just observing from the outside it seems that Day wants to have 4 TEs on the roster with the senior 2 taking 99% of snaps. We have three good ones now, so we use them, but I can't see a regular rotation of 3 at TE being the new norm. They have so much responsibility- gotta prove it consistently to be on the field at the position.
Our oline depth is the best it's been in 20 years. We have, respective to their classes, multiple #1 Ts, a #1 G, and multiple #1 Cs on the same roster right now. That's absurd. Then throw in the great body types on the clear project players and we've got a legit 10-12 linemen that will at some point start a game on the same roster, right now. If our Oline depth concerns you now, Tressel's depth charts must have given you hernias. TE depth is an immediate concern if Ruckert leaves early.
Dude your first two posts in this thread were complaints about the handling of COVID by our government - spontaneously contrived for no reason. You go away.. John?
You don't follow recruiting closely
lol
No, being a douche with an associative superiority complex gets you downvoted.
Ah shoot, you're right. Guess we'll have to settle for a couple of national championships.
"Stop with the doomsday, worst case scenario when you really have no idea." Shouldn't you create worst case scenarios when you have no idea what's gonna happen? Lol that's like saying "yeah, I mean we could all die, I don't know, probably shouldn't worry about it." I get what you're saying, but people worry most when they know least.
I seem to remember a well-sourced gatherer of information hinting at tOSU having to tell top 300 DBs to look around. I really wish I could remember the source, but who knows who we've heated up on? We have so many commits so early in the cycle that maybe we've laser focused on some pipe dreams and actually landed ALL OF THEM.
The system isn't built to monitor the accuracy of the guesser, it's meant to paint a live picture of the recruiting battle. I don't give a shit if some random dude is well connected to some random university, I just care that/when he knows if my favorite recruit is leaning one way or another. It's nice to know who you can trust, but 247 usually landslides when there's real smoke anyways. Not sure why folks get so worked up over "Professional Guessers of What Teens Will Do" being wrong.
And if they don't dance, well they're no friends of mine.
You can only play one LT.
All of this has to lead to speculation about the playing style moving forward. Gotta believe we're going to be playing exclusively two traditional LBs once Pope, Gant and Mitchell are gone - and recruit more specifically for the Bullet. No LB recruits + Fair amount of safety commitments + desire to play single high coverage = lots of athletes in the box
Do you realize how much money would be lost if by some miracle Northwestern were to make it to the playoff? You can't maximize profits with an objective criteria! C'mon man lol Now, 8-team this bitch and I totally agree.
Look good, feel good, play good. In high school I remember my football and baseball teams getting new jerseys and how excited we were to wear them. Our baseball coach let us choose our look and we always went with the alts. I don't know that there's an actual research experiment out there to support me, but changing your look can have an absolutely huge psychological effect. You're telling me the players weren't thrilled to put the all blacks on at night for a primetime showdown? It does add something - for a 20 year old football player - it absolutely does. And everybody always points to Bama as the reason to not wear alts, that could possibly be the case if they had worn alts and it didn't work - but they've never worn them! Who's to say that Bama couldn't have recruited at an even more impressive clip if they had implemented alts into their recruiting process? Alts work, they are good, I am 27.
In anticipation of some negativity and having already contributed some myself, I want to at least say that I now love Tuf Borland and Pete Werner. It wasn't the case in 2018, and wouldn't be the case without the depth we have now. Tuf is an early down backer you can't put too close to the line and Werner is the gap-fill, "do everything else that needs to be done" type in the back 7. Overall though they fit the scheme perfectly, know their jobs, and we have loads of athletic depth surrounding them. It would be nice to see them both take a step up this season to take some pressure off some of the first time starters - but they should lead a pretty stout D nonetheless.
Ohio State has only had 10 linebackers drafted in the first round in it's history. Borland would have been a first rounder at no point in the NFL's existence.
DV all you want, this is correct.
There's no such thing as "this type of player doesn't work in the slot." Jake Stoneburner had success in the slot and so did Jalin Marshall. There are so many ways to beat a D from the slot, hell even Gronk flexed out to the slot as a Y. If you want a sweeper think Tyreke Hill, Paris Campbell. Hybrid RB? McCaffrey or Samuel Underneath routes? Edelman or KJ Hill Seam attack? DeSean Jackson or Devin Smith (who took snaps inside yes). The slot in Day's offense will be targeted the most, this isn't the 90s, you put your best player in the slot in modern offense. Garrett Wilson I think is our best player.
I don't think that there is a "prototypical" slot player, rather, what skillset you choose to put at that position defines the identity of your offense. KJ Hill was a prototypical underneath/posession slot Campbell was a prototypical crosser/sweeper slot Samuel was a prototypical hybrid Their abilities at that position respectively distinguished each year's offensive identity from the others. Garrett Wilson's move to the slot definitely suggests to me that the days of sweeps and motion handoffs are over. He's gonna be an absolute star in the slot, there's not a skillset he doesn't really possess as a receiver. Having a guy who can win at every level downfield out of the slot is going to really eff with some defenses.
Not sure why you'd go out of your way to mention that if you're writing this article.
Henderson, Edwards, Pryor, Kiner, Milton, Robinson, Knighton. All of the HBs we've recruited over the last two years have been quoted saying the exact opposite of what you're claiming. Actually listen to what the poster you're arguing with is saying - it has changed. Premier backs do want to be paired together and we're getting that information from said premier backs. It just came full cycle at Bama with two blue chips being drafted from the same class and it's going to happen at UGA and PSU for the next two years. I don't understand why you go out of your way to be the perpetual dissenting opinion of these threads.