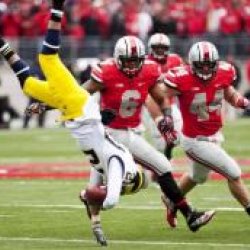 GV9
---
MEMBER SINCE November 25, 2012
Recent Activity
Well, Kevin Feder, yes, but your point stands. He gone.
Awesome News! Can't Wait to see him in action. KA-BOOM!
Another great get! The cupboard is now officially stocked back up again. The future is looking good on the O-line!
Great write-up Taylor, you are definitely a 5-star writer! And Martinez sounds like a Great Get for Day, Hartline, Hafley, and Co. Can't wait for football season to begin!
LIstening to Greg Mattison talk, and keeping in mind the recent disclosure of personal tragedy in the young life of Ryan Day, it strikes me that Mattison must have had such a strong mentoring connection with Day when they first worked together at (was it Florida?). I think that connection was almost like a father-son relationship and if I'm right about that then it makes even more sense that Day would seek to hire on Mattison as Day readied to take on the enormous challenge of replacing Urban Meyer at Ohio State. A lot of people were mystified by the hire of Mattison, both at Michigan and at Ohio State, but it makes a lot more sense when you look at it through the lens of someone who grew up without a father and for such a difficult, tragic reason. Sure, it does make some sense professionally also (Experience X1000) but I think it makes even makes more sense pyschologically as something of a reassuring father-son dynamic. That will be 5 cents please ;-)
"I was a little sad Weber's going to a team where he has no real shot to work his way to the top of the debt chart"
Well, it really depends on how much money he spends while he's there (hardy har har ;-)
I can't wait for the coming season! Should be really fun and interesting. Fields will hopefully step up to his potential and be the elite QB that we are all hoping he will be. But even if that doesn't happen I think we have enough firepower on O. and D. to win the Big Ten Title with an efficent albeit as yet unproven (like Fields) game manager like Hoak at QB. We're good at RB with Dobbins returning and eager to kill it, we're probably good on the O-line, esp. if the Rutgers transfer proves his mettle, we're really good on D-line with Chase Young & Co., we're looking good at linebacker esp. with Harrison who is an absolute stud, and we'll probably be better in the defensive backfield with experienced returners like Okudah, Fuller, White, and Wade. Oh, and the receivers should be strong also even though we lost a ton of talent there. Uber-experienced KJ Hill provides leadership and the super young talent of Olave and Wilson should shine. IF they gel with Fields and/or Hoak then we could be in for a ton of fun and tons of points on the scoreboard. Yeah, I can hardly wait. Not at all scared about what's to come; in fact, just the opposite. And Day hasn't yet proved himself over an entire season, true, but he did just fine in the 3 games last fall w/out Meyer and I expect that to continue seamlessly into this fall also. It's a great time to be a Buckeye fan!
Justin Field's passing game is still completely unproven. If that's not up to snuff then we get J.T. Barrett #2 which isn't bad but neither is it approaching what Dwayne Haskins showed he could do. I really hope that Field's can sling the ball accurately but we'll see.
Spoiler Alert!!! Blue 64, White 10, Final.
But seriously, Hoak looks likes a very capable game manager and a good passer. Quick release. I didn't count but I'd guess that he took most snaps in the game. Great Pick Up in case Fields goes down or doesn't work out as the starter for whatever reason. I hope we see a lot of him in the Fall (2nd half) where he can get in some valuable real game experience in case he's needed to step up and win at some point.
I should add that different markets may air programming at different times and we're not in the Columbus market, so YMMV.
I didn't downvote you but Von Miller (former Bronco great) was there for NBC and he had a big decorated hat on.
Per the article, he has two years of eligibility left.
This is such a cool story. My guess is that we will see quite a bit of Gunnar on the field this Fall once/if we open a good lead against other teams in the second half. Coach Day and Co. will have a strong interest in keeping Fields healthy (i.e. taking him out once the game is no longer in doubt) and also giving the other QBs, particularly the #2 option, real-game experience so that there are viable alternatives in case Fields gets hurt at some point.
There is now a veritable smorgasbord of QB talent on the table for coming years. From drought to monsoon in the space of one week!
What made sitting out the bowl game an even worse look for Higdon was the fact that he was voted a co-Captain for the season by his teammates. I'll bet they wished they could have a do-over on that vote after he bailed on them in the final game.
... includes some highlight tape at the end.
Here's a short 11w article on HS prospect Gunnar Hoak from 5 years ago:
https://www.elevenwarriors.com/ohio-state-football-recruiting/2014/08/38527/gunnar-hoak-aims-to-be-the-best-in-ohio
A free ride scholarship to their university of choice is now considered exploitation. wow. The smart ones are utilizing that opportunity to the max while also playing football.
Burrow entered the portal well before the coaches started looking at Fields.
Gunnar Hoak sounds like a very good prospect.
Nicely reasoned. We don't know enough to flail around in the blame game. It might even be a blameless situation. It is, however, problematic. It was starting to look like the offense was going to run a lot of read option with a lot of running by Fields. With all the chips on Fields, and his good health, there may now be a lot less running. Can Fields pass accurately enough to win without running like JT Barrett? And if we do get a JTB rerun, can Fields stay healthy? And if Fields does get injured then it's up to Chris Chugunov unless or until Day brings in someone else, but Chug knows the sytem by now and is not without talent. Maybe he'll lead us to a National Championship if need be. Wouldn't THAT be story to beat all!
If Baldwin was 3rd or 4th in line then I'd understand, but he was the solid #2 and would've/could've stepped in to start at any moment given even a minor injury to Fields. All the more likely given how often it appears that Fields will be running. Well, maybe not so much running after all, now.. Thank GOD for Chug!