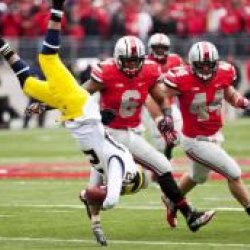 GV9
---
Member since 25 November 2012 | Blog
Recent Activity
He did what needed to be done to win the game. Smart.
Shorten the regular season by getting rid of one junk game that most teams schedule and you've got room for one extra very meaningful game at the end of the season in the form of an 8 team playoff. All the Power Five conferences would then be included (conf. champs) plus 3 deserving at-large 'bonus' teams. It would increase the scope and excitement of the championship road, akin to the March Madness in basketball. Forget 2025; re-work the present agreement and install the 8-game playoff asap. (all just one fan's opinion of course)
Why hasn't Jones decommitted then? At least pretend that it's his doing.
Taron Vincent and Brian Snead, and some others, still know what "commit" means. They committed for the right reasons and their commitment will be richly rewarded in the coming years. Go Bucks!
Maybe Chris Holtmann should give him (Feder) a look.
"There's going to be an adjustment period"
And then he gone! Exact fit at that position up north under the new coach there.
Nice write-up. Adding to frustration, however, was the amount of time our O-line provided for J.T. on passing downs to make his connections. They did a excellent job in pass protection!
Well, the Defense certainly took care of business.
"To recap, Eskridge — a one-time Kentucky commit — included Ohio State in his Top 3 alongside Alabama and Miami last summer, but then added Florida and Oregon back into the mix the following day at his mother's insistence. He was scheduled to take an unofficial visit to Columbus one week later, but called off the trip at the last minute and instead pledged his services to South Florida out of the blue."
C'Mon Man!
Lifetime Head Coach Contract for Hoke!! (it's the only way they can keep him!)
It's crummy to have the QB, the presumed future leader of the recruiting class, spend so many weekends this fall visiting other programs for something better. It sets a lousy example and weakens the class bond.
I generally like alternative uniforms but other than the helmets it felt like I was cheering for Penn State at times yesterday with so little red seen.
I wouldn't call Iowa mediocre. Not after that ass-kicking. They lost by one touchdown to Sparty in E. Lansing, they lost to Northwestern in Evanston in overtime, and they very nearly knocked off Penn State in Iowa City. The real test will come this Saturday in Camp Randall.
It will be interesting to see how Iowa does at Wisconsin next Saturday.
As for Sparty, we could use some extra emotion to go with the X's and O's. I hope the coaches make ample use of that tape of their kicker windmilling his arm in celebration as he sprinted down the field after winning the game in 2015. #NotAgainThisYear
Or better put, his sister perhaps? Either way, a great gene pool. I hope we land both Wray bros.
I loved the photo of Max Wray and his mom.
I thought that was his girlfriend!
Any kickoff specialists spotted among the recruits?
Yeah, I was thinking how Penn State fans weren't going to like that scene, esp. with B1G network figures like Dave Wannstedt high-fiving the fans and the obvious glee on display. But then I realized that most PSU fans probably turned off their TVs before that so it probably doesn't matter.
Hubbard's Two-4-One tackle was a joy to watch! Penn's pulling guard #74 didn't have a prayer at picking him up; Barely managed to touch him as he blew past.
Maryland helmet in greyscale; Nailed it.
This is the most recent write-up I could find: http://www.espn.com/blog/cleveland/post/_/id/3963/jabrill-peppers-deep-safety-role-remains-a-learning-experience-for-everyone
How is what's his name from the school up north doing for the Browns this year?
JT's passing was never a particular strength but we shouldn't forget how his legs did bail us out in numerous nailbiters in the past, including many close, delicious wins against *ichigan. But now even his running has lost its impact, due to coaches obviously telling him to lay down before getting hit. So now he looks like the football version of Hymie the robot from Get Smart. Everyone knows what he's going to do; the passing is errant and the running emasculated. It's still enough to beat lesser competition but will no longer prevail against the best.
It's time to shake up the offense! Most of us thought that's exactly what was done with the hiring of Kevin Wilson, but we sure haven't seen much evidence of that yet.