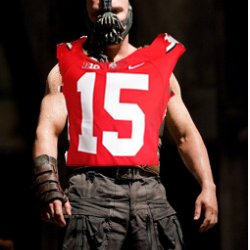 gutterwaste
---
Member since 01 May 2011 | Blog
Recent Activity
Beast.
Perhaps, this is why everyone came back. Perhaps,the players know something we don't and they're expecting more/better opportunities in 2018?
Best ever. The comparison to Scully is apt. Both knew how to add to a moment without trying to take it over. The only dude close is Doc Emrick calling hockey games. Games are just better with guys like that on the call
How about how the cornerback looks bigger than the linebacker? Banks may be an under-the-radar beast
No, it's Raekwon McMillan
He'll still be eligible for a red shirt when he's ejected from every game after one play for targeting, right? /s
My guy, Friday
See also: a significant percentage of targeting calls
Glad to get NaTo back. Hopefully he'll round into form soon. Wish regular BTN would air some of these, I'm itching to see this rolling ball of butcher knives in action
Anytime I see written "assassin" or "head hunter", especially in reference to a DB, I read "player likely to be frequently ejected for targeting." Get Tyreke Johnson some film on killing dudes and staying in the game, stat.
This is solid gold. Michigan tears taste like grease and regret
Not disagreeing, because the feel is the Bucks were slogging and abysmal on offense, but statistically, they did set records this year. I think they just puckered up against good teams and shit the bed against Iowa
This second half is like watching two midgets humping a door knob
Darnold is a turnover machine...perfect future Brown (I keed, I keed)
Meh, I'd go with Bridgestone
Texas football=Nickelback? Seems about right
The only good thing about the Jim Carey Grinch is it, apparently, warped Taylor Momsen who played Cindy Loo Who and is now filthy, hot, and lead singer for The Pretty Reckless
Gotta be a good sign that Moms is pushing the Buckeyes
Do Kendall Seffield and Damon Arnette have legs up on the young guns for starting cornerbacks next year, or will it be an open competition?
Wrestle bucks are #2 in the country, and that Kyle Snyder kid...he's pretty good.
2014 would like a word with you.
(Actually, I agree, but the set up was too perfect)
No, he did actually say "butt /s
Just think what Fumagalli would do to us if he had all 10 fingers. http://www.espn.com/blog/bigten/post/_/id/138394/for-wisconsin-tight-end-troy-fumagalli-amputated-finger-is-no-big-deal
Sadly, I suspect the protestations are less about any sort of moral stand or legitimate concern over Coach Schiano's ethics. Rather, I suspect if Coach Schiano were considered a "home run hire", no one on Rocky Top would be talking about Coach's alleged past. Tennessee has had no problem hiring bad people in the past, as long as the mob believed it would lead to W's. Coach Summit was verbally and borderline physically abusive for decades, and they named a court after her.
Standing in C-deck in the northwest corner of the stadium in November, 2001, watching thousands of people stream onto the field with the Tostitos logo spinning on the scoreboard. The only thing i could think to say after the roller coaster that was that game was, simply, "holy shit"