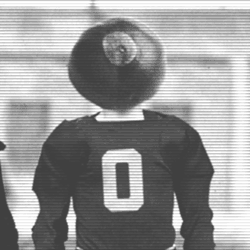 Gunship_Buckeye
Leinfelden-Echterdingen, Germany (via Jenera, Ohio)
MEMBER SINCE October 14, 2013
Career USAF and Forever Buckeye Fan.
Favorites
SPORTS MOMENT: Jan 3, 2003, Ohio stops Miami for 4 downs from the 2 yard line / 2016 TTUN double overtime win
COLLEGE FOOTBALL PLAYER: Too many.........Archie, Brudzinski, Eddie G, Zeke, Carlos H, Spielman
COLLEGE BASKETBALL PLAYER: Bird
NFL TEAM: Browns / Saints
NBA TEAM: Celtics, Cavs
Recent Activity
First time i've listened and i really enjoyed it. Guys sound as excited as i am.
Interesting to see if Luke Fickell can battle against the "thefts"
156 Days until Indiana. Anxious to see where the players land in all positions.
You all probably see the same things but i see Cardale's indecisiveness. He's waiting too long with the ball and he didn't do that with Bama, Wisky, and Oregon. When he does run, he's not putting down his shoulder and bulying his way for the first. makes me crazy.
agree. i think he is wrong on picking Cardale but i'm only a tv watcher. Just hope they get it together. Something tells me they will. Something is still telling me that Herman's absence in play calling and game-planning is hurting us.
Ok i'll go off the grid and say...........although i'm glad he's going to 7, i think they need to pick a number and not change it during the year. Soon guys will be changing their number every game and everyone will think that's cool. People buy jerseys with numbers that won't make sense now. Not trying to be a downer, i'm glad he's 7 but come on.
Sounds like leadership is taking care of business. If Torrence is a great athlete, I hope he gets playing time.
Brown was extremely impressive during the spring game. Would be cool for him to make those deep catches.
Agree. I have Kwan and Lee along with Bosa leaving destruction in their path
I'm reminded of Gareon Conley blowing that tackle during the MSU game. rumors have it he might lose his job as incumbant. Could Lattimore take him?
Speeches like this are a gift. This is why he gets the right guys. He gets Real Guys.......has no time for pain in the asses. Neither do I.
i wonder where we can see the whole speech.
I'm trying to do a long distance mind meld with Urban...........think out of the box and play a 3 QB scheme. Keep defenses confused. But Braxton needs to start.
Brax has my vote to start against VT and destroying them. I stated last year to my Bama friends that they need to watch TOSU Buckeyes this year because I've not seen so much talent. This year, I'm saying they are even much better. I feel like they will run over everyone. I'd be surprised if they had any problem with any team.
I knew before the season started last year that there was so much talent on this team. I even made a bet (and won it) that they'd be in the NC game. I knew they'd be in the hunt. But this year, i see an overwhelming team that will (I think) truly dominate the college football competition. I don't think any team will match this power.
I would love to see Urban have schemes built for all 3 QBs. All 3 have championship ability. Opposing defenses would never know what's coming next. Of course they would assume...........Cardale........oh its a 50 yd pass..........JT, He's going to run option,...........Brax........oh he'll keep it for sure or fake hand off to Zeke.......... boy wouldn't that be fun to watch!
Gotta beat em one more time
Do the HOUDINI OFFENSE. Show them one QB and use the slight of hand and play another. BOOM! Let them get used to that then BOOM ...do it again with different QBs. 100 points a game !
Right on track with my way of thinking. Keep the defense off balance. If you have the talent, use it. Put a couple of them in at a time even. For some reason its taboo to play dual quarterbacks and teams that have done it, few have had success. Its a paradigm i think. Keep proving everyone wrong. Use the talents of those 3 and let them have some fun. What a great game it would be.
Accept what is now and hope for the future but by no means PRESUME anything much less, a dynasty. I will say I loved the tenacity the team played with. I loved the "FIRE" i saw in these Buckeyes like i've never seen. Never flustered or put on their heels, just sheer determination and confidence in each other. Best season i've ever seen. Going to love every minute of the off season.
You would think if the NCAA recognizes 7, the media should report 7.
Nice breakdown. Pretty much what i had in mind and this article reassures me of the vision of THE WIN!
I have a similar score. 41-21