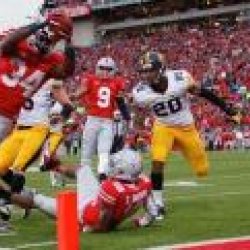 GulfCoastBuck
---
Lafayette, LA (via Dayton, OH)
MEMBER SINCE December 27, 2013
Favorites
SPORTS MOMENT: Jan 4th 2011, The Sugar Bowl was the first time I got to see the Buckeyes live and in person.
COLLEGE FOOTBALL PLAYER: JK Weber
NFL TEAM: Saints
NHL TEAM: None
NBA TEAM: Pelicans
MLB TEAM: Astros
SOCCER TEAM: USMNT
Recent Activity
And the last thread ended at 305 comments, coincidence, I think not
But has anyone ever seen them in the same place at the same time
I guess I'm old enough to remember gay meaning happy like in the Flinstones cartoon song. I'm pretty sure that's what he meant because that celebration was really happy. They appeared super gay in their celebratory revelations.
Follow that one up with -
what do you call a cow with 3 legs? Lean beef
then the finale -
what do you call a cow with 2 legs? Your mom
I laugh every time someone posts this gif because the tOSU ball guy clapping at the penalty. It just makes Jimmy's reaction so much better
Oh Yes Wisconsin, I was wondering what would break first, your body or your spirit.
Anywhere specific, there's a lot of swampland in Florida
The referee is dangerously close to losing control of this match.
Press in for Rapinoe against tired Dutch defensive legs will equal goals
Needle point is very relaxing.
I've coached for about half the time I've officiated and my advice to you and all coaches is to not make your disagreements "public". By this I mean have that discussion with the official not directed at the official where the majority of spectators hear it. There's a vast difference in how most officials will interpret those disagreements.
25 years officiating and I can honestly tell you every rule/law of the game I've screwed up or interpreted wrong at one point or another. I convey to all new referees that fact. You're going to make mistakes, learn from them and you'll get better. I don't care one bit which team wins or loses, ever, my only job is to interpret what I see to the best of my abilities and to the local rules of competition ensuring the safety of all those participating.
I feel compelled to chime in on this thread. I have been officiating soccer games at various levels since 1993 to include NCAA and lower level professional leagues. No referee, regardless of experience or skill, will get every call right, ever. I can say that parents have gotten consistently worse over the years, and that attitude has started to bleed over to the kids participating at all levels. In my area of Louisiana, there is a dire shortage of officials, and I'm not sure what the solution is to fix it, but over the last 10 years we lose 60-75% of new referees during their first year of officiating games.
Preferred Walk Ons or try out type walk ons?
DD form 368, request for conditional release, affords service members to opportunity to be released from one branch of service to join another if approved by their Commander. This action would not require the Marine to sit out a year.
I've skipped past every one of his posts for as long as I can remember. It's a fine option, and one that makes this site much more enjoyable for me.
I think this would be the way to go. 5 conference champs and committee's highest rated group of 5 champ with 2 at large. The committee seeds 1-8 and higher seeds host first round
The Saints scores on 9 of their 10 possessions offensively. The only one they didn't score on was taking a knee at the end.
When you're halfway through the season, and you've only punted 19 times, I'd say you've got an offense firing on all cylinders.
20 years, 5 months and counting. The plan is to retire in a little over 4 and a half years when the youngest finishes High School.
Will "get dumped then ..." still have the same meaning?
Man, sometimes you just gotta know when to let stuff go. That last comment just makes you seem like you're trolling on purpose.
Kinda hope we do, because that would mean the Buckeyes are in the playoffs, and Bama isn't.