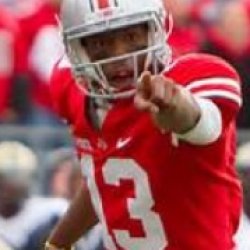 GUITONISH
---
from Defiance
Member since 20 August 2014 | Blog
Favorites
SPORTS MOMENT: Being right by the basket when Craft shot the 3 pointer (WTF) and sunk it (OMG) against Iowa State!
COLLEGE FOOTBALL PLAYER: Ryan Shazier
COLLEGE BASKETBALL PLAYER: Aaron Craft
NFL TEAM: Browns
NBA TEAM: Cavs
Recent Activity
Sorry
http://www.cbssports.com/college-football/news/24-hours-at-houston-behind-the-scenes-as-tom-herman-preps-the-cougars-for-chaos/
As such, I'll believe that whole diversity thing when I see it (See or Don't See Diamond Formation)
He graduated a year before me at Ayersville--great guy, great family!
Several comments to the reactions on Twitter and on this site.
1) We do not have the same team as last year. We lost one of the best deep threats that OSU has ever had. We lost the combo of Washington and Bennett in the middle. We lost our best cover corner. We lost the advantage of having little to no game tape on our "new" qb and the system we put in place for him. We lost our Right Tackle. We lost our Mensa (obligatory mention) OC. We switched our Oline coach to our OC and split his duties.
2) The staff did not know whether we would have Zeke for the game. The weather conditions were horrific and Barrett just hasn't had enough reps for him to be in the end of the season form....He was not on target whether it was Oline, weather, or just over or under corrected. I don't know.
3) Do I like Beck...NO. Do I think it was Beck's decision to sit Barrett for the most of the season...No...Do I think Beck was responsible for the majority of the calls in this game....Probably Not
4) What I hate most is the whining...Strike me dead, but Nick Saban is right...when you build a team up to a certain level everyone expects no losses and easy victories....We played a tough team under grueling conditions and things didn't swing our way...The Season is NOT Over...We have TTUN next and it will say more about the character of our team what they do next....Do some players take their toys and go home because we lost 1 game....or do they use this feeling to motivate them not to lose again. E + R = O
And for those of you who would rather spend the day throwing blame around, whining about coaches salaries, players declaring for the NFL before the season is over, and being disgusted at people who would rather focus on the rest of the season then THIS IS YOUR DAY....HAVE FUN!
It shows you how lucky we have been with hiring 2 elite coaches in a row.
On a side note, I got a text this morning from my sister that JT had been gotten an OVI. --And my text back was WTF....Jim Tressel got an OVI?!?!
Just me...but I would have been calling for Franklin's job if Hackenberg would have been seriously hurt this game. He was a sitting duck for 3 quarters...could barely limp off the field to the sideline and he kept him in the whole game. I'm sure he wanted to stay in and be a "tough" competitor but you are the coach. It is your job to protect your players.
http://www.sbnation.com/a/college-football-preview-2015
I love the teams that play...University of the Incarnate Word....I believe Baylor added them to their schedule next year...no sarcasm font necessary
I think his story really resonates with players. He finally could focus on himself only when football was taken away.
Ok...Saturday Night Live YOLO
https://www.youtube.com/watch?v=z5Otla5157c
It is so hard when a kid with so much in front of him and with family, friends, a team feels he can't ask for help.....just makes me wonder what we can do to make it alright for anyone to say, "Hey, I need help." There is still such a stigma with men on asking for help especially with mental health or depression and I would say that might be a bigger stigma with our athletes because there is a premium on toughness. I hope this pushes the NCAA to see the mental health side to concussions as well as the physical side.
I have had him and his family and friends in my thoughts and prayers since Thursday. I'm so sorry for all his family, friends, and teammates.
I thought of all the things that were going on...last game at shoe...Kosta...JT...but the look on his face after that great catch was so anti-Devin and then I saw Carmen and the tunnel videos and I was just struck at how zoned out he looked. He and Joey are usually are biggest hams after a good play...it just caught my eye for some reason right away.

I tried to log into 11W earlier today and it was not available, and I immediately thought....Noah Spence Explosion:)

My Ohio friend Darron Lee 3* would like to introduce to his Ohio friend AJ Hawk 3* and Troy Smith 3* who is also known as "The Heisman Winner and Crusher of all _ichigan Hopes and Drea_s." #TroyTuesday
Yes. All we need to do is find a generous donor a la Pat Narduzzi "Peter and Joan Secchia have donated $3 million to the athletic department, the school announced Thursday, to be directed toward the endowment of the defensive coordinator position." OR our Eleven Warrior Crew needs to organize a Kickstarter fund. Whose In?
I think he is our most valuable Assistant Coach and Offense Line Whisperer.....
As Ball State University student Brian Collins would say "Boom goes the dynamite!"