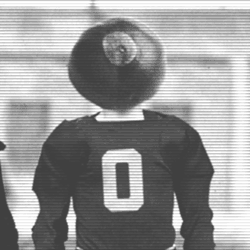 Guapisimo
---
Member since 30 December 2013 | Blog
Favorites
COLLEGE FOOTBALL PLAYER: Braxton Miller
COLLEGE BASKETBALL PLAYER: Aaron Craft
NFL TEAM: Browns/Bengals
NBA TEAM: Cavs
MLB TEAM: Indians
SOCCER TEAM: Atlante
Recent Activity
Wow, who knew that Harbaugh is a piece of Shit???? Surprise
It would be wonderful to pull in Simmons from a HS across the street from scUM's campus.
Someone tell Harrison that Mich St. has four wrs already in this class.
If our coaches feel this old school Juco guy is the right fit for our team then great. Lawrence is the biggest long shot ever and we need a DT. Maybe a guy that old can see this as his opportunity in life to make his dreams come true.
Big time get for the Bucks. He's exactly the type of player that goes to Wisky and gets 20 tackles a game and earns AA status. Not this time
If Warrior makes it to the NFL I hope he lands in Cleveland, or Pittsburgh, or Buffalo, or New England, or Chicago, or Green Bay, etc etc etc.
Pretty interesting that scUM already offered the '19 Hoban Olineman. Looks like they do want to get back into the Buckeye state.
I think Jalin had that number lined up until he did something to get suspended. It's good to see he has done the right things to earn it back.
I'm not sure how ND uses their TE's but they probably throw more to them then we do. I can't remember a time that we beat out ND for a TE we were both after.
I read an interview on Rivals with George Hill and Looks like if he plays RB it would be at TOSU. If it's defense then he needs to evaluate other schools......hmmmm
how can Bama get 4 DTs in one class?
All those 5 star 2018 kids should just pull the trigger now for the Bucks and get it over with.
Will Dantonio pull the Offer from Amby since he camped?
I bet that BBQ at the Big House tastes like shit
Lord Have Mercy we have good problems at DB for 2017
Dino saw an opportunity to over recruit this kid and took it. He's always been a Dick in my eyes and proved it once again. Hopefully Ohio HS coaches make some noise.
I hope this kid realizes he'll only be needed for XPts since we'll be scoring TDs not FGs....
Good luck to Richardson on getting that OFFER.
I never felt we had a shot at Corley even when we were supposedly in the lead for his services. Although, I will admit, I never knew we were ever the leader for him at any point anyway.
I hope like hell Moretti and Myers are making friends with Anderson now. I'd like to see us land the kid from Cincy that we offered as well.
That Roster looks like a "Who's who of College Football"
3 thirty would probably be a good idea for my liver that particular day. I tend to over do it for that event.
hard not to be concerned about the DT recruiting.
good post. Bama looked like a MASH unit when it was all said and done