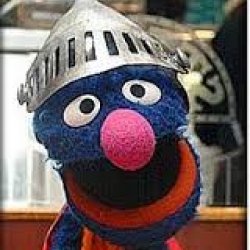 Grover
Member since 07 February 2013 | Blog
Though I only spent my freshman year at The Ohio State University, my quad-mates at Lincoln Tower would remind me... "Once a Buckeye, Always a Buckeye!"
Favorites
NFL TEAM: Cleveland Browns
NBA TEAM: Cleveland Cavaliers
MLB TEAM: Cleveland Indians
Recent Activity
Antonio Williams is no consolation prize. If Wisky wanted him, then he can't be all bad.
One thing is certain, Richard LeCounte is much better at finding emojis than Keyshawn Johnson Jr.
In no order, but I'm guessing Georgia Southern is actually #7. This drives me crazy about recruits. If you really want us to think they're not in order, please list them alphabetically.
Wait till he gets the ransom note from Jay Harbaugh. Or maybe the cool graphic of Izayah Wilssonn eating roses.
Doesn't look real quick? Based on what? He has tremendous feet, is seen pulling and getting to the next level consistently. He doesn't miss a block. Dude is 6'6, 290. Not sure how quick you think someone that size can be, but he's about as quick as you can get with that frame. What a beast.
This is all part of being on top in recruiting. Players look at depth charts are are open to other schools making promises, even ones they know they can't keep.
My guess is Gary's mom doesn't like the idea of competition. I'm sure TTUN guaranteed playing time. You earn it at tOSU.
So cross Alabama off the list too. No one changes out coaches more than the Crimson Turd. This line of crap has Harbaugh written all over it.
Technically, Omari Spellman isn't an in-state kid. He left North Royalton after his sophomore year to play at a prep school out east. No knock on the kid, but he's not the hardest worker in the world. I sat next to Gary Waters at one of his games last year and the CSU coach pretty much said the same thing. I won't count this as a loss for Matta for these two reasons.
So, Nick Cannon is going to be playing WR for tOSU? Striking resemblance.
I'm thinking that in a few years JimBaugh will have a coaching staff of like 150 former high school head coaches.
Ever wonder what Maryland could possibly show Isaiah Prince that could sway him from choosing either tOSU or Alabama?
Let's hope he doesn't use the same OSU hat Damien Harris used.
Seems to me TTUN would be best served trying to shore up Cass Tech before wasting any of their time in enemy territory. Good luck recruiting Ohio after a national championship season. Michigan will be getting our slopping seconds for years to come.
I'm sure his staying an extra day has more to do with VASJ playing for the state basketball championship Saturday afternoon than anything else.
Damn, he's the type of guy that doesn't need his highlight tape paused with an arrow pointing to him to tell us which one he is.
So, disrespecting The Ohio State University on national television by calling them "Ohio" during your pre-game speech is somehow above the fray and a classy move? Sorry, but he gives me no reason to call that school anything other than scUM.