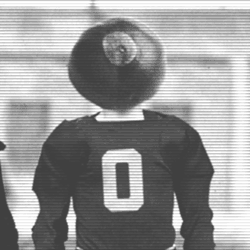 Grouchy_Old_Vet
---
MEMBER SINCE September 15, 2017
Recent Activity
wonder what the Heisman race would have looked like if Haskins stayed last year
don't let the door hit you...… where the good lord split ya......
how in the hell is he allowed to coach anything at all???
Agreed. The wrong call is the issue here, not the time it takes them to make it.
Fickell staying at Cincinnati is kind opposite of flaking though, isn't it? Sounds like someone's a little butt hurt.
Some people are just flat out sick.
& curling in the squat rack.
Their delusions are pretty entertaining most of the time. Like a train wreck, you just can't look away.
Nice
Yep. Fuck 'um.
It still hurts to think about football. I'll root for burrow but not sure I can watch. Might just have it on the background.
I've watched a couple of his pod casts or shows or whatever the correct term is. I'm curious mainly because maybe you know something about him that I don't. Why do you refuse to watch anything of his? Every thing I've seen he's always saying how bad the ttun is. Music to my ears.
Could be wrong but I don't think they plan it until spring practice is about to begin
I would take less money, within reason, to coach at Ohio State if I was good enough to be a top choice. Every coach should love Ohio State like that, and if they don't they're wrong.
I'm not mad either, but I guess I might be a little less disappointed Oklahoma made it in instead of Utah too.
Wait, Chipotle delivers in Columbus?
Stings a little bit but both parties will be just fine. Losing a player like this to Utah is much better than say Clemson or Alabama. Good luck.
I know some will make this into a bigger deal than it is, but..... Couldn't have happened to a better person! Haha
:-) we got'em
It's at 12:30 EST. another 30 some minutes
You know, I think you're right. Why mess with the recipe for success?
Yep. He transferred out before Meyer named the starter. Not a slight at him. I'm a Burrow fan and believe things worked out best for all involved.
That's a great question!
A kid from Athens, Ohio just won the Heisman. Very happy for him. Go Bucks! Beat Clemson!