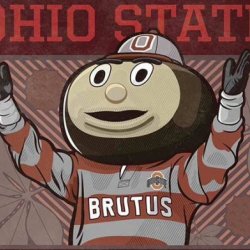 Greenosu
---
MEMBER SINCE November 06, 2014
Recent Activity
Cant believe that's a sophomore tape for EE. What a stud.
Pretty sure Carr is outside of OSU's top 5 as well.
They should hire another "Michigan Guy".
Yeah... Anytime someone says something that is not agreeable, they should be fired.
She posted something for a reaction and got it.
Move on.
Think this a strategy by the staff? Asking a silent to go verbal after this mess to show there is confidence and strength in the program? Not a bad thing.
I really don't see a problem with this. Did he think he was the only quarterback that we were recruiting? Why not commit on the spot? As far as Dobbs... there's a lot of opportunity to play. We blow people out and young pups get their reps. A 5 Star kid should have no problem seeing the field even in the first year. Redshirting is a thing of the past if you have talent.
Coaches feel like they have a legitimate chance at flipping any commits? Julian Barnett? Nolan Smith? Nolan Rumler? Any others? Will Isaiah Williams and Marquez Beason stick with Illinois? Is the staff pursuing either of them?
Guy is a turd, but I hate people that flex their internet muscles and think they need to get people fired or banned. Thanks for protecting society. There are bigger things to petition or boycott than a clown dressed up in our favorite colors. The easily offended will continue to show their voice is important. Good job. Once again... Buck-I-guy is a tool.
Good luck. I think we'll be fine.
I'll admit I'm a star chaser when it comes to recruiting. I'm pretty excited to get Chambers, but disappointed to hear it has affected Ford's decision. Chamber's tape is solid, but I'm most excited about his LB play. Even if we lose Ford and Chambers does play RB I'm good. So deep at RB right now and love having a menace at LB with a nose for the football.
We're in on some big name tackles. Do we land Wright? How likely do we flip Dobb? Who else do you think we get?
Not picking a about yet, but really loved seeing what Tate can do with his feat. Going to be a fun package if he is used.
Read "Running with the Devil" about Van Halen. A solid read written by he band's manager during the David Lee Roth years. Not as good as the Motley Crue book but still recommend.
Awful rule but will be the end of me screaming at the TV questioning UFM's special teams coaching ability.
Thought this was going to be about kicking the ball out of the sidelines once per game.
One Fish
Two Fish
Red Fish
Blue Sucks.
Hoping Truss ends our Rhode Island drought.