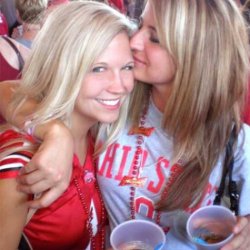 GreatLakesMike
---
Johnstown (via Marengo)
Member since 02 August 2014 | Blog
Favorites
COLLEGE FOOTBALL PLAYER: Joey Bosa
COLLEGE BASKETBALL PLAYER: Sam Thompson
NFL TEAM: Cleveland Browns
NBA TEAM: Cleveland Cavaliers
MLB TEAM: Cincinnati Reds
Recent Activity
Agreed. I don't recall Hayes ever being close to an OSU lean.
Kind of feel bad for Craig. Some loony parent is dragging his name through the mud. And, I guess I'm lost. My baskeball/baseball coaches threw clipboards at us, swore at us, etc. etc. Good lord, it seems like Craig just broke up a skirmish. If the dad doesn't want anyone touching his kid, perhaps he should just put his kid in a bubble and be done with it.
I've been thinking about Buckeye football and chili for a while now. I bought about 6 lbs of chuck shoulder that I'm going to smoke for the chili. Trying to decide what game the first batch of chili gets made? Weather will play a factor of course.
ETA: lol... yes, all 6 lbs will go in the chili. I make a huge pot of chili... takes all day. Whatever's left gets frozen for Coney dogs down the road.
I agree. I have the chuck shoulders in the freezer. I'm thinking late September/early October. Can't say that I haven't been jonesing for chili though....
I hope things work out for the Mitchell family. Totally understand that family, especially Dad, is most important to a son.
But, this is a Buckeye forum so to speak about the Buckeyes.... I think Thad lost a very good recruit. Mickey appears to be a point-forward who makes everyone around him better. That said, the roster appears to be pretty healthy at the 3/4 position so Thad either gets Ahmad/Braggs this year or banks the extra scholarship for a strong Ohio 16 class.
Hoping things work out for both sides.
Coached little league years ago.... I loved working with the kids and they loved me. We both learned a lot. I can't count the # of times I watched a kid cringe when mom was storming to the dugout. It was usually the mothers who "forgot" to pick their kid up from practice at least one or two times a week. None ever said thanks for driving their kid home... just screaming and swearing. A lot of good kids who were great ballplayers in practice turned into "I want to be anywhere but here" kids when their parent(s) showed up to the games.
I talk baseball when friends and coworkers... occasionally one will ask me to come out on a Saturday and work with his kid. That's money. Usually benefits everyone because the parent gets it.
Beauty is in the eye of the beholder, but not in your mouth.
Where at in Newark? I still venture over that way from time to time.
It's pretty difficult to screw up pizza but Domino's figure out how.
I love Bernie.
:sheds a tear:
"Purdue might have the best special teams depth in the Big 10 this year."
That .gif of Bert falling......
never. gets. old.
Nutty, appreciate it. Wish I could give you more than one upvote. Love the internet.
Of course. Why is this a question?
With all the redshirts the past two seasons, I get a "release the hounds" vibe about this team. I'm more worried about the preseason than the Big 10. I know MSU, Minnesota, and Michigan are not slouches, but I think the Bucks are a notch above talent-wise. If the young pups can get through the preseason... watch out IMO.
Upvote on this suggestion. Great beers.
Bell's Two Hearted
AleSmith IPA and Stout
Stone Ruination
Sierra Nevada Anniversary Ale
Great Lakes Nosferatu/BlackOut Stout/(The newest seasonal IPA is good as well - can't remember the name.)
Founder's Red Rye
I could go on and on... tons of great brews. We're living in the golden age of beer brewing in America.
The biggest reason Giddens dropped is probably because he "only" average 6 or 7 points in AAU ball. Giddens is a bit raw offensively but he played on the same AAU team as Ben Simmons so scoring was not his main priority. I like Giddens. He seems to be more of an old fashioned 5 and still has time and room to improve his game. The best thing about Giddens? He's not soft.
I absolutely love Mickey Mitchell's game. Mitchell is a point-foward whose vision and passing ability will make everyone around him better. High energy guy with a great motor. He needs to work on his shooting, but he's young and has time.
Harris will probably never be a "highly" ranked recruit due to his size. He has amazing quickness, long arms, and is a natural ball handler. He's more of a "New York" style point guard in the mold of Lionel Chalmers. Love me some New York Point Guards. I think he's a great fit. Thad can push or play half court with this guy.
I haven't familiarized myself with Grandstaff. I do see he has a great outside shot. Don't really know much else about him.
I like this class so far and think the sum will be better than the parts. How exciting will it be to see Mitchell grab a rebound and immediately start the break? To see Giddens, Thompson, and Bell MAN the post. etc. etc.
My guess is 2 years. I agree with OldColumbusTown. Russell will either have to be a dominant scoring guard and/or play more of the point than we expect. I also wonder how the CBA coming up in 2015 will effect any player who's a borderline lottery pick. A lot has to go right for Russell to be in that conversation.
What I'd like to see from Russell:
Be a consistent and productive double-digit scorer (11, 12, 13 a game).
Provide an outside threat.
Handle back-up point duties for a few minutes each half.
Improve his defense.
I think that's a lot to ask of a Freshman before we even get into leading scorer, lottery, etc.
Classy move and hard not to like this guy. I'm anxious to see what he can do now that he's out from underneath the Wrath of RatFace.
lol... gotta be shtick at this point.