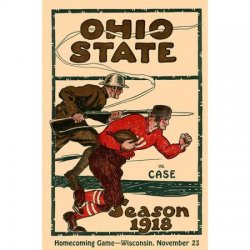 grcunning
---
Member since 14 August 2012 | Blog
Favorites
SPORTS MOMENT: I went to the Jersey Shore with an old girlfriend to visit her parents. This was March of 1992, and her dad just happened to have 2 ncaa tickets that night at the Philadelphia Spectrum. Great seats, 3 rows behind the visitors bench. Duke vs Kentucky in the great eight. We were rooting for Kentucky since we could hear everything that happened on their bench during timeouts. It is the only sporting event I've ever witnessed where every single person in that place was completely emotionally drained at the end of the game. It will always be considered one of the greatest games ever, and I was right in the middle of it.
COLLEGE FOOTBALL PLAYER: Braxton Miller
COLLEGE BASKETBALL PLAYER: Aaron Craft
NFL TEAM: Bengals
NHL TEAM: none
NBA TEAM: Cavs
MLB TEAM: Reds
SOCCER TEAM: none
Recent Activity
I think it was Eli Apple that pushed Oregon's TE out of bounds
Anyone still think Q is gonna get drafted?
we are just standing around
I don't get it...Q leaving for the NBA? Not a chance, even if he scores 30 in the NCG. Even though he has hit a couple of big 3's, he commits far too many turnovers. He drives to the hoop totally out of control, travels about half the time he drives, and is really weak on defense. Everyone talks about the 3 he hit, and totally forgets that the only reason he needed that 3 is because of the totally stupid foul he committed on the other end.
Once he matures on both sides of the ball, then the NBA might come calling. Like someone said above, two games doesn't make a draft pick. He needs at least another year.
Wow, my heart is still beating 120 bpm.
The question I have is, what happened to the live threads we had during football? I could just sit and watch the comments pop up. I don't like having to refresh every 10 seconds to see if someone had something to say. It basically makes me not even watch the comments. Is there a technical reason that you can't do that during basketball?
Sagarin ratings this early in the year are similar to football's preseason rankings, pretty worthless(remember USC being #1?)
Beating directional schools may look great statistically, but really doesn't tell how schools will perform against better competition. The best we can do right now is determine the best 25 teams, not how they will fare against each other(and especially how they will perform on the road or at a neutral site).
So far, I see us as a sweet 16 team and no better.
Can't get firstrowsports to work, they keep wanting me to download all sorts of crap to my computer, then it says I don't have the right "plugin"...sounds kind of virusy to me. Anyone having any luck?
Edit: I got Villinova and Marshall to work fine on firstrow, it's just the OSU game that isn't working
The article says he's 6'8", but the picture shows him standing next to coach Matta and they are the same size. I didn't know that coach was that tall.
We just have to be loud, nothing impresses them more. The stadium has been rather subdued thus far. Hopefully the lights and the opponent will change that.