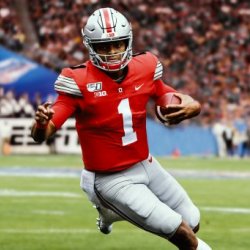 grahamkamp
Wisconsin
MEMBER SINCE March 18, 2019
Favorites
COLLEGE FOOTBALL PLAYER: Jonathon Cooper
COLLEGE BASKETBALL PLAYER: Aaron Craft
NBA TEAM: Bucks
MLB TEAM: Brewers
Recent Activity
All those people clowned him for the video of one missed throw next to Alex Smith...
Go get em Simba
The school itself doesn't exactly "lose" money, but it comes out of the athletic departments budget
It was said to be practice at first, it's just workouts
Tate Martell transfers back
Never realized CFP isn't NCAA governed
We are boycotting that bitch
You can't force athletes into a bubble unless you pay hyphen.
Taking them away from a school is taking them away from how you pay them, scholarships
Yeah but... isn't it gonna be 20 degrees with 6 inches of snow
Only seems fair that they should get another year of eligibility... maybe that's just me?
As much as it sucks for recruiting, I feel worse for the kids. Those visits are great experiences
Do you think that fence players will lean to NFL or back to college.
Olave, Cooper, and Browning are the 3 I think of.
I know Olave is way more likely to go pro than the other 2 but I wouldn't be shocked if he came back
I think guys who want to improve their draft stock for one last season are better off just leaving school and preparing for the draft all year. They'll lose some money in draft position but in the long run make it up with the ground they make up with their bodies
I'll admit, it was easy for me to think that at first, but when you take a step back and think you realize we will be just fine
To be fair, there is no OSU without players
Nothing. I wish there was something but they've made up their mind
I think pros are easier, but the reward at the college level is higher. Developing young boys into men through 4-5 years has a real satisfying outcome
For everyone saying you wanna play, great you get immediate entertainment.
It would set the Buckeyes and the Big Ten back many years
It breaks my heart that the next time I see some of them play it'll be a different uniform... and maybe still in college
Blame Kevin Warren for everything
He handled it like a chump
Time to "explore other options"
Sucks to get just one year of Fields
I Hovenaut slept yet...
sorry, had to