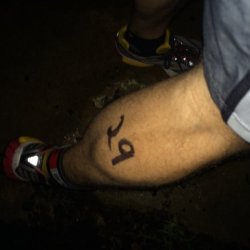 GottaGoFast
---
Virginia
MEMBER SINCE October 13, 2016
A Buckeye fan my whole life, now residing in Virginia. I grew up going to football games. My dad is an alumnus. He was in the marching band - snare drum.

My best, at-the-game Buckeye memories:
1) 2002 win over TTUN in the Shoe
2) 2003 overtime win over NC State in the Shoe
3) 1997 Rose Bowl win over Arizona State (I was only in Elementary school but I'll never forget it)
Favorites
NFL TEAM: Browns (are they still an NFL team???)
NBA TEAM: Cavs
MLB TEAM: Reds
Recent Activity
I love Burrow. He is tough and hardworking. However, is the fact that his hand healed quickly a testament to his work ethic? Seems more genetic than anything else.
Regardless, happy to have him back and excited for the future!
Unfortunate that Wade is injured, but nice to hear an update. Too talented to not even get on the field for special teams. I was worried that something may be up.
"Every possession will be a priority."
We're screwed... /s
At least we know who number 2 is. QBgeddon averted.
Best comment.
"That's not a weird stat, I'm just still mad about it."
Who would have thought the AIA would make the NCAA look good?
"Now, you see, this article is the right stuff. You can tell all the journalists on this site take time to research, deduce, inquire, and dig before jumping to conclusions. And when you compare the quality of these articles to last year, they are improving each and every day and setting the bar high. I would go as far to say that this is one of the best sites on all of the Internet."
- Anonymous Commentator
"No word yet on if Oregon State plans to enter the fray."
Oregon State...
lol
I still don't know how he didn't block that punt in the LSU game...
The officials should have waived off the flag for a fluke of nature and suspension of the laws of physics.
I've come to realize that the best thing about Peppers going to the Browns is that he will never have success at the NFL level. He didn't achieve anything in college and won't achieve anything in the NFL (at least never with the Browns).
Just goes to show that if you want to avoid being drafted by the Browns or Bengals, go to OSU. Sounds like another solid recruiting pitch for UFM.
I didn't watch the draft last night.
I had a horrible dream overnight that OSU played Michigan in the middle of the season and OSU looked plain awful. The worst part was that Jabrill Peppers was having a field day and looked great.
I woke up to much relief, realizing that the dream was a bizarre impossibility. I checked the ESPN app on my phone and saw that the Browns took Peppers at the end of the first round. Ruined my whole morning...
The nightmare continues.
I live in VA and hate Washington, but they would be getting a huge addition if Hooker slides that far and they grab him.
I am excited for Samuel as well as for the offense. At this point JT is the only one coming back who is considered a weapon. The coaching staff will forced to be creative without relying on one individual. Plus, there will be no expectation or demand to get one person the ball.
For an offense that was inept at times, it is sort of refreshing to hit the reset button and start over. Best wishes to these men as they pursue their dreams. Hopefully their NFL futures are bright.
As a whole, good memories. Victory against TTUN. A young squad getting older. Changes for the future. It wasn't always pretty, but still very successful.
I've been wondering the same. How in the world are we going to keep the scholarships down to the required limit? It is sort of a shame that it will take so many transfers or medical hardships.
There is no way that someone from that list doesn't transfer.
"Kicker: 2009 wasn't eight to 10 years ago." Beautiful
Wait! I missed all the highlights of the refs winning the game for us...
I'm most worried about the weather. OSU has athletes, but weather is the great equalizer. And when you keep other teams in the game, anything can happen. Go Bucks! Beat MSU. Beat bad weather.