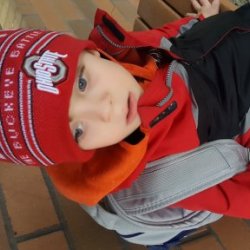 goodlifesean
Richville, OH (via Leetonia, OH)
MEMBER SINCE September 01, 2010
Stay-at-home dad to 2 sons. Excited to go back to work some day but appreciative of the opportunity I have
Favorites
SPORTS MOMENT: Watching to 2003 Natty with my dad at BW3 in Oxford
COLLEGE FOOTBALL PLAYER: Eddie George All Time/ current Robert Landers
COLLEGE BASKETBALL PLAYER: Scoonie Penn All Time/ Currently Kyle Young(Stark county represent)
NFL TEAM: Steelers
NHL TEAM: Penguins
NBA TEAM: Cavs
MLB TEAM: Indians/Pirates
SOCCER TEAM: Crew/ Manchester City
Recent Activity
Meek however is correct.
It's bad. Even on his three highlights a short TD, A screen, and a ball he knows TMac will go up and win 90% of the time, he is getting hit or throwing off his back foot with someone in his face. This line is just bad
I mean, Ash was a decent coordinator, just not a good head coach
If it's me, I'm going after Austin King Dayton's 37 year old OC or Kevin Hoyng their 34 yo Passing game coach. Top 10 offense and passing efficiency in FCS. You don't need killer recruiters at NW, but youth and strong offense. Someone big will go after Memphis' OC. Maybe FSUs new coach will snatch him or someone like GA who really struggled offensively and wants the OSU model of good o and d
Their hair?
His podcast became unlistenable after Ari Wasserman and Bill Landis left. It's just doing bullying an inexperienced journalist co-host and being a know it all.
The Godzilla one. Actually laughed out loud there
Don't know if he happens to be on a phone but I can tell you autocorrect will catch NCAA but not chase, as this exactly happened on my phone. Don't be the damn grammar police this early in the morning.
Josh Meyers running the fumblerooski is gonna be a bitch to tackle
I mean I don't understand how you aren't more concerned. Anthony MacFarland has over three hundred yards the past two years combined. If that's what you call stout... ;)
Ah yes that "special pre-workout"
I personally follow the players in the pros. There is zero loyalty, it is nothing but a business. Getting attached vehemently to a pro sports team is no different than not driving Chevy because you are a "Ford Man"
Including Anthony MacFarland. Ladies and gentlemen, we have our rat
Honestly hope they either exonerate him i.e. it was a family friend and not a "family friend" or he gets 2 games so he doesn't get caught up in that New Jersey Juju magic
Finkes is nothing more than a, "in my days", blowhard anymore. He lives in his own world and anyone who doesn't is automatically wrong.
Only if Ohio State knew and ignored
Not a fan of noon games personally if only for the inconvenience. I have two boys (6 and almost 2) so 8 o clock means I'm cuddling my youngest to bed while watching the game. Noon means I miss the first quarter/half due to lunches and naps and 330 means I miss the game unless it's a huge one. Probably gonna miss most of the game this week due to a birthday party.
College footballs national championship, and. NC II. 2 was superior to 1. It gets overshadowed by EAs 107 team NCAA game, but the game play was way better in the National Championship series and fast and fluid. Eddie George running student body right was the play.
I'll be shocked if there is even a long for the Rutgers game
Ok, Franklin, name your 5 favorite Jay-Z songs... And Go!
Yes he's right on LSU... Well at least their defense. But I've yet to be convinced by Bama like he is.
QB from PSU may be eaten alive. Really unimpressed with his pocket awareness the couple times I've watched this year. (Iowa and TTUN)
He's using a meme from the office. That's all. Jim is pretending to be Dwight and to piss him off says beats. Bears. Battlestar Galactica. https://youtu.be/WaaANll8h18
Here's some highlights from a Klatt led Buffs team with Linkin Park on the track. https://youtu.be/ZU2gXflBGFE
I went out to grab ice cream for me and my wife and wasn't able to listen on the radio since 6 high school games were being featured in Canton. Got home at 915 and was caught up by the 2nd quarter with all the damn commercials