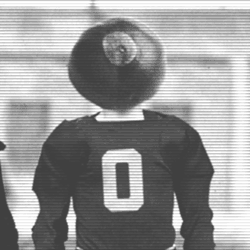 GONDORFF
---
MEMBER SINCE August 21, 2018
Recent Activity
It also means ttun ends the season at 8-4. What a shame that would be, huh?
Well here's to blaming the refs after the game tomorrow night then!
I just want to see ttun lose. I want to see them lose no matter who they play
Giving him something in Austin was probably a major part of the negotiations.
It's just not the same for their fans now that everyone has fobs and no real keys to jingle during games though
I dont think he decided to be an idiot in his response, I think he is just that way naturally. And for some unknown reason the fans think he is a football savant.
Or they are just lying out of complete embarrassment for what has become of the entire program for the last 12 years.
Or once all the silly rumors concerning Meyer finally die and they have time to do something else
You have to have good teams with quality wins OOC if you expect to make the playoffs. The committee uses the conference overall as part of the selection process. Look at the PAC 12, they have been left out of the discussion because of the overall lack of good teams. Now with that being said, only 12 other teams need to be good, ttun can suck it as far as I'm concerned
Go visit the Trappist Monks and taste their Chimay. You will fall in love
Oh, I wasn't referring to Rosita the character, I was referring to how hot Christian is. If it's a character that would be a deal breaker it would be Daryl or Carol. Those two are awesome.
He's Rick's bitch now. There, you are caught up
If they kill off my future ex wife Rosita, I'm done with the show for good
Anime should stay in the privacy of your bathroom, preferably with the water running, so others don't have to hear you
I hope you are wrong. There is a chance they make a competent hire and then where will we be?
I had no idea there was an actual medical term for my tongue, I just figured it was because I was hungover?
It almost looks like he is going through a herd of Walkers
Hopefully they will serve beer and somebody is already securing the license. Gotta have priorities set when planning these things
ttun is in a tough spot. This is their 3rd coach since Carr retired after the 07 season. You can't expect to go through coaches at that pace and have a stable program
The universe is back in harmony now that the season has started. It was inevitable, we just needed to be patient
The pathetic performances are squarely on the shoulders of the head coach. His offense is antiquated and predictable. Hell, even Saban has given up on the ball control/pro style sets, yet ttun will still line up with 2 tight ends, a leading full back and give the ball up the middle to a RB on 3rd and 4. Ask yourself this, when is the last time you saw a QB regularly line up under center? Even high schools don't do that anymore, but ttun does. And for the record, I'm quite content with them continuing to do it too.
They are kinda stuck with him too, with all the eggs they put in his basket. Also, hiring a 4th head coach since Carr retired will make getting a quality replacement that much harder.
How is that sad? I felt bad for Hoke, because I believe he is a genuinely nice guy, just in over his head when they made him the HC. Harbaugh? I couldn't care less about him. The more miserable the better. He does funny stuff when his mind is running in 3 directions at the same time.