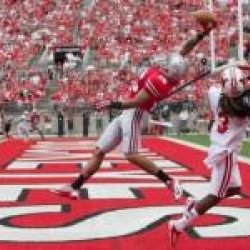 Golden Buckeye
---
Member since 27 September 2012 | Blog
Favorites
COLLEGE FOOTBALL PLAYER: Braxton Miller
COLLEGE BASKETBALL PLAYER: Aaron Craft
Recent Activity
If I recall correctly, he has an insurance policy taken out for if he does not get drafted in the first round.
Who is your breakout player? - Curtis Samuel
What game(s) are you worried about? MSU, Michigan, VT (in that order)
What is your biggest fear for this team? - Complacency
Who is that one player you want to see get more involved? - Curtis Samuel, also Nick Vannett
National related -
What team will be the biggest dissapointment? Baylor or Auburn, new QB's are always an unknown. Way too highly ranked with a new, unproven QB.
What team will come out of nowhere? I think Clemson could challenge to be in the playoff
Who do you think wins the SEC East? Georgia
Pac12? USC
Big12? TCU
Big10? OSU
ACC? Clemson
What player is no one talking about, but you expect to have a huge year? Hackenberg
UV to Bassdropper. Unfortunate situation, but from hearsay not surprised at all to hear these rumors. As many of the others have said though, not concerned in the slightest with our stable of WRs.
Believe he was a scholarship player class of 2012.
When did you know you wanted to be a Buckeye? And what was your favorite part of your recruitment?
+1 all of these would rock Birm
yikes to these suggestions haha maybe no nickname is better
The fumble at the 8:52 mark would almost certainly be called an incomplete pass in todays rules
Nick Mangold needs to be on this team
Do you have wonderful news or have you not seen what the bulk of other threads are saying?
You're charging the same amount for the season opener/night game Virginia Tech game as the noon Kent St game? Yeesh