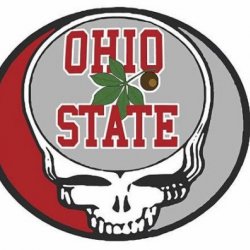 GoDamnBucks
---
Tucson, Arizona (via Cleveland)
MEMBER SINCE March 10, 2015
born a buckeye, live the buckeye life and will die a buckeye!
Favorites
SPORTS MOMENT: Standing at the back of the End zone for the 2002 championship!
COLLEGE FOOTBALL PLAYER: Archie Griffin
COLLEGE BASKETBALL PLAYER: micheal Redd
NFL TEAM: Browns
NHL TEAM: Blue Jackets
NBA TEAM: Cavs
MLB TEAM: Inians
SOCCER TEAM: is this a sport?
Recent Activity
I coached Bijan and his older brother. We definitely want him.
He not as talented. Watch his film.
I call bullshit on Greg's salary! FRom a man who just had 62 put on his and don browns defense? They had better not give up more than 12 pts a game.
He was so much better at guard. Coach stud kinda screwed him on the switch of position. I'll definitely miss hearing the name Micheal Jordan at TOSU
I coached that kid in pop warner! He a beast.
I personally don't feel comfortable with mattson. He's a bit too much _ichigan man for me. But if he starts to hamper coach LJ with his bullshit DL schemes I'll lose it.
I feel the same way. This guy will always be pure _ichigan.
Have you looked a the film for these two players? I have, and it's a no brainer. Very few humans have the pure talent that fields have. Very few. Baldwin doesn't. A good QB but not Haskins or fields or terelle pryors of the world.
I think mattson is just too much team up north. I cringed very time he complimented coaches that we beat as great... plus the use of that _ word.
I cringed every time they said it.
First of all I'm not watching the game tonight. I couldn't stomach routing for either of those teams. And to the argument about whether or not we belong at 12-1? I know Mechincal engineering and football and I can tell you if TOSU offensive line give simba time to throw neither of the teams playing tonight back seven can stop us from scoring. Believe what you must but I'd bet my life on that. O-H
Auburn beat Bama last year. UCD beat auburn. What's your point again?
I've gotta say it. This young man was robbed tonight! He is without a doubt pure class!
What a shitty way to wake up this morning. Thanks coach for seven great years. You will be missed. Ohio State against the world
I dislike the system and I dislike Kirk herbstreit even more. Fuck that guy.
I can never sleep the night before this game! Brisket is smoking. The beer is iced. My the skunk weasels burn!! O-H!
Something is horribly wrong with this team.....
Old town buck nut is my new hero!
Chat sports has Zach Harrison going to bitchigan. Unnamed sources of course
I'm a former coach here in Tucson and I can tell you the local kids do not wanna play in this state.