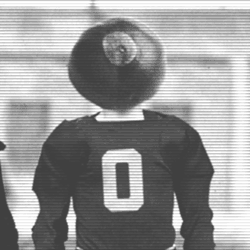 GoBuckswin
---
MEMBER SINCE December 21, 2017
Recent Activity
The damn shame is I think OSU might have won a natty this year.
So it begins...this sucks. I know it is "only college football" but for so many of us, we love this sport, and this is not good news.
Gabe Powers is obviously a must get!
You noticed at the start of the interview he says "stepped away from coaching" before saying retiring??
Wonder if in his mind he is leaving the door open to come back and coach?
I think if they don't play this year, '21 would still be in AA as originally scheduled. It would suck so much not to have a season, but I think think that could easily happen.
Isn't Somerville where Superman grew up??
My big worry is that there is a big outbreak in the late fall and we lose the end of the season like in college basketball.
My memory was the Steinbrenner gave Henson 4 years for $4 million per year but he could not play QB his senior year at TTUN. The reason he gave him that contract was to hurt TTUN.
Think about it. If Hanson plays his senior year, he might not win a heisman, but does he beat OSU at home in '01--Tressel's first season? Maybe. It is not like we dominated that game. We won by a TD. Maybe with an experienced QB we lose in '01 and Tressel is not able to back up his famous in 310 days speech. Remember, Hanson played damn well in the Shoe the year before as a junior and led TTUN to a comfortable win.
I am a Red Sox fan--I live in Mass. I hate the Yankees. However, Steinbrenner helping us out back then proved even he could do something good!!
Blufan--I usually enjoy your feedback, despite the team you root for.
The point isn't that OSU did not make mistakes during tattoo gate or that some punishment was justified...it is just that the amount of punishment that was handed out by the NCAA, especially in hindsight, was WAY out of proportion. The only thing that the NCAA can do at this point to ease the severe punishments are to reinstate the wins from 2010. It is the right thing to do. It will also bring us one win closer to taking the all-time win lead over the bastards up north!
I think you make sense, Rightfield.
I do wonder if Gene Smith has been testing the waters behind the scenes on this to see when the timing might be right?
It would also close the gap one additional game w/ TTUN.
Can OSU prohibit his HS coach from using Sawyer at QB again??
If OSU does not appeal the initial 5 game suspensions for the players, the e-mails never come out and Tressel is not forced out.
The only thing is when the recruits come to campus on game day this fall it is likely to be a much, much smaller crowd than normal due to COVID-19. While everyone understands that, there is nothing like a banged out Shoe to impress recruits.
It is gratifying to see the love people have for the Senator! It goes to show that a coach can have a higher win % as OSU coach like Urban, but the love Ohio State fans feel for Jim Tressel is def. real and lasting.
I have lived my whole life in western Massachusetts, about 750 miles from Columbus. Never even made it out to Ohio until I went on a trip with my dad when I was in my mid 20's and I attended my first Buckeye game--the 72-0 win over Pitt in 1996. However, b/c my dad went to Ohio State in the early 50's, I became a HUGE Buckeye fan for life starting when I was about 10 years old. I even dated a woman who was from Ohio and so I have gone to about a dozen OSU games (all wins by the way) over the years.
Although my dad passed away over 7 years ago, I am as devoted as ever and have got my entire family as Buckeye fans!
Tough situation and you never want to see that happen to anyone--college or pro. Hopefully not a career ender, but more importantly, he is not limited in life outside of football.
40 degrees North--Actually, if OSU had not appealed the initial suspensions of the players for 5 games, there would have been no internal investigation that turned up the e-mail from that atty (and former OSU player). I would say just about any coach at the time would not have given two thoughts to players bartering their own personal property for cash and tattoos.
As far as ZS, Jim Tressel was pretty loyal to his assistant coaches as well, so not sure if he would have cut ties if he had someone like ZS.
Both incidents were handled about as bad as you could by OSU. Both situations could have been nipped in the bud if handled better, before snowballing into huge pr nightmares.
I was a little surprised to see almost 100% for Jim Tressel only b/c of the way he left the football program (including w/ sanctions), (a stupid situation that snowballed on him and OSU for various reasons). In contrast, Urban left the program in great shape and actually hand-picked a winner for his successor.
I think Jim Tressel might actually be remembered less fondly if Urban Meyer was not available to come in and take the program to the heights he did. Timing in life is everything!!
Absolutely, Floyd. Jim Tressel was someone any Ohio State fan could be proud to call coach. (I know that might come across as a knock on Urban, but Urban had WAY more enemies than Tressel). Anyone that did not like Tressel was likely just jealous of him and his program...
I agree with you Cledaybuck and with really everyone else that has posted so far.
Tressel was/is also an unbelievable speaker. I think that is where he had a big edge over Meyer. Go back to the memorial for Earl Bruce. Jim Tressel gave the most moving, beautiful speech/tribute to Bruce. Urban spoke after, and frankly, not even close to Jim Tressel in terms of telling a story and painting a picture. Urban thought it would be good to mention during the tribute to Bruce about a pep talk Bruce gave him at halftime of a Florida game in 2006 that the Gators needed to win to get to the national championship game. Meyer credited that talk w/ helping Florida win that game which of course sent them to play OSU in Jan. '07. That was not the story that he should have told to a gym full of Ohio State fans.
The 1998 team was awesome and Joe was lights out at QB except at the end against MSU...
I am always worried about The Game. Every year. Some years more than others. Already worried about 2021 in AA. We will lose a ton of players early to the draft. TTUN will lose nobody early to the draft. We also have to play them the week after PSU, just like this past year.