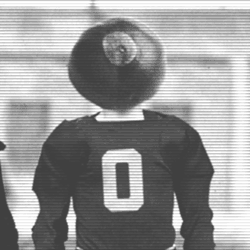 GoBuckswin
---
MEMBER SINCE December 21, 2017
Recent Activity
Imagine if somehow the BIG does not schedule TTUN v OSU?
I think the NCAA has to revisit these rules now. I think if you play this year, you don't get an extra year of eligibility.
Further, John Cooper still lives in the Columbus area all these years later even though he was born and grew up in Tenn.
I think as long as Wade did not take $$ from an agent it is ok.
As long as COVID does not shut us down, I have no doubt we will be bringing home a natty!
Only job I worry he would take is the Patriots when BB finally retires. He is from New Hampshire, so coaching the New England Patriots not only checks the box of coaching in the NFL, he can say he is doing it to return home. I am pretty sure his wife is also from New Hampshire.
I hope I am wrong and he is an OSU lifer...
She was quoted as saying her fondest memories growing up was her family watching games at TTUN. She is a known OSU hater. She her quotes during the ZS debacle. She wanted Urban in jail, not fired, but jailed. She absolutely sucks!!
I hate Dabbo more than any other coach out there, which is saying a lot these days!
If Fields opts out and then the BIG suddenly deems it safe to play, you think that would be just a strange coincidence??
You really think TTUN wants to take a chance on a Fields-led offense hanging 100 on them??
Most conferences that had a team that had a very good shot at winning the natty, or at least playing for it, would be trying to support that team and play...
I hate the presidents of the BIG and Warren so much!!
They fucking suck!!!
What the fuck about all those reports that we were getting a vote and football today??
You have gotta to be fucking kidding me!! What the fuck is wrong with these absolute ass-holes!!!!!
Poppycock--that is the post of the year!
I love that TSUN grad from bar stool sports--he could not be more right and it goes to show that not all *ichigan fans are bad--that guy rocks!!
This is just fucking great. The one team in the BIG that had a chance to win a natty, and team that wanted to play so badly will likely now have more players opts out now than the ENTIRE fucking BIG combined. Just fucking great.
So who won the game that year at PSU??
I still think he and others should wait a little longer...there could still be a meaningful season and once you sign w/ an agent, you can never go back...
What is amazing is all CB's left Ohio State early for the NFL, and ML had two years of eligibility left. Imagine the OSU defense if they had stayed all 4 (or 5) years of eligibility??