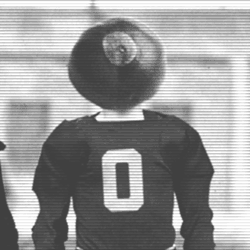 GoBucksOrDie
---
Marysville
MEMBER SINCE December 17, 2011
Favorites
SPORTS MOMENT: 2002 Michigan game with my father
NFL TEAM: The one with the most Buckeyes
NHL TEAM: CBJ
NBA TEAM: Lakers (don't hate me)
MLB TEAM: None
SOCCER TEAM: Crew
Recent Activity
Yes, both would be awesome!
'If he is even, He is leavin'
Playground? First that came to mind were Brax, Teddy and Justin. Chris Gamble would work well.
I attended the ceremony for Coach Hayes at the 'Shoe. coach Bruce, Coach Bo, Richard Nixon, Rex Kern, and Judge Stephen Hayes all spoke and were outstanding.
Fido - I would gladly take those Rush backstage passes! ...but who would play drums?
The next year.
I agree with Ramzy's take. Never let up, ever.
1) OT in 16 2) Hoke going for it in 13 3) the ripoff in the desert
I heard that 7.6.20 is the decision day for the University to know if they are going to have kids on campus in fall semester
David - this was some funny stuff - thanks for making me laugh out loud while I am working in the Man Cave
I think the fact that Joe is from Ohio means a great deal to our fan base. We almost always support those that need to transfer out due to the depth chart. Earlier to do for a graduate, someone that did it the right way, someone who shows gratitude for his time here.
Tom - that is the first thing I thought of when I opened this article. Everyone knew #36 was first round talent, but he slipped into the top of the second round.
Underrated star .
I wore #36 in soccer because of Chris. But I do not think he would approve of that.
A really great feel good story, something that we need.
Same. I saw the photo of dejected Chris Olave and nearly went into a furniture throwing frenzy. Felt so bad for that kid.
2006 v TSUN is a very sweet watch
Iowa - no sir, it does not
My trip to Vegas for Dell Tech World on 5.4.20 is cancelled. I make a big deal of the Spring Game, use it as a family reunion and massive post game cookout. Not this year I guess
I take the whole family every year, head to the Shoe time buy tickets
Happy birthday Coach Hayes! One of a kind!
Zach does not want to criticize a 16 year old on this forum. Smart call.
Bums me out. I liked Wil's leadership and tenacity.
Another Ramzy masterpiece. Words of wisdom, that I should abide by. I should have this as my screen saver, just to remind myself to take a moment to chill the fuck out every now and then. Thanks.
I have not recovered and really do not plan on doing so until Spring. And if that makes me miserable, so be it.