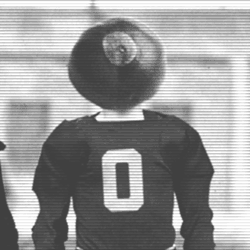 GoBucksOrDie
---
Marysville
MEMBER SINCE December 17, 2011
Favorites
SPORTS MOMENT: 2002 Michigan game with my father
NFL TEAM: The one with the most Buckeyes
NHL TEAM: CBJ
NBA TEAM: Lakers (don't hate me)
MLB TEAM: None
SOCCER TEAM: Crew
Recent Activity
IIRC, Sawicki was in Coach Hayes' doghouse and he became a great player under Bruce
Just another fabulous read by Ramzy!
Moved to Columbus in 1975 at the age of 11. Learned about a man named Archie soon thereafter. Buckeye ever since. Graduated OSU in 86 and moved back to Central Ohio for the rest of my life in 1993.
I love this. Let's win in everything. Ohio State and USA!
I cheer for the United States of America, regardless of the sport. And yes, some day we will beat those Eurosnobs in soccer.
In 1979, Art led a comeback win over UCLA out west. I was a 15 year old high school sophomore and was living in SoCal, so my dad took me and a buddy to the game. Afterwards, we went over the the player's exit to get an autograph. We were both blown away with Art's level of conceit. Remember, we were 15, interacting with a 19 year old. On the walk to the car, my buddy said 'Great QB, total douchebag'. I am sorry for Art that his life turned out the way it did.
'Big Event Brent'
Mr. Green, I appreciate your level of hate
Good call.
I was a graduating senior in fall 86, so Harbaugh is my most hated. As I am older, my first hated is Rick Leach.
Makes it interesting for the coaches with 6 starting caliber defensive backs and 5 positions. Okudah, Arnette, Wade, White, Fuller and Proctor.
Endgame
Taking 15 of the family to the game today, followed by the traditional post Spring Game cookout
Great band in concert. Crowd loves that song.
I just think it is cool as hell that two men that were competing against each other are so close that they go visit an old coach together. JTB4 and CJ3-0 have a friendship and respect that we could all learn from.
Great question! 1975 North Carolina at the Shoe. Fabulous Four!
I disagree thoroughly. Plenty motivated against Our Rival, PSU, Alabama, Oregon, most of our bowl games, etc. You are talking about one of the top 5 coaches in College football history.
I hate to say this, and I do not like it, but self driving cars are coming. I am 54 and I do not see any way that my grandsons will ever have a car.
Agree - that level of accomplishment seems to be exactly what the University wants
Hooley is always an idiot
Integrity, trust and vision are key elements of leadership. The people on the floor need to be excellent in their role and their leader(s) in theirs. I do not judge the president of our firm based on how well he can do my role, I base his performance on how he can give me the tools I need to be excellent.
We might have a problem with the high winds blowing into Pasadena today.
Never forget, every single year, the most popular person in Central Ohio is the OSU backup QB. Dwayne handed the title to Tate. He should enjoy it,as he has to hand it to Matthew in Spring.
I am 54 years old. I hate Michigan because my 76 year old father taught me how to. He is a great man.
Not much of a Bobby Bowden fan, but I remember he had a great quote on betting on College football: Nobody can tell me what a bunch of 20 year old are going to do, until they do it.