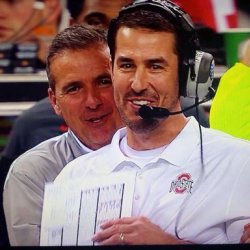 GoBucksAF
---
MEMBER SINCE December 07, 2014
Recent Activity
Loved him while he was here. Good luck!

Amazing. He's become such a wonderful role model, and still kept his charm!

I recently moved to southern Virginia. We got like 3-4 inches to snow last week and the city closed down for almost 3 days. It was both wonderful and terrifying.
Agreed. After watching all the bumbling back then for the Cavs (not to mention the other CLE sports) this is so refreshing. I agree - there are very few problems I see with this team now. Winning the NBA Finals after the first ever College Football Playoff? Yes please.
I'm into this. I'm also into the fact that this team is actually going out and getting the pieces it needs. Nice change for this Cleveland fan!
Wishing him a successful surgery and speedy recovery!
If Brax is healthy, he's going to be on the field, and I hope it's at QB. I think we forget just how great he is because we got to watch 2 other great quarterbacks this season. I would be fine starting JT or Cardale as well, and Urban has a very difficult decision. Granted, if Brax's shoulder isn't 100%, that's a completely different story, but I still think he's sees time somewhere. You don't keep Brax off the field. He's just too good.
FYI: It's time
About to make this taco salad wish me luck

— Cardale Jones (@CJ12_) February 11, 2015
I remember the day Brax went down I was sitting with a Maryland fan and a michigan fan. I couldn't even remember JT's name and I specifically told them I thought we'd lose both of those game. Boy was I wrong. JT was so impressive and really became an excellent QB. I feel 100% comfortable with ANY of our QBs.
You're right, I KNOW I love him.
I finished reading the comments...has the season started yet?
I'm so over this Big 12 debate. The fact that OSU won the whole thing makes it seem like they belonged, no? Until you schedule a more difficult out of conference schedule (Baylor) and play defense (Baylor and TCU), you aren't going to be taken seriously in the long haul. Yeah, a conference championship will probably help your perception, but the problems run deeper than that.
Harbaugh is going to recruit well, UFM is just going to recruit better.
Annnd finally we can put this behind us and welcome Mike Weber to the greatest team on earth!
Not going to lie, when I saw JT go down and we had that ruminate on if Cardale could beat Wisconsin, I didn't trust he could do it. But he's exceeded all my expectations and then some. I watched his press conference live and almost fell out of my seat when he said he was returning to school. No matter what anyone says, I am so freakin' proud of how far he's come in the past few years as a person and a player, and I think his future looks incredibly bright.

Braxton is all class. I can't wait to have him back next year and hope that he can finish his career off right with the Buckeyes. He's just one of a kind.