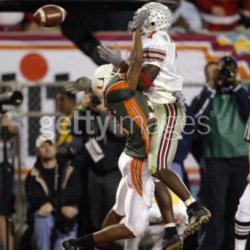 gobucks96
---
MEMBER SINCE June 13, 2012
Favorites
COLLEGE FOOTBALL PLAYER: E.E. in 2015
COLLEGE BASKETBALL PLAYER: Aaron Craft
NBA TEAM: Mike Conley's team
MLB TEAM: Reds
Recent Activity
They made this list to piss OSU fans, didn't they?
I think this is the year we use the tight end...........
Dumb statement.
Don't admire Dabo, and If I was recruiting against him I'd use it. He would against anyone else.
I'm not, so I'm done thinking about it.
Where the hell did you find that one?!
Just a dumb situation that he didn't need to put himself into. He loses more than anyone else, accept the responsibility of being a professional football player/star.
Your idea of cooling down and mine are drastically different! But, I thank you for this information.
Zimmy dropping knowledge today!
You know it's the off season when Michigan is ranked in the top 5..
The fact that people have to wait this long to find out is ridiculous. The NCAA sucks.
Will Justin get that date with his sister?
It was closer to Varsity Blues after the strip club than anything else. Except Troy went for the whip cream..
I like Joe Burrow, but who is the one that has the potential to take the team to the National Championship game? It's Fields. I'm not here to have a great shot at 11-1 and sit outside the playoffs. It's not a bad situation, but I'll roll the dice every time.
Then again, I'm just a fan.

Can we get something about the specific targeting the Clemson players were doing a few years ago while we are at it?

It feels like the people making the rules have not played the game before.
Just going for attention. Lots of radio guys diverge from the normal way of thinking to create a discussion..
Skipping out on the bowl game was a horrible end to his college career.
Best article of the off season! Thank you.
Free money, I'll take that bet too!
Of course they are going that way. Did you see Okudah in the Rose bowl?
This is going to open up a whole new ugly side of college football. Other teams are going to go after backups under the table a lot more than happens now.

He's going back to Buffalo?!
Do I really care that much? No. Do I get a chuckle out of it? Hell yeah!
When did anyone compare the two schools in all of this discussion? Why are you always ready to argue with OSU fans?
Screen something, please. I haven't clicked on that website in sometime.