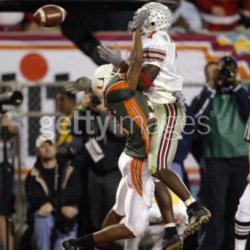 gobucks96
---
MEMBER SINCE June 13, 2012
Favorites
COLLEGE FOOTBALL PLAYER: E.E. in 2015
COLLEGE BASKETBALL PLAYER: Aaron Craft
NBA TEAM: Mike Conley's team
MLB TEAM: Reds
Recent Activity
Congrats on getting older!
Looks like a blast! Keep it up!
Good luck, boys!
How sad, his new rival is UC...What a tanlged web we weave..
You know this off season didn't have enough "Qb's questions" threads..
That's the difference of not playing in THAT game yet.. Make sure he attends this year.
Ahh, his girlfriend isn't ugly. At least, he has someone to comfort him.
Can't believe Craig Krenzel hasn't been mentioned.
This impending train wreck will be an enjoyable ride to witness..

Suck on your own hypocrisy, Jimmy-boy. Controversy is following YOU now.
How many times do they need to update this stuff?!
Just thinking about where we were at this time last year.... This is soo much better.
Eat your heart out Keyshawn!
The tight end will be open all day if he rolls out..
Did we get one of those?!
I'll let him know you called him a liar! :)
When do you add the tabs for the women's basketball team?! It's time!
Chase Young and Zach Harrison will have all year to grow when we face _ichigan! Love. It!
Totally agree! Just think what these talented young kids might be able to accomplish with their development and these guys to learn from!
Awesome! Aaaand, now I still have to wait a month for real games...... :(
Point taken, but the lack of time teams had of the recent years with just one Bosa on line... We're talking about 2 top 5 picks.
Got to agree with that defensive talent alone. The deep threat couldn't materialize, no time to throw.
Sorry, not a push on the DL for Meyer's team. The Bosa brothers together in each's prime, good lord!
I cannot flip that light switch off..