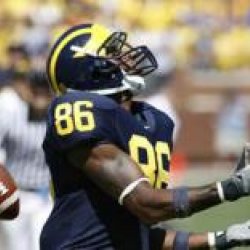 GoBucks713
Gahanna, OH (via Pataskala, OH)
MEMBER SINCE April 04, 2011
Favorites
SPORTS MOMENT: Watching the Columbus Crew bring home Ohio's first Professional Sports Championship since the Clippers did in 1996.
COLLEGE FOOTBALL PLAYER: Connor Senn
COLLEGE BASKETBALL PLAYER: Tony White
NFL TEAM: them Theivin' Browns
NHL TEAM: CBJ
NBA TEAM: Any team featuring Buckeyes
MLB TEAM: Red Sox
SOCCER TEAM: USA! USA! USA! USA! USA! USA! USA! USA! USA! USA!
Recent Activity
Is it me or does Haley look like Jeremy Jamm
Nerdwestern recruits better QBs than JimmyHarbz
Yeah, but which version of 9 Route??
Since they hit Columbus so rarely, I'd probably pass up a Buckeye game for them. I mean, the last time they were even in Ohio was 5 years ago.
If the band isn't GlassJaw, there's no point in going. Watch the game instead.
Godspeed Coach Bruce. I'm glad I got to meet you at an impressionable age.
That's just a personality flaw, not a hint to where you went to school.
I go a few times a year. It's a great piece of land.
A piece of shit. He's a twitter troll that's a fan of UM. But really he's just a piece of shit.
Stop tweeting at Shawn L Martin. He needs to sell mortgages instead of blocking the rest of you on twitter.
HE DID IT WITH THE MAVERICK!!! OH THE HUMANITY!!! OH NO HE'S BACK WITH THE LAMPLIGHTER!!!!!
The way Cena was field generaling out there, I seriously thought he was going to win. I would have been happy with Nakamura or Balor really.
I'm sure his gimmick would be either Ice Town or Calzone related.
In order to have a heel turn, you need to have charisma and be able to promo. Roman has zero charisma and I'd rather see Ben Wyatt on a mic. He's horrible.
Trade LeBron, keep Kevin Love.
I think you have to officially carbon date their last ring to surmise when their last championship occurred.
Steroids... IN COLLEGE FOOTBALL AT A PLACE LIKE USC?
Someone hasn't seen the movie Johnny Be Good.
Beer always helps with that.
This will be the first Eat Too/Dubgate I'll be missing since Eat Too II. DONATE DONATE DONATE PEOPLE.
The Houndie is Dead. Long Live The Houndie.
Bo Biafra says "It's not the size of the Buck in the fight, it's the size of the fight in the Buck."
few teaser photos and an off-the-chain video on Monday afternoon.
Who still says off the chain? Maybe the chain needs to be put back on after watching that video.