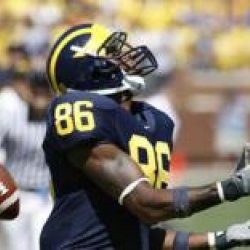 GoBucks713
Gahanna, OH (via Pataskala, OH)
Member since 04 April 2011 | Blog
Favorites
SPORTS MOMENT: Watching the Columbus Crew bring home Ohio's first Professional Sports Championship since the Clippers did in 1996.
COLLEGE FOOTBALL PLAYER: Connor Senn
COLLEGE BASKETBALL PLAYER: Tony White
NFL TEAM: them Theivin' Browns
NHL TEAM: CBJ
NBA TEAM: Any team featuring Buckeyes
MLB TEAM: Red Sox
SOCCER TEAM: USA! USA! USA! USA! USA! USA! USA! USA! USA! USA!
Recent Activity
it's too late for that.....
If alumni tickets went on sale, you should be able to find them on Stubhub and other resale outlets shortly.
There's free wifi at Nationwide. I don't understand why they've been shuffling around with this since 2012.
Eh, Gene gave Thad a chance to land some recruits and it didn't happen. That shows the type of respect Thad deserved, and the type of man Gene is. Thad will always be welcome in Columbus and I'm damn glad he came here and showed us football fans what it means to have a competitive basketball program as well. You spoiled us all Thad, and for that I'll always be grateful.
'Twas nice knowing you Charlie Cheeseburger...
Everything I've ever bought from them has fallen apart before I could even enjoy it. I've had the two tshirts and a hoodie, the only things I've bought from them start to fall apart after the second wash. Plus their XXL is the same size as a Dream Team hoodie in size L that I have from back in the day. I love their designs, but the quality of their clothing is horrible.
Where's the Dry Goods hoodie? Don't buy homage, their clothes fall apart after two washes and their sizes are wonky.
Sometimes I buy multiple pair and sell some of them on ebay and make my money back. The last few models haven't been great so I haven't done so.
These are much better looking than the last ones that came out a few months ago. I order two pair so I can wear one pair.
Is ok for me to just say that I don't like her just because I don't like her? It has nothing to do with the fact that she's a woman, I just don't like 99% of the people calling games anyway. If it's not Gus Johnson(he's not great but he can make paint drying sound exciting) or Keith Jackson(Retired unfortunately) , I really don't like to listen to them and normally just play music or try to sync up the action with Big Daddy Paul calling the game on the radio.
Somebody should as Rod "Jones" Smith how he feels about this.
Hopefully that first game has the Cowboys in it so she can mess up his name a few more times.
Did you know that Reflog = Golfer Backwards??
Stand-Up-LB-Geddon is upon us
I'm a fan of Jazz Lettuce or Jazz Cabbage.
Hockey has been dead to me since the Chill left town. Plus I already watch too much baseball and soccer, which means I really don't have much time to devote to a sport that is basically indoor soccer but with weapons.
But they put more butts in the seats than the cbj. Plus there's a whole hell of a lot less Canadians too.
ah crud I forgot italics. Thanks iPhone.
For me the cbj are like the Cavs, since they're an Ohio team I do root for them to win, but I don't spend money on these teams because I have better things to spend my money on. Like coffee and drum heads.
Sorry ladies, I can't follow a team that uses blue as a color because I bleed Scarlet and Grey. Good luck with the new site though.
I just realized I didn't renew my 12W "subscription" to the Premium Lounge. How many HS does it take to get into the bathrooms now?
Zehringer is his actual name. Derringer is his stage name.
Cardale's entrance music should be "Real American" by Rick Derringer, one of our beautiful state's greatest rock stars. Also, Happy Birthday Ohio!!
My money is on the 4th round.
Just think about how awful that would smell, and how stupid it would be to do.
A Burning Sack of Hair >>>>> Phyllis
Why should this guy's opinion matter to me?