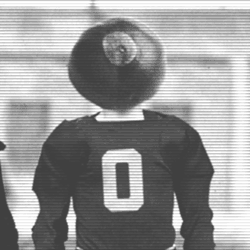 gobucks5413
---
MEMBER SINCE February 12, 2012
Buckeye born and bred, Buckeye til I'm dead.
Recent Activity
Holy wow. Big time
They could legit be 3-4 or even 2-5 in a nightmare scenario
That's a lot of good leaders. The guys at the top of the team the last few years explain why continue to be a top 3 program
Post Carton CJ Walker was really really good. Hoping he can build on that this year!
Boom. I taught with his father, who tragically passed away of cancer. He would be very proud
I like this. Blackout game once a year, but it has to be a night game. That nooner against Nebraska in 18 was sure not one to remember... and then one more if opportunity pops on the schedule. I'd prefer for it to not be the game, but I do like the all whites w/ the chrome helmet.
Love that he wants to coach. Maybe we'll see him on the sideline in 10 years w a buckeye cowboy hat on coaching up the D Line. Best of luck to him. What a great buckeye.
All I tell people when they say Dwayne Haskins will be a bust, is that his number 3 receiver in college, became his #1 receiver as an NFL player.
Good god that schedule is tough. As a few have noted, not sure why that wouldn't be a week 2 game and save that bye for October... but that's tough sledding
Boy was CJ Walker special tonight
Adeleye doesnt even have Texas Tom and the Longhorns in his top 6. Can you imagine a scenario where a 5 star ohio kid wouldn't have the Buckeyes as at least a finalist?
Awards over. Signing day complete. Now it's time to go win a Fiesta Bowl. Beat those Orange bastards
Some of these comments are craaaazyyy to me.
First of all - who are you guys to choose whether or not BC is a dream job or not to Hafley?
Secondly, if you are under contract with your employer, I hope for your sake that you have a good enough relationship with them that you would be comfortable and able to come to them and tell them that you had an opportunity you didn't feel like you could pass up, and ask if they would allow you to escape the contract. I hope your employer would allow that.
I hope Martinez sticks around. I have a good feeling about him.
Thought I read that he was not signing early?
Wisconsin had the PERFECT game plan and still lost by 13. Fields didnt play well in the first half.... whether that was due to feeling like he had to make the big play, the knee, or nerves, he figured it out in the 2nd half. If we beat Clemson, which I suspect we will, it wont be because we are more battle tested or they played a weak schedule, etc. Itll be because this is an excellent team with excellent players and excellent coaches.
Only motivator IMO would be being Ohio States leading rusher. He's gone. The risk/reward is too much. He can always come finish that degree. I'll always be a JK fan that's for sure
Our win doesn't have to be convincing necessarily, but we cant look bad
I agree that I have a hard time seeing bad film on him. His team was an independent though. Got screwed out of playoffs because they couldn't find a 10th game. Had great numbers against some good teams though
I think Hafley is a smart dude who's going to end up being a star. No way he leaves this for Rutgers
Football is a dangerous game with lifelong consequences to some who have played. Sad.
I want to see the pregame shows ratings. Very intrigued to see how big noon did compared to gameday
Earlier this year I thought it didnt matter what we were seeded. I want that 1 spot. I don't want to play Clemson. They're the only team that truly has the horses we do. Save that for the natty and hope LSU beats them in the 2/3 game
No kidding. Did the Gene haters watch the bball game tonight? Gene has hired 2 absolute studs to lead our 2 biggest programs. The only thing I'll ever blame him for is the Gator bowl... but who knows what he was being told about bowl bans
How does this number compare to comparable programs?
It would be a national championship game. His motivation would be winning.