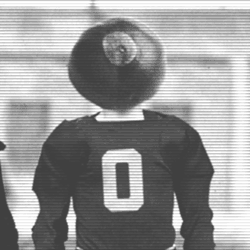 Gobucks2461
---
MEMBER SINCE February 02, 2012
Recent Activity
Not so sure why i received a dv, okay!
*ichigan, Wichita, MSU, UNC, URI, Baylor, Duke, UCLA
I waited with my 10 year old for about 2 1/2 hours for Zeke's auto last night at Panera. My son soaked in every moment! No matter where Zeke ends up in the NFL, that will be the next jersey owned by my son. This is why I don't force him into my world of pain by rooting for the Browns. I decided that he can root for who he wants. He is ready to replace his Russell Wilson jersey with a Zeke!
I will agree with the FDA about adding hot sauce to diet. Using Tabasco in general, not so much. Has to be Frank's red hot for the everyday hot sauce!
The only SB commercial that stuck was the "puppymonkeybaby" by mountain dew. My 10 year old and his buddy thought it would be fun to chant the whole first half. That was a creepy commercial!
The Browns can/will cut him March 9
The cost of OSU autographs has my 10 year old wondering. I have numerous Ted Ginn Jr. autographed items from gloves to pillows to his Glenville mini helmet. He used to always bring his car to my dad's shop. The only reason my 10 year old is into it, is because he plays with Cam Newton! I am ok with him rooting for the Panthers, I am a Browns fan.
Steelers will be missing Antonio on this drive
The OSU visit to Arizona just has a different feeling for me this year. I am feeling spoiled like my kids were on Christmas, not overly excited for what you got for Christmas because you could've had more. Overlooking that it's more then most children get. I also wanted more this year, but should appreciate what I got with this years Bucks. Sucks being spoiled...
It can't be OSU so I won't pull for anyone.
Merry Christmas to all!
Go Bucks!
Good Luck to the young man. I would have to think PT is what swayed him to TSUN, but it is what it is and Williams seems to be a great recruit as well.
I met Tom Cousineau in 1976 when I was in the 1st grade. His mother was my 1st grade teacher in Lakewood, Ohio. He came into our elementary school quite a bit if I recall. I remember all of us being in awe of him playing at OSU since he was out teacher's son.
Wait until the internal alarm clock wakes you everyday at 4 am.
#firegettingold
I can tell you with being the father of 2, kids usually do the exact opposite of what the father wants. Vonn is gone!
Hoping with games vs. MSU 2 out of the last 3 games, we pull the upset in one of them.
If When we play like we did against ttun, it will be a beat down.
FTFY
Rooting for MSU vs. Bama, but other than that I agree with pulling for the Sooners. Even sweeter when Bucks dump them in week 3 of 2016. It's going to be difficult if this many Buckeyes enter the draft, not to end up on the Browns though. May want to rethink that one!
I am a Cleveland Browns fan and I won't "boycott" watching that hot mess when they can't take care of business, like OSU should've done vs. MSU to avoid this. OSU dug their own grave, so I will accept it and watch them beat ND. Just like I will watch the Browns fall to San Fran next week. It is what it is...
Let the Gators have Urbs back for 1 game, he knows how to beat Satan
Real is only way to go. Our family tradition is to go to a tree farm and cut our own. We have done it since our kids were little. Now that my oldest is a teenager, I learn some interesting things about her in our time together talking when dragging the tree through the woods. Wouldn't trade it for anything! Also can't beat the price of $40 for any tree, any size.
485 - Through the heart of TSUN! Go Bucks!