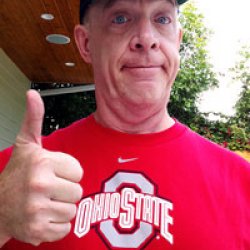 Gobucks2204
Member since 13 June 2013 | Blog
Favorites
SPORTS MOMENT: Watching OSU win the national championship against Miami with all my friends and family.
COLLEGE FOOTBALL PLAYER: Braxton Miller
COLLEGE BASKETBALL PLAYER: Aaron Craft
NFL TEAM: Teams with Buckeyes on them
Recent Activity
Got my basketball boom ready. Hope I get to unleash it. Fingers crossed.
Thanks bro. Ill send out some tweets this week and next. I live 25 min from Lancaster.
I like how it builds into a crescendo and gets more and more powerful as the song progresses.
Do we really want someone who is already creating division, who isnt even a part of the program and isnt even in college yet? Ill take a five star character guy any day of the week.
I'm team Disturbed Sound of Silence too D.J.
Keep me posted so i can help promote the event.
Burrow reminds me of Joe Germain except bigger, stronger and can run a 4.6
Ive heard Haskins struggles with the playbook too so maybe thats why they havent annointed him. Everything ive heard says burrow won the job but the staff keeps saying it is neck and neck when it really wasnt. They want to keep motivating Haksins by saying its a toss up, and so noone transfers.
My bad. Good call. Hope to see you there!
Ill be at the fundraiser all afternoon, and would love to meet you guys. Should I wear some special shirt or hat so people know its me? Tall guy in the Buckeye shirt wont cut it. Lol.
Plus, I dont look like JK Simmons. Lol.
Oops starts Sunday, didnt want you to show up on saturday by mistake brother.
Thanks Hove. I appreciate your kind words.
Yes, and I'm bringing my two nephews. I'm getting ready to promote Justice League but I'll make time for Jake.
Thanks! The first part had to lay a good foundation to make the next two make sense, so part 2-3 have a lot more red meat for football fans.
Definitely am going to interview a longtime red coat. Imagine the stories they have?
Thanks for the shoutout for Jake's article DJ. I owe you a beer next time you are in Granville!
Hoosier daddy.